Sales
• Dec 18th, 2019 • Daniel Bishop
Digital Transformation And What It Means For Your Sales Process
As investment in tech continues to grow we look at how digital transformation can impact your sales development.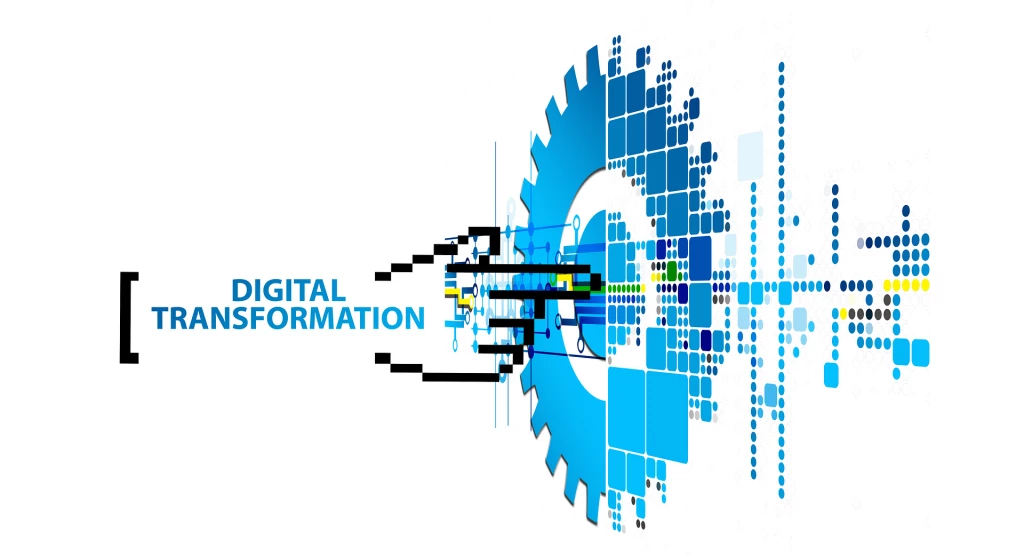 What is Digital Transformation
The way most people would describe digital transformation is by looking at it as an improvement of the current technology used by a business. Which is not completely wrong, but that's not the gist of it.
To get the full picture, we need to know the difference between digitisation, digitalisation, and digital transformation. 
Digitisation is just converting information from a physical format into a digital format. For example, scanning a document and converting it to PDF.
Digitalisation is there to shorten a specific process and save you money. For example, if you're hiring a new employee who needs a mobile phone, the process of getting it might take some time. If the process is done manually, that employee might get his phone in a week or two. To shorten this process, the company can use an API provided by a telco company that will automatically send out everything needed, and the new employee can start working immediately.
Digital transformation is the process of accepting and implementing technologies that your customers require in certain departments of your business. This is more of a philosophical approach than a technological one. Yes, technology is important here, but the main focus is on the CEO and how they will use technology to improve their company and satisfy customers.
Companies are investing in digital transformation strategies more than ever: In a survey from 2018, about 70% of companies confirmed they are either working on one or already have it in place. 
To visualise this fundamental change, it helps to look at Martec's Law: 
As Scott Brinker explains: 'Technology changes exponentially, but organisations change logarithmically.'
With the changes in technology being exponential, let's talk about the ones that changed the sales process the most.
Technologies to Look Into
Cloud-based CRM
Not that long ago, the sales process was not nearly as customer-centric as it is today. The actual needs of your clients and consumers were not the main focus of the sales team. 
Today more than ever, your customers expect a seamless digital experience and a personalised service. 
Back in 2008, 88% of users preferred an on-premise CRM system. At the time of this research, the tide has changed and 87% of users are using a cloud-based CRM. That alone shows us the impact that cloud technologies had on CRM, suggesting the benefits of CRM outweigh the downsides by a huge margin. 
Here are some of the benefits:
No maintenance and set-up costs
All data stored on the cloud with easy access by your team
Easy customisation of the software
Cloud provider takes care of security
By allowing your team to access data from anywhere at any time, they will be able to be more efficient, which will have a positive outcome for your revenue.
Team Management Tools
Any company is only as good as the teams that make it. Digital transformation has a huge impact on this department by improving communication on all levels. By aligning your sales, marketing, and other teams, you'll achieve a digital congruence necessary for optimising your operations.
Today, many companies outsource different tasks to teams far away from their headquarters, and poor communication often becomes an issue. To solve this problem, technology aids companies with task management software, collaboration tools, and project-based chat platforms. These allow all your team members and different teams to be on the same page, not having to worry about duplication and time-wasting.
Social Selling
Instead of sending cold pitches and promotional emails, companies have turned to social media to find new leads. And with 3.2 billion people worldwide using social media, your potential reach is massive.
To understand social selling, you need to understand that it's very different from social media marketing. Social selling refers to cultivating relationships with your target consumers as a way to generate and nurture leads, rather than marketing or selling your product via ads and other paid promotions. 
If you have a Facebook, LinkedIn, or Instagram company account, you're already passively involved in social selling. 78% of salespeople say that they outsell their peers who aren't doing social selling.
Your first step to social selling would be to use Google Alerts and set it up so that it filters terms related to your competition. Join customer groups on LinkedIn and follow your customers, industry leaders, and competitors on Twitter.
AI and Sales
With salespeople spending only about a third of their time closing sales, almost all the processes needed to get there can be automated with the help of AI. 
AI revolutionises sales by taking up the bulk of those repetitive tasks like finding and sorting leads, monitoring orders, and sometimes even talking to customers.
Some AI tools can even help you identify your customers' buying patterns by analysing vast amounts of data in a much shorter time. With this data, AI is able to make the best upsell and cross-sell suggestions and allow the salespeople to focus on the critical moment – closing the deal.
Challenges and How To Overcome Them
When your company decides to implement new technologies, there are some inevitable hardships you will face. The most typical hurdles include: 
Budget
This will be especially hard on small companies with very limited budgets. But the good news here is that the transformation process is not supposed to happen overnight. 
By constantly monitoring your budget and investing in the technologies you previously researched and tested, you are limiting the risk of losing a lot of money. Over time, this investment will pay off – in the end, one thing you definitely can't afford is to be obsolete. 
Employee Pushback
Humans are very cautious when it comes to change, and any kind of forced shift in our habits can result in discontent.
Being transparent and keeping your employees well-informed of the company's next steps can help overcome this period. Make your strategy very clear to them, point out achievable milestones, and always reward them for the extra effort they put in.
The Expertise
Always make sure to keep your experts close. Digital transformation is a process that requires talented individuals who are knowledgeable and understand the transformation at hand.
By investing in your team early on, you can decrease the time needed to implement the key changes.  If you find yourself in a situation where your team isn't advanced enough to see the change through, don't be afraid to hire outside help.
Maintain a Flexible Structure
Changing the way your teams function may not be your biggest concern. Sometimes you will have to reorganise your whole company structure if the new strategy demands it. In this process, make sure to gather feedback from everyone and don't hesitate to lean on the HR team. 
Consider the pros and cons of hierarchical, horizontal and functional structures, and implement the best one.
Conclusion
This strange dance of technology and management has a few rules you need to keep in mind.
First off, never try and apply as many new technologies as you can at once. If your team is not agile enough, it might lead to a complete disaster. Remember the natural state of this relationship is for technology to lead and the organisation to follow. Try and make a strategy that focuses only on certain technologies, and leave out the ones your company does not need.
Lastly, design for change. Try to be as agile as possible, making your company structure flexible enough to be able to absorb changes, and keep on evolving. But keep in mind that technology is evolving at a much faster rate than organisations, so always be ready for a reset. 
Really Simple Systems is now Spotler CRM
The same great technology, a CRM platform that is focused on the needs of B2B marketers, provided by the same great team, at a great price!