Sales
• Nov 2nd, 2022 • Guest Writer
A Guide To Sales Automation (+ Where Your CRM Fits In)
Learn how to leverage the power of sales automation tools and where your CRM fits in.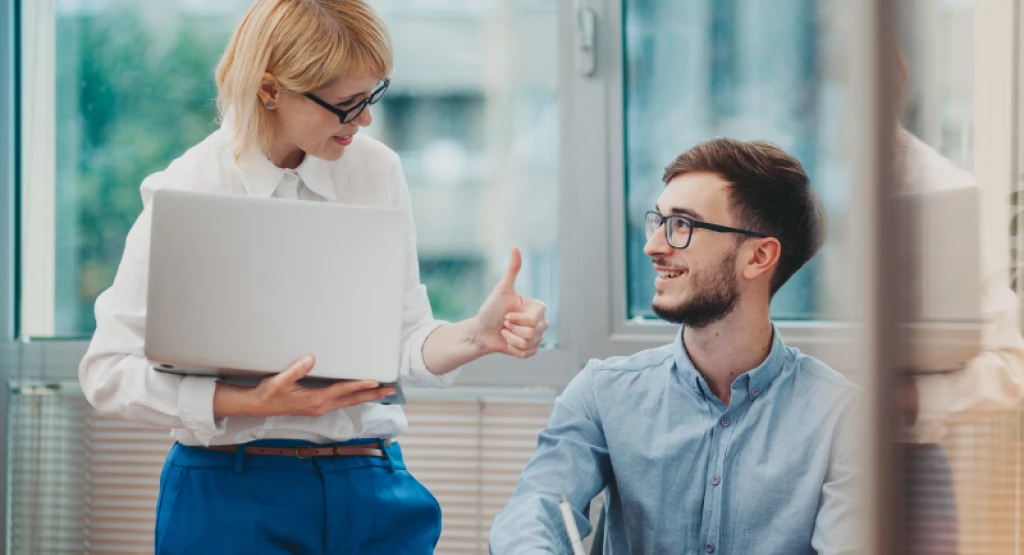 There's nothing worse than losing out on a deal that was a sure thing simply because it slipped through the cracks. 
After doing 99% of the work to build a relationship and nurture a lead, watching the deal implode for a reason as simple as not being able to find a suitable time to meet, forgetting to follow up, or simply losing track of the lead in an inbox full of prospects can feel devastating.

If this all sounds painfully familiar, you're not alone. This problem plagues sales reps and entire sales and marketing teams across the board. 
It's also an issue that's easily solved with sales automation. Automation frees up your time and makes your entire team more efficient in closing deals so that your sales process runs like a well-oiled machine. 
This article will serve as a guide to sales automation and show you where your Customer Relationship Management (CRM) tool fits into the process.
What is Sales Automation?
Sales automation is the practice of using software or tools to free up your sales team by eliminating any tasks that are manual, repetitive, and don't benefit from being carried out by a human in any way. These tasks are carried out on autopilot by your sales automation software. 
Benefits of Sales Automation
Businesses that use marketing automation to nurture prospects experience a 451% increase in qualified leads, and the benefits of automation software are numerous. Let's explore some of the most important benefits together. 
They are:
Increased volumes. Using automation allows for much larger volumes of the same manual task to be carried out because sales productivity isn't affected no matter how monotonous or repetitive the tasks get.
Timely reminders. Having to manually follow up or remember meetings can be overwhelming when juggling several other tasks. Having automation keep track of everything you need to remember and remind you a little in advance can be a huge help.
Faster data collection. The lag between data collection and data entry can be solved through automation, as customer details are collected quickly through lead capture forms which then sync with your CRM.
You can automate communication. With automation, sales teams can automate entire email campaigns and segment their customer data better, thus reducing sales efforts and significantly shortening the sales cycle.
Types of Sales Automation Tools 
There are many types of sales automation. Here are five categories of tools and some suggestions for popular software options in each category:
Customer Relationship Management (CRM) Tools
Companies often interact with hundreds of potential clients once, and often, they are at different stages of the buyers' journey. A CRM system is software that allows sales reps to keep track of these interactions and record important information they can use later to continue building and nurturing the relationship.
We recommend Really Simple Systems as a CRM tool.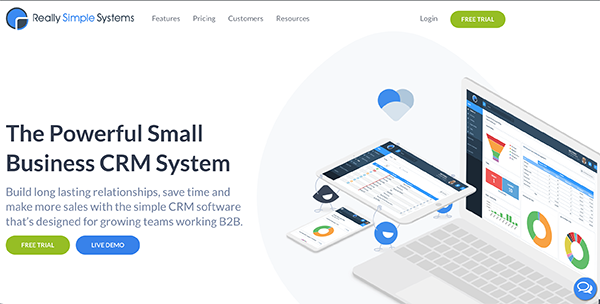 Overview:
Business owners serious about taking a relationship-based approach to business should consider Really Simple Systems as a CRM tool. What makes Really Simple Systems ideal for small businesses is that it's versatile and can be used as CRM software for sales, marketing, and even customer service.
Features:
With Really Simple Systems, sales, marketing, and customer service can be handled seamlessly from one powerful CRM system. It is also ideal for growing teams that work B2B and need to keep track of leads. 
Another nice feature is the free customer support and the comprehensive self-help section that you can use to fix issues quickly. Really Simple Systems also has an email marketing tool built in to allow users to monitor campaigns, read metrics, and optimize their email marketing as they go.

Finally, Really Simple Systems integrates seamlessly with several other tools — making it easy to use along with other software your team is already comfortable with.
Pricing:
Free — free forever for up to two users
Starter — $14 per user/month (annually) or $18 per user/month (monthly)
Professional — $30 per user/month (annually) or $38 per user/month (monthly)
Enterprise — $46 per user/month (annually) or $55 per /user/month (monthly)
Ideal for small businesses
Powerful and feature-rich
Great customer support and self-help
The free version only allows you to have up to two users
Discover if Really Simple Systems is Right for You
Email Marketing Automation Tools
Different prospects are at various stages of the buyers' journey. 
An email marketing tool allows you to send the right people the right messages at the perfect stage of the buyer's journey when reading your email will have the most impact. You don't have to work out when this would be — email marketing automation tools execute the strategy for you. 
Here are two tools reviewed:
MailChimp
Overview: 
MailChimp is a great email marketing tool that you can use to get more opens, clicks, and sales from your emails. MailChimp offers a host of unique features. And depending on your chosen plan, you will find almost everything you might need to successfully run an automated email marketing campaign.
Features: 
Mailchimp helps you get more conversions by targeting prospects at the right time through powerful automation. MailChimp identifies who's ready for targeting through segmentation and gives powerful AI-assisted suggestions to help with your content.

Finally, a host of seamless integrations means you can sync with any of the tools you're currently using to get more data and make your workflow more efficient.
Pricing:
Free — for a single user with a sending limit
Essentials — $11 per month for up to 3 users
Standard — $17 per month for up to 5 users
Premium — $299 per month for unlimited users
24/7 Email & Chat Support for most plans
Great for building detailed automated email campaigns
Overages apply if the contact or email send limit is exceeded
Omnisend
Overview: 
Whether you want to stick to email marketing or expand into SMS territory, Omnisend has you covered. Omnisend is ideal for eCommerce stores that want to target and engage their shoppers so that they can drive sales on autopilot.
Features: 
Omnisend offers a host of features, such as a library of templates to create professional on-brand emails, pre-built eCommerce workflows, and a drag-and-drop editor.
It also lets you leverage customer data to personalize messages and improve targeting, allowing segmentation based on customer lifecycle stages, shopping, on-site behavior, and message engagement.
It also offers several pop-ups and landing pages to capture leads and allows you to learn what's working best through dashboards and advanced reporting.
Pricing:
Free — $0 a month for startups and new businesses
Standard - $16 a month for growing and medium-sized businesses
Pro — $59 a month for high-volume senders who want to add SMS to their marketing strategy
Ideal for eCommerce businesses
Great targeting and segmentation
Offers SMS and email marketing
The free plan only allows you to reach 250 contacts
Lead Enrichment Tools
Lead enrichment tools allow you to quickly find and store details like contact data and company names so that you can speed up the qualification process.
Here are two tools reviewed:
BeenVerified
Overview: 
Whether you're trying to monitor public records and maintain a spotless reputation online or find customer data and contact information, BeenVerified is a great place to start. 
With just a quick search, you can find loads of information that can help qualify any leads you might have or are considering nurturing. This data can be helpful for personalizing as well as improving accuracy with your targeting.
Features: 
BeenVerified gives you the benefit of seven products in one. It allows you to collect data about your contacts, and it has a call spam monitor — which is helpful for avoiding spam calls.

BeenVerified even has a reverse email lookup so you can be sure that the email you're communicating with is legitimate and a reverse address lookup. It also has a feature for username search, vehicle lookup, and an unclaimed money search. All in all, BeenVerified is a great lead enrichment tool.
Pricing:
1 Month Membership — $26.89
3-Month Membership — $17.48
You get all the data in a single report
Some information can already be found online for free — you just have to go through the process of gathering it.
FullContact
Overview: 
FullContact is a SaaS provider that allows marketing platforms and brands to connect and enrich incomplete data regarding an individual, be it online, offline, personal, or professional. 
FullContact allows companies and marketers to better understand their customers and prospects by consolidating online and offline data. The result is more accurate targeting and a more tailored experience for customers.

Features:
FullContact offers users data segmentation and filtering, seamless integration to CRMs, and a data cleaning/enrichment feature. 
FullContact also has many cybersecurity features that keep you and your customers safe. 
The platform also uses machine learning and AI to improve data.
Pricing:
Enterprise — contact sales
Many integrations and an API
The free version is not as feature-rich as the paid plan
Pricing is not transparent
Meeting Scheduling Tools
Meeting scheduling tools are a great way to schedule meetings. They also remind you a meeting is coming up and alert you to any scheduling conflicts. 
Here is our review of two meeting scheduling tools:
Calendly
Overview: 
Calendly makes it easy to schedule meetings at a time that's convenient for all parties — eliminating the hassle that's usually required to book a meeting.
Features:
Calendly offers users some cool features, including the ability to vote on timings before scheduling a meeting, routing forms to qualify prospects before they book in with you, and the ability to connect up to six calendars in real time.
Pricing:
Essentials — $8 per users per month
Professional — $12 per user per month
Teams — $16 per user per month
Makes picking mutually suitable meeting times extremely convenient
Customer support is only available by email
Bookafy
Overview:
Bookafy allows users to schedule all types of meetings, be it one-on-one chats, group meetings, or recurring events. Bookafy is incredibly versatile and allows for the customer booking experience to be highly customizable.
Features:
Bookafy allows you to authorize and collect payments during meetings by connecting with Stripe or Authorize.net. It also shows staff availability for meetings, sets a limit on how far into the future customers can book appointments, and displays global time zones for convenience. 
Pricing:
Pro — $9 per user per month
Pro+ — $13 per user per month
Enterprise — contact sales
Customer support available over the phone and via email
No knowledge base is available
Best Practices For Sales Automation
Here are some best practices to observe when automating sales:
Always have an automation strategy in place regarding what you need to automate first to save time.
Keep track of KPIs and other metrics so that you can gauge how much automation is helping you improve your overall productivity.
Make sure you track leads and customers through a CRM so you can engage with the right messaging and content at a time when it's most relevant.
Hyper personalize based on concrete customer data.
Finally, aim to eliminate almost all processes that don't benefit from the human touch and improve the efficiency of your sales funnel by ensuring nothing slips through the cracks with timely reminders and notifications. 
Automate Your Marketing and Sales Processes With Really Simple Systems
If you've read this far, you're now aware of all the possible tasks that can be automated as well as the best software to automate these processes. 
Whether you're looking to schedule meetings easily, keep track of and enrich information regarding prospects, or simply eliminate most manual processes to free up your sales team, you now know that you're just a tool away from a more streamlined workday.
All this, combined with a powerful CRM, means that you can truly take your business to the next level, free up team members from pointless tasks, and become way more customer-centric. 
So stop letting leads slip through the cracks, leverage the power of sales automation, and get Really Simple System now.
Really Simple Systems is now Spotler CRM
The same great technology, a CRM platform that is focused on the needs of B2B marketers, provided by the same great team, at a great price!