Marketing
• May 10th, 2023 • Guest Writer
Top 10 Marketing Collaboration Tools
Whatever your business,it's likely you'll need to use one or more marketing collaboration tools to get the job done.
The most effective marketing campaigns and efforts involve everyone working together. After all, your business can't run with just your marketing expertise. But whether you run a small business with a similarly small marketing department or a larger corporation, odds are you'll need to use one or more marketing collaboration tools to get the job done.

Good news: there are plenty of top marketing collaboration tools you can use to achieve your goals and to produce effective marketing materials for your target audience. Here's a breakdown of the best 10 marketing collaboration tools you should consider using in the future.
Why Use a Marketing Collaboration Tool?
Simply put, it enables your team to do better marketing work. With a good marketing collaboration tool, your team will be able to:
Communicate with each other more frequently anywhere in the world
Track project status and individual task assignments
Work together on joint projects that require a lot of effort
Major companies commonly leverage marketing tools as key components of their marketing strategies. For example, Uber is a company that has continued to grow despite numerous adversarial factors getting in the way that one would think would have completely gotten in the way of further growth, including legal issues with governments around the world, pricing surges, and other controversies. 
Uber has persevered largely because of its highly effective marketing strategies, which revolve around effective collaboration between its marketing teams to ensure its solid omnichannel approach, referral programs, and partnerships with other major companies like Spotify and Capital One.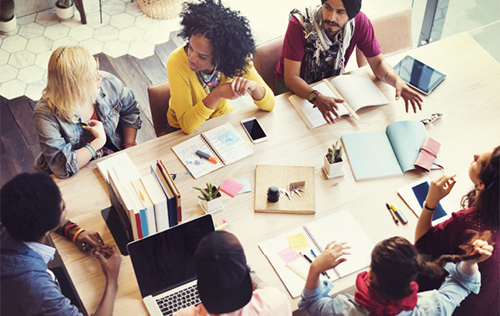 This is combined with the fact that it's well known that driving Uber can be an excellent way for virtually anyone with a driver's license who qualifies to make good extra money. Drivers in the US can expect to make close to $20 per hour, while in the UK they can make up to £16 per hour, for instance. 
In other words, Uber has an appealing product to offer its customers and it's figured out how to market it, allowing it to overcome its hurdles. If you have a full-fledged marketing department of any size, there's no reason not to offer them a collaboration tool so they can do even better work. With that said, let's take a look at the best marketing collaboration tools on the market today.
Really Simple Systems
Really Simple Systems CRM is the ideal marketing collaboration tool. Why? As a primary sales and marketing platform, it includes all the tools you need to begin, operate, and finish any given marketing campaign with excellent results.
Contact management tools? Check. Email marketing integration? Check. Lead management and campaign management tools? Check. Each of these features and more are available from a comprehensive, intuitive online platform that everyone in your marketing team can use with a very small amount of practice.
For example, you can use Really Simple Systems to manage your contacts and lead generation pipeline tasks. It can even double as a type of project management software, helping you devise and run marketing campaigns or efforts from around the world in no time. 
Best of all, it's very easy to integrate with your existing tech stack, so you don't have to compromise in terms of your other currently used software solutions.
Microsoft 365
Microsoft 365 is a cloud-based office suite, offering some of the most important and functional tools you and your team will ever use. It's a great choice for your business because it's familiar software at its core, but it also enables collaborative editing of documents and other marketing materials. Therefore, it could be perfect for big projects where you want a lot of people's input at the same time.
Not to mention that Microsoft Teams automatically comes bundled with affordable Microsoft 365 packages. In a way, this could be the most cost-effective means to upgrade your marketing collaboration toolkit.
Asana
Asana is a prime marketing collaboration tool in part because of how well it lets you organize marketing materials. It comes with built-in project tracking functionality, plus it can handily integrate with a variety of other software tools and tech stacks. In this way, it's a great supplementary tool to your existing project management and marketing software suites.
You'll also like that you can organize marketing projects in list or board formats. In this way, you can customize your collaboration setup and dashboard in a manner that everyone on your team enjoys and benefits from.
Slack
Slack is another popular collaboration tool for marketers and for good reason. It offers an excellent, intuitive interface that's perfect for communicating and chatting with your coworkers 24/7. Furthermore, there's a free version, so your small business may not need to shell out any money to take advantage of it.
Just keep in mind that its security is less than stellar, which could be a concern if you regularly discuss sensitive consumer or marketing information over workplace chat channels.
Trello
Then there's Trello, a popular marketing and collaboration platform that is a go-to way to organize all of your projects in one comprehensive place. The clean and easy-to-use interface comes even with the free version, so it's ideal for small businesses that are really strapped for cash. It can easily integrate with other apps like Slack, Google Drive, and more.
That said, keep in mind that Trello isn't the best for collaborative communication as it does not come with very many comms features. All that said, it could be a good pick if your marketing department  members always work in the same office together.
Miro
Miro offers a stellar online marketing collaboration tool that combines numerous software products into the same intuitive package. It's very reasonably priced and mostly revolves around the use of "calls boards". These blank spaces can be set up and tailored to your marketing project needs, which is easier than you may think through the use of templates called mind maps, flowcharts, product roadmaps, and timelines.
This long list of features makes Miro a top marketing collaboration tool from start to finish, although customer support could be a little better, and it requires a constant Internet connection.
Podio
Podio is mobile-friendly and a very easy-to-use collaboration tool. This flexible, customizable online platform enables marketers to collaborate and communicate together easily. It integrates with third-party services and apps like Google Drive, Dropbox, and much more.
With Podio, you can quickly and easily share files and view the status of ongoing projects. Workers can also get feedback from their supervisors about the things they are currently working on, so it's an effective collaboration tool for hands-on managers.
Ryver
Ryver is another stellar platform and is very similar to Slack. It focuses on easy communication first and foremost. You can set up and create as many teams as you like on the app and categorize them based on project or marketing focus.
Ryver is also great because it enables you to filter what people say, what chat rooms you are a part of, and much more. Native clients are available on most mobile and desktop platforms, ranging from Apple iPhones to Macintosh computers to PCs and much more.
Airtable
Airtable is a cloud-based platform with a free plan. It works well with desktops right from the get-go, but customer support and mobile support could be a bit better. Regardless, this collaboration and project management platform enables people to build collaborative apps – but you don't need code to use it.
It could be a perfect way to support marketing projects that rely on the creation and use of distinct applications that your team will need to bootstrap throughout a campaign. However, most of its other features are seen in better form on some of the other platforms on this list.
Flock
Flock is a decent alternative to Slack if you are looking for communicative collaboration tools. It comes packed with many channel functionalities for different teams, including one-on-one or group conversations. Users and supervisors can search and filter through different messages, and it supports audio and video calls.
Screen sharing is included, too. The free tier is pretty decent if you are strapped for cash, but most of the platform's other features come with built-in limitations if you don't pay any money. Be sure to use Flock with third-party applications like Twitter and Google Drive – notifications for these can appear directly in users' communication channels.
Conclusion
Ultimately, Really Simple Systems is the go-to marketing collaboration tool for many businesses just like yours. Its unparalleled versatility and focus on customer relationship management make it a perfect tool for any marketing campaign in the future. Try it today with a free trial or check out our live demo to get started.
Discover How Really Simple Systems CRM Can Help
Really Simple Systems is now Spotler CRM
The same great technology, a CRM platform that is focused on the needs of B2B marketers, provided by the same great team, at a great price!