CRM
• Aug 17th, 2022 • Helen Armour
CRM Software for the UK Market
If you are new to CRM or looking for a system that better suits your needs, our tips on choosing CRM software for the UK will support your search.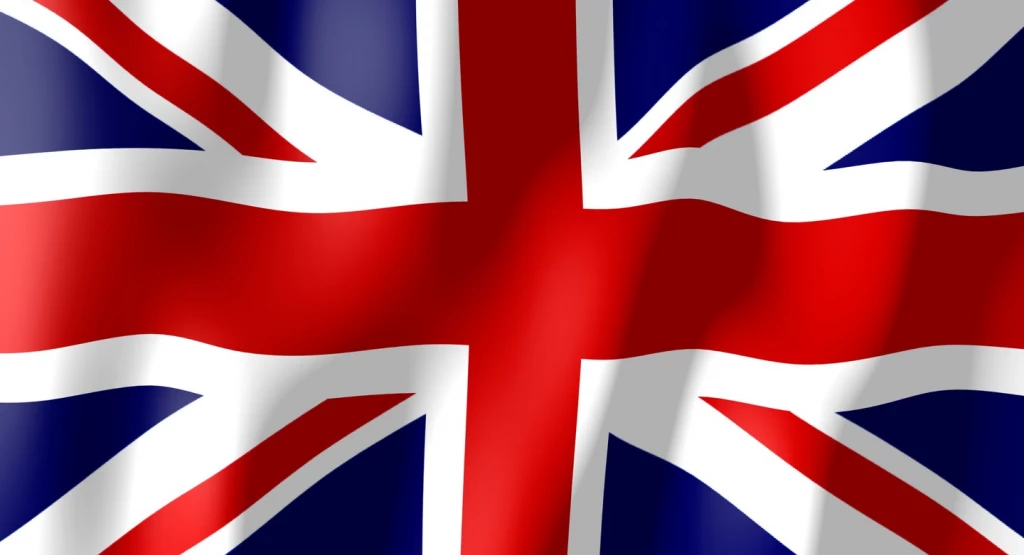 CRM for the New Normal
There's no prize for guessing the key issues that have affected our world in recent years. The pandemic, climate change, war and political instability have all had a dramatic impact on business in the UK, and it is unlikely things will ever go back to how they were.
With the arrival of the pandemic, much of our workforce had to quickly adapt to working from home. This has since been seen as a positive trend in supporting climate change and in managing the rising cost of fuel. For many, hybrid working is now the norm and teams have grown accustomed to digital communication and virtual meetings. Employees have embraced a better life-work balance and companies have discovered a myriad of affordable new technologies that lets their teams work from anywhere. CRM software sits at the centre of this change and is now an essential tool for any business.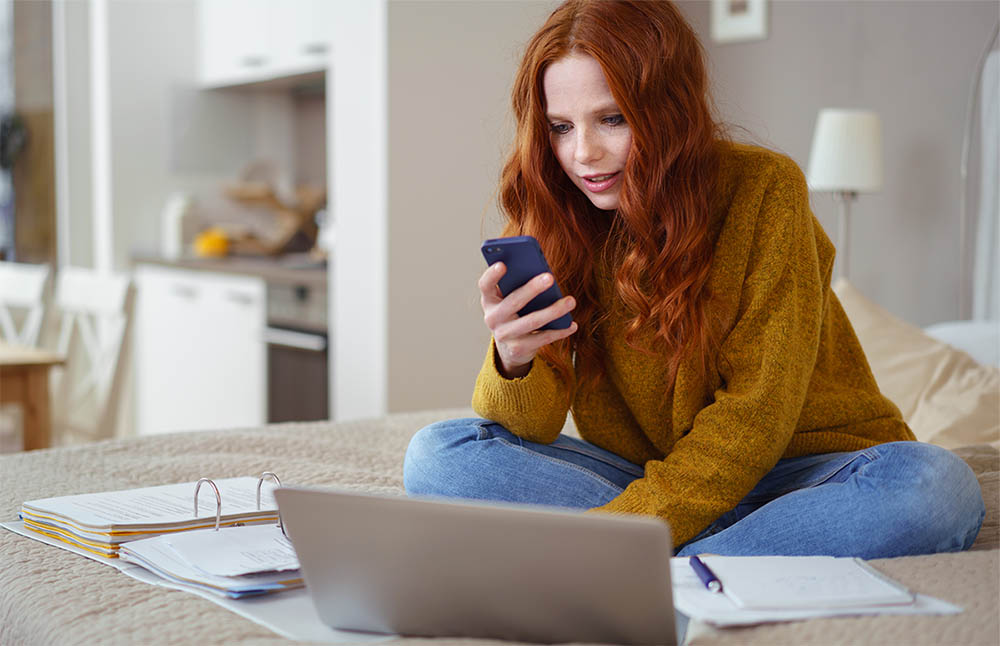 What is CRM?
A CRM system creates a centralised hub for your business that will streamline your operations by tracking your interactions with contacts and customers. It helps nurture leads through your sales cycle, initiate repeat sales, and build loyalty. It will also provide in depth analysis of your data and business trends, enable support team collaboration, and automate mundane and repetitive tasks.
Tracking activity from the initial enquiry, through follow up calls and meetings, marketing engagement and support tickets, a CRM creates a timeline for each customer, recording the what, when, how and who of every interaction. All the data can be searched and reported on, giving a full picture of who the customer is and what they want.
Going a step further, your CRM can be integrated with the other systems you use, for example your accounting software. It means everything is in one place and nothing gets forgotten, improving efficiency and increasing productivity.
Download our free CRM Buyer Guide
10 Critical Factors When Choosing a CRM
CRM Software for the UK Market
The UK business environment has seen its fair share of ups and downs, even before the pandemic. Who would have imagined that the UK's decision to leave the European Community back in 2016 would not be the biggest influencer on business change going forward?
Streams of businesses have found it increasing challenging to remain profitable, and small businesses have been particularly hard hit. Yet there has been a wave of resilience with increased noise to buy locally and ethically that has captured the public's imagination.
At the same time, staff recruitment across all sectors has been difficult and costly, forcing wage rises and fuelling inflation. Needless to say, working smarter is a must and finding the right CRM for your business could make all the difference.
If you are new to CRM or looking for a system that better suits your new working environment, our tips on choosing CRM software for the UK will support your search.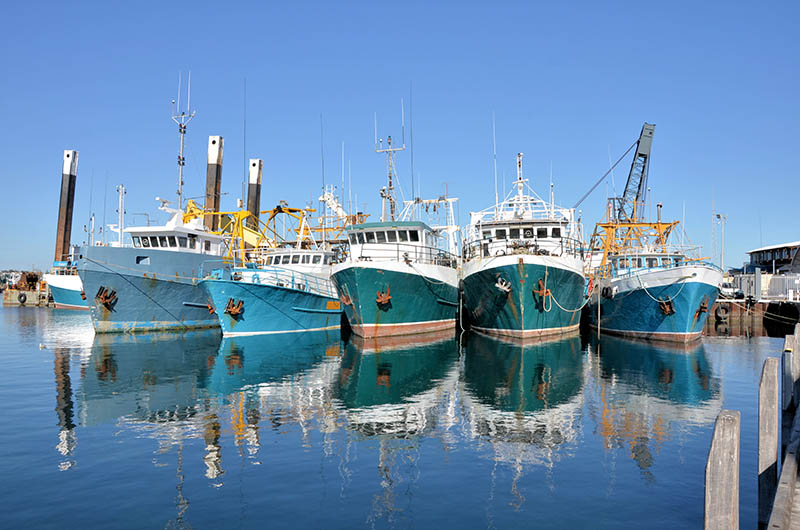 CRM Features – What to look out for
Before you start reviewing CRMs and get drawn in by the marketing, first think about what you are looking to achieve. The number one priority should be to consider how your team works, especially your salespeople, and think about their needs. Buying CRM software can be a significant investment, not just in monetary terms but also in the time spent getting set and training your team. So, you want to make sure the key users are consulted.
Things to consider when researching will be the features included, set up costs, the options for customisation, team training, and the level of customer support offered. Each of these will be a trade off against price as vendors package up their offering to try and increase your spend.
Keep it Simple
The simpler the CRM is to use, the more likely your team will use it. While it might be tempting to go for the CRM with everything imaginable included, understanding what features you need and don't need could mean big savings. You can always add more features later.
Look to start out with just what you need but do consider the options you might need down the line. Some CRM vendors offer a Free CRM that you can use for as long as you like, and this might be sufficient for your use, at least initially. However, it is worth thinking about what things might look like as your business grows.
For example, if your team is likely to grow consider the costs of adding more users. Can you add users at the same price or will you need to upgrade to another price plan? Similarly, if you are building your customer base, consider the restrictions on how many customer accounts you have.
Customer Support
Most importantly is to take a trial of the software using a sample of your own data. Don't be tempted to rely on reviews, as every business will be different and what works for one does not mean it will work for you. Be prepared to run a thorough test and engage with the vendor's customer support team to see how responsive they are.
Too often customer support requirements are overlooked or you may be taken in by the support offered during the trial period. Check what level of support is offered for each price plan and how that fits with your team's competence. Consider whether you have sufficient in-house skills to set up the system and to customise it as you want it, or whether you will need help with this. Also take a look at what self-service resources are available, for example videos and webinars, and whether telephone support is offered.
Many of the best known CRM vendors are US based so support for UK customers may be slow, especially if they are West Coast based. Ideally, look for a UK based CRM vendor with support hours that work for you.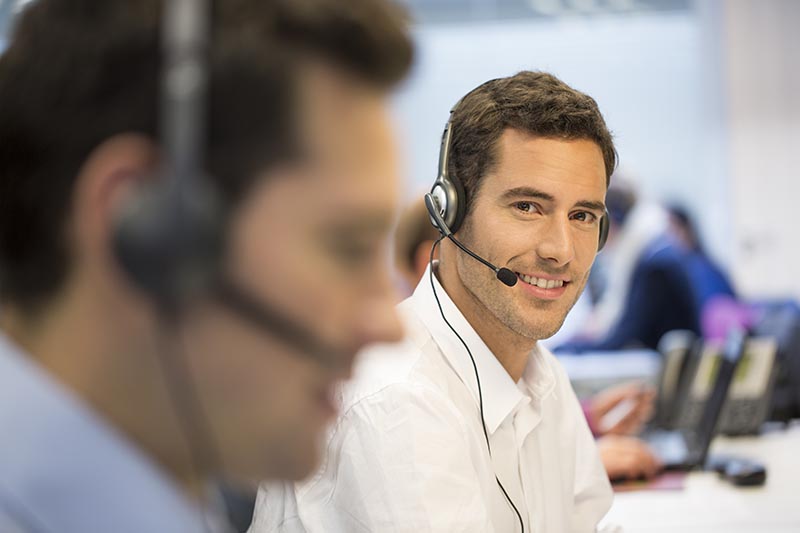 Customisation
Depending upon your business and unique circumstances, you may want to customise the CRM to fit with how you work. Most CRM systems offer some level of customisation though this may be just tweaking the minor elements. As a minimum, you should be able to add custom fields, change the terminology to what you use, and set access permissions.
If you are going to need more dramatic customisation you may need to investigate further. While some businesses might be in the market for a fully customised system, most will need to compromise and adapt an off-the-shelf system. Some systems are tailored for certain sectors but can be expensive. Others have locked-down their code so customisation is not permitted. Look for one that offers a full Customisation Service to modify the interface layout, customise your sales cycle process, and manage your data tables.
Integration
To get maximum benefit, your CRM should have the potential to create your own business ecosystem, synchronising your marketing, accounting and customer support. Some CRM vendors offer additional modules built-in and are fully supported, most commonly a marketing tool. However, if not everything you use if covered, or your team prefer other systems, you'll need to set up integrations with third party systems.
Often CRM vendors provide "native" integrations where the integration work has been done in advance and a built-in solution is offered. Here you would simply follow a setup routine to give access across both systems.
If a native integration is not available, you can create your own integration. Both systems will need to have an open API (application programming interface) and you'll need a software developer to create a custom integration. Needless to say, this can be an expensive option if you don't have the internal skills readily available.
However, if your needs are fairly straight forward, there is an alternative. Many systems now have integrations pre-built with integration platforms such as Zapier and Integrately. These platforms provide an easy solution to integrate a wide range of systems and automate tasks.
Emails and Marketing
Your primary integration focus should be to sync your emails to and from your contacts. Setting up email integration means you will have a record of every message sent and received logged to your customer's CRM account, creating a full history of their communication. Any one of your team will be able to pick up the latest message and be able to see what happened in the past.
When running email marketing campaigns, look for a CRM with a marketing tool built in. This will mean that all the campaign details and your customer's engagement will be recorded back to their CRM account, giving you insight into their interests and buying habits. If you are attracting new leads and enquiries from your website you can also use web forms to capture data directly to your CRM and trigger follow up tasks for your team.
For marketing campaigns, and general data protection, CRM software for the UK market needs to comply with the UK's data protection regulations. At present that's GDPR (the General Data Protection Regulation) that came into force across the European Community in 2018.
Workflow Automation
The latest must-have for any CRM is workflow automation. Workflows let you automate tasks in your CRM, reducing the need for laborious data input and tedious repetitive tasks. Workflow automations streamline your business processes, remove the chance of human error and improve your productivity.
Instead of needing the skills of a computer programmer, the feature uses a simple graphical interface to create automated workflows. For example, you could set up an automation to create a follow up task for your sales team whenever a new lead is created. Or maybe when a deal is "won" the system automatically sends an email to your finance team to raise an invoice.
There are endless uses for workflow automations, all helping you work smarter. Some CRMs offer limited functionality for workflows while others include amazingly powerful tools. However, some can be quite complex to set up and may mean you need external support.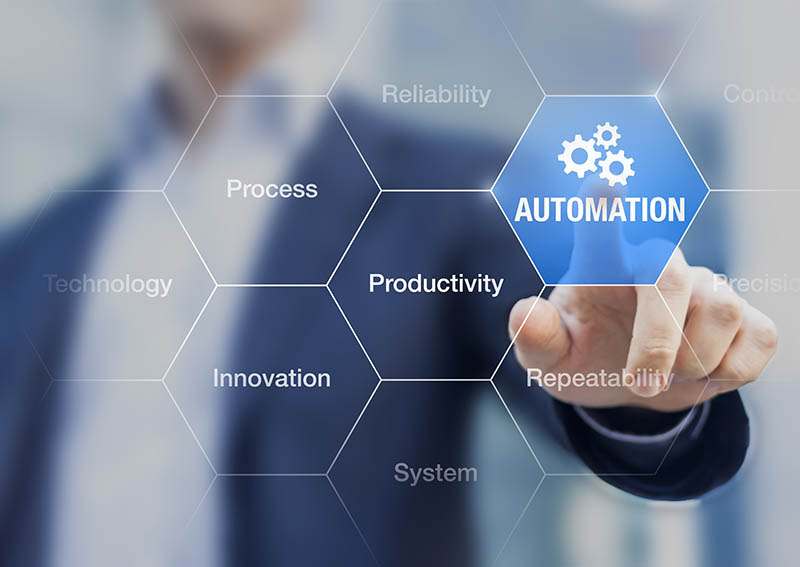 Reports and Analytics
With a huge amount of data being collected to the CRM you'll want to make sure you can report on it and run analysis. Oddly, not all CRM systems offer a reporting tool and some are quite basic. During your trial look to generate the type of reports that you will need and see how they work for you. You may want to consider a system that lets you schedule regular reports on your sales forecasts and activity, plus ad-hoc reports on your customer data.
As with workflow automation, the more powerful the reporting tool the more complex it might be too. But once mastered, the wealth of information and actionable insights can make all the difference. Look for a CRM with a customisable dashboard so you can monitor your team's activity in real-time.
But do remember that simply implementing a CRM will not guarantee success. Your CRM data can only ever be as good as the quality of data input and effective data management. Make sure you have suitable processes and structures in place to keep your CRM clean and healthy.
Our Choice of CRM Software for the UK
Really Simple Systems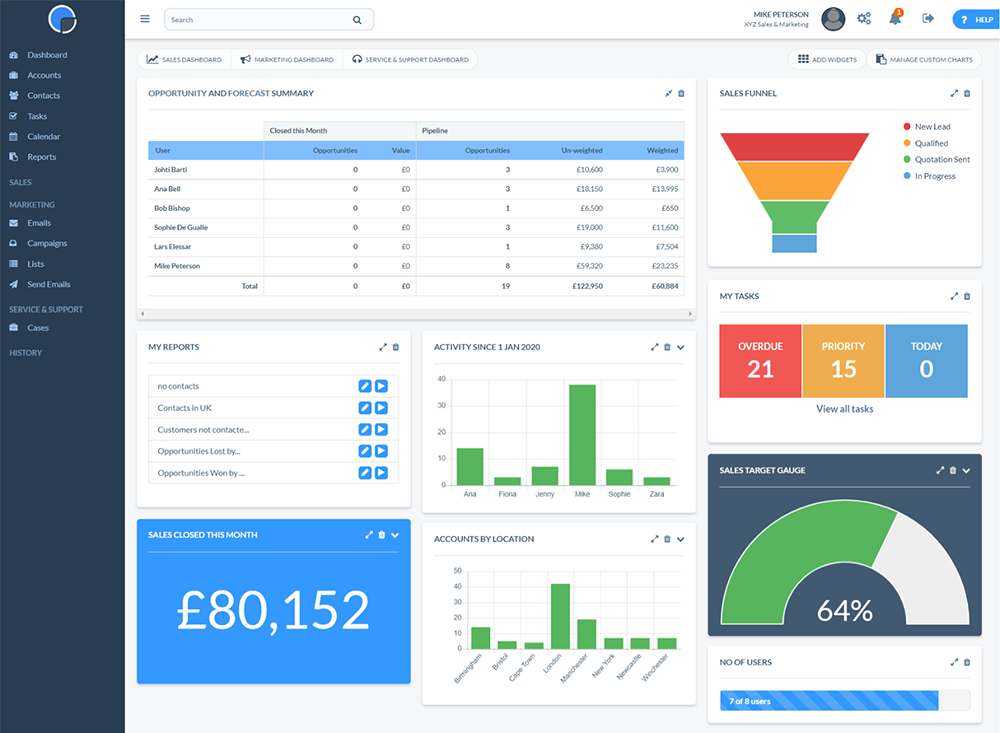 Really Simple Systems (RSS) is one of the few global CRM companies based in the UK. It targets small and mid-sized organisations operating B2B, though is also popular with larger businesses due to its simplicity and the ease of roll out to multiple users. It is very intuitive and ensures you have a great overview of your sales and marketing.
Being based in the UK makes it easy to get customer support when you need it, and it is amazing!  Customers worldwide regularly comment on the Really Simple Systems support and how brilliant it is, which is quite refreshing. As a consequence of being UK based, RSS is also GDPR compliant, with all data held in accordance with the GDPR legislation.
Really Simple Systems offers three price plans starting from £9 per user per month for the Starter plan, going up to £32 per user per month for the Enterprise plan. However, there is also a Free CRM option for two users and 100 company accounts. It offers two additional built-in modules for marketing and support desk software. These come for a fixed monthly fee, rather than per user. For marketing, the essentials "Simple Marketing" plan costs £15 per month and, for more complexity and a higher volume of emails, the "Advanced Marketing" plan costs £32 per month. Likewise, the "Service Desk" tool costs £32 per month.
Really Simple Systems CRM
Signup fora 14 day free trial and see if it's the CRM for you
Advanced CRM Features and Customisation
Interestingly, Really Simple Systems CRM is highly customisable. It offers a good range of self-service customisation as part of the standard product but also provides a full customisation service. This has proved popular with some larger organisations who have found some of the leading providers, such as Salesforce, unable to accommodate their needs.
RSS includes email integration as standard, and has native integrations with a number of leading third party systems. These include the likes of Google Sheets and Xero accounting, but also integrates with the integration platforms Zapier and Integrately, giving access to thousands of other systems.
New for Really Simple Systems is workflow automation. Recently released for beta users, the no-code automations are extremely powerful letting you set up lead scoring, manipulate automated marketing campaigns, and perform automated tasks.
The CRMs reporting tools are also very powerful, providing a dedicated forecasting tool and a listing report writer for ad-hoc reports.
Really Simple Systems has a very loyal customer base and provides a great solution of CRM software for the UK market.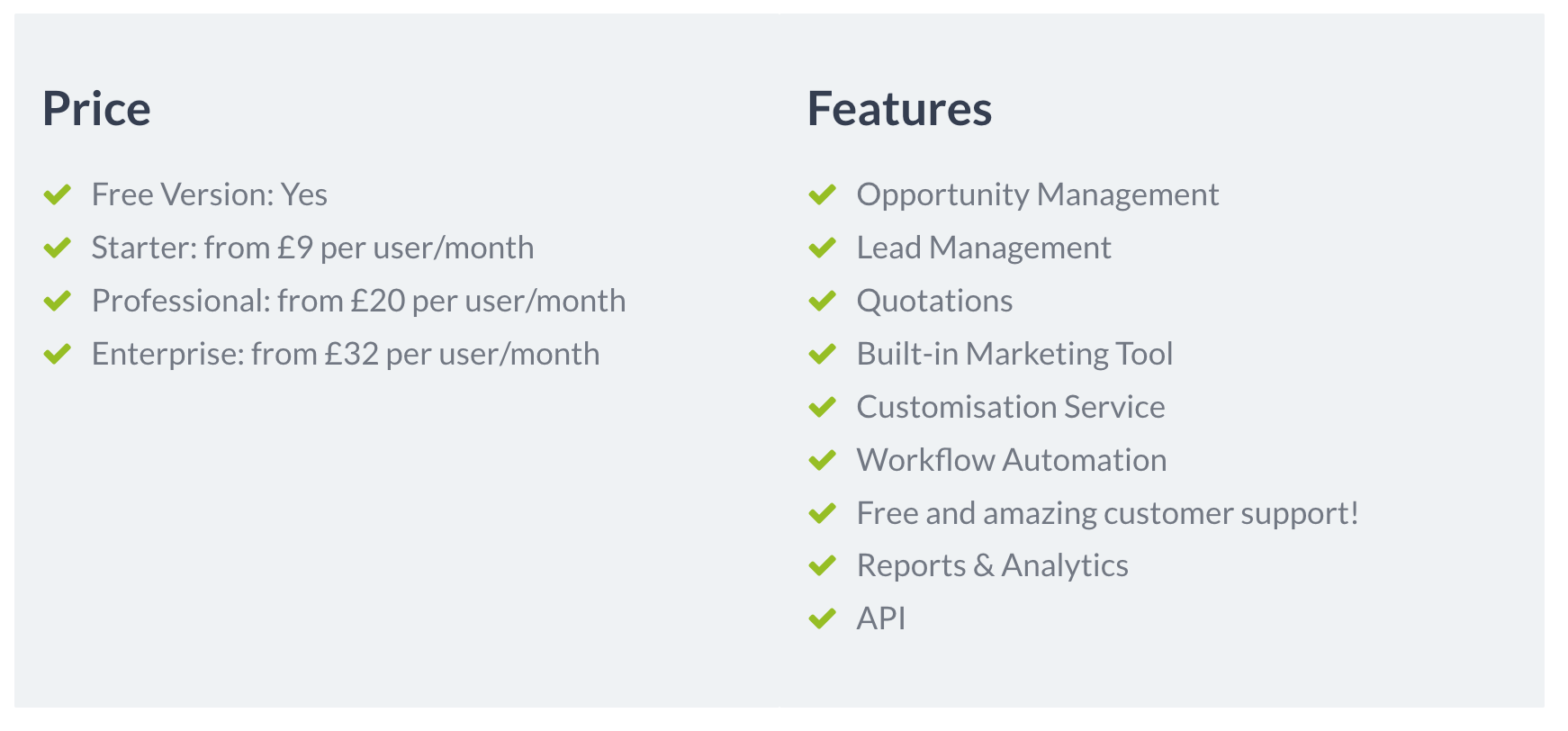 Zoho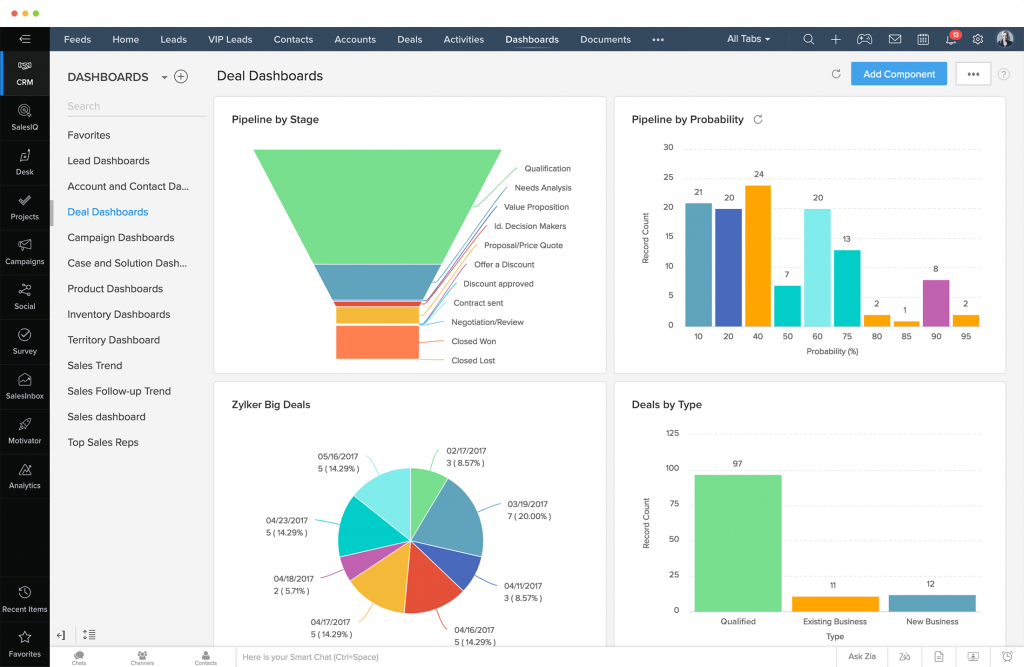 Zoho CRM is one of many tools within the Zoho software suite. Its products include software for marketing, project management, HR, finance, and customer support. All integrate with the CRM but none could be described as best-of-breed. The CRM is the most polished of the Zoho apps and is one of the leading and more established CRM brands.
Zoho CRM includes a lot of features which means it can be time consuming to get set up and customise but users report that, once set up, it is easy to use. It has some really neat features like its AI assistant, Zia, and the new Canvas tool. Canvas lets you extensively customise your desktop, editing the fonts, colours, icons etc. As well as its own products, Zoho offers native integrations with all the leading software names on the market.
In addition to Zoho's standard price plans, it offers a free CRM and a dedicated basic CRM for small businesses called Bigin by Zoho. This is available from just £5 per user per month. The standard price plans range from £12 per user per month to £42 per user per month, with extra fees for the add-on products.
Workflow automation is available in the Professional plan and upwards though, as with the other advanced CRM features, has limited numbers in all but the most expensive plan.
Where Zoho comes in for most criticism is with its customer support. Users report that the response time is slow and solutions presented are incomplete. Zoho's corporate office is based in India but the company now has offices in 11 different countries, but not the UK, although a UK telephone number is offered.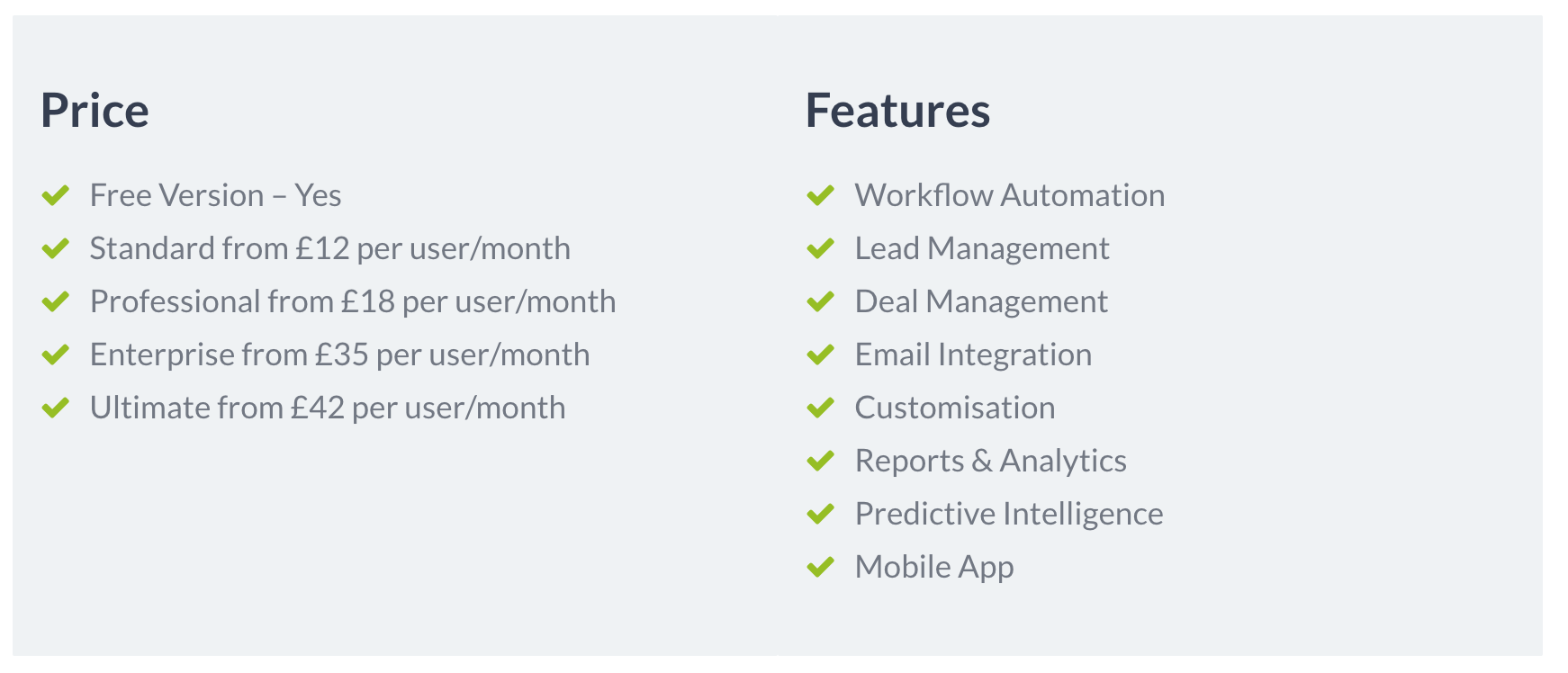 Salesforce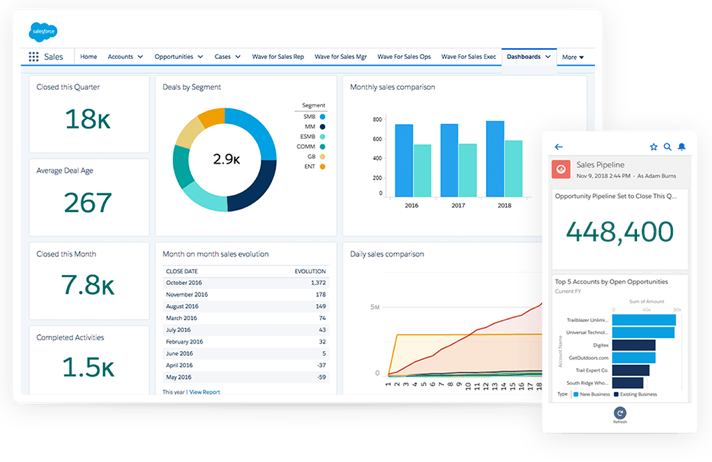 Salesforce is the undisputed industry leader for CRM software with 19.5% share of the market worldwide. It is the most comprehensive of systems, with all the bells and whistles you could ever wish for and is highly customisable. But this comes at a price. And while it may offer the best solution for large organisations, for most of us the level of functionality is more than needed. However, Salesforce does offer a cheaper option aimed at small businesses. The Small Business Solution provides a "complete CRM" for £60 per user per month – so maybe not suitable for all small businesses!
Unsurprisingly, Salesforce offers a complete suite of add-on tools including marketing, support, e-commerce, analytics and so on. Probably the best known of their tool is the marketing app, Pardot. As the CRM market leader, almost every software app in existence has built an integration to the CRM, so there is no end of choice for integration.
Despite the extensive range of features, before you get too excited, it's worth mentioning that many are only available in the more expensive price plans. Also worth noting is the software can be quite complex to set up and many customers comment of the lack of support available. The CRM is essentially designed for organisations with a good number of software developers at their disposal to optimise the system or the funds available to appoint implementers.
Salesforce has numerous offices worldwide, including one in London covering sales and technical support. So, there should be no problem with time zones providing you are on the correct price plan.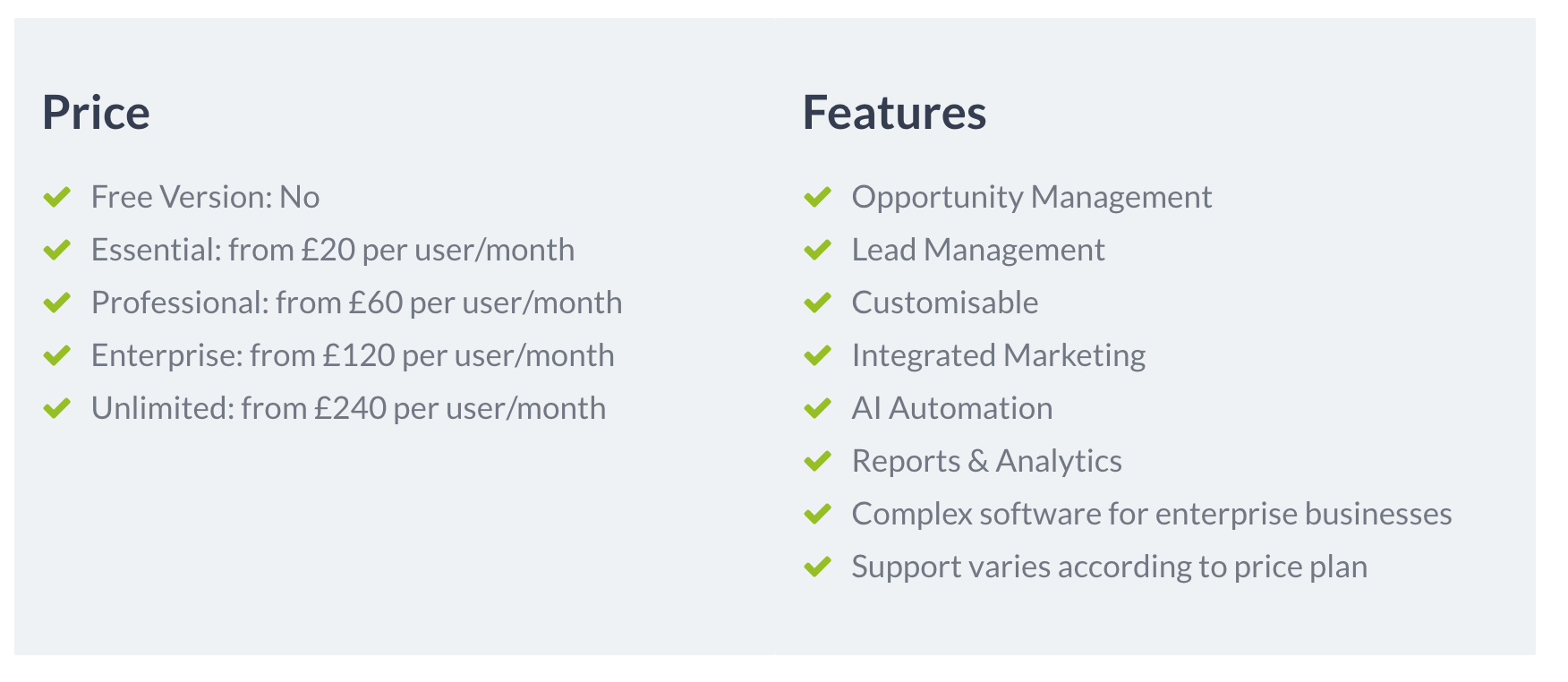 HubSpot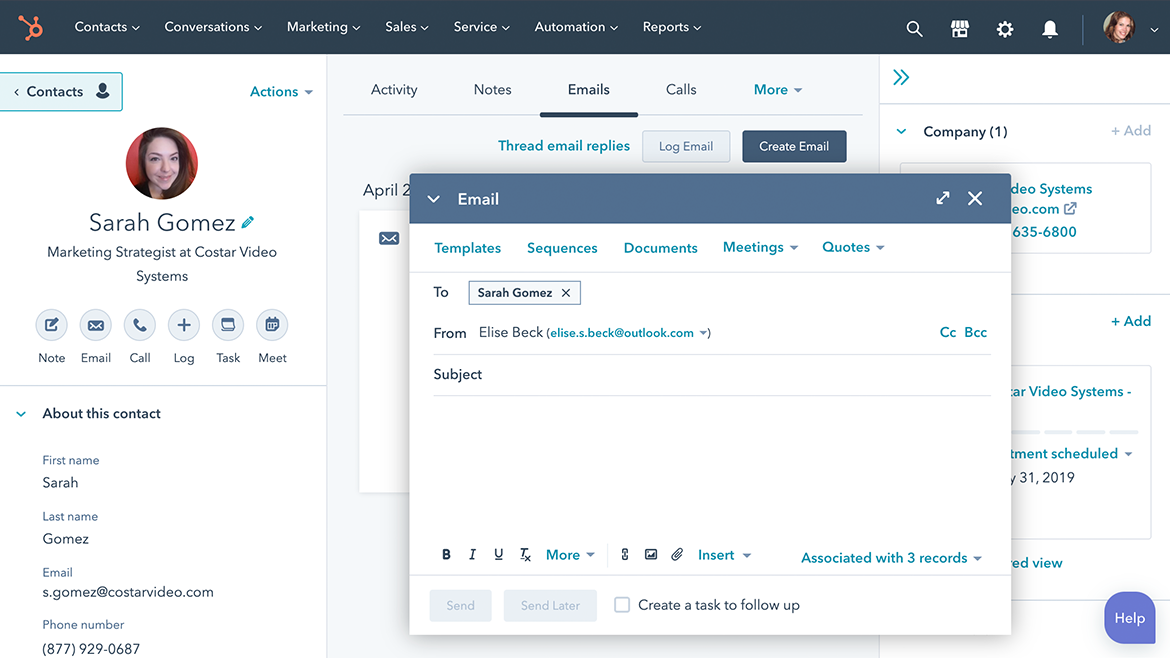 HubSpot started life as a marketing tool and later added the CRM and Service tools known as "hubs". It makes it a great tool for anyone looking to automate their sales and marketing processes, though with HubSpot the marketing tool is the driver. The system lets you track and sort customer interactions automatically across multiple channels, including social profiles, and sync the data to the customer account. The focus is on inbound marketing campaigns aimed at growing website traffic and conversion to leads, then monitoring them through the funnel.
HubSpot does offer a free CRM and this is a good option when you are first starting up. However, it is quite limited so it's likely you'll need to upgrade before long. If you are looking to use the integrated marketing tool, be warned – it is expensive. The price is governed by the number of contacts you have not the number of emails you send, which can mean the need to edit your contacts list.
The CRM features list is dizzying! Just understanding what everything does might be the first challenge let alone setting them up! Alongside the price, user reviews suggest this is one of the disadvantages of the system, although most report that once set up it is user-friendly and easy to train staff.
What is less attractive, especially for the UK market, is HubSpot's aggressive sales practices. Users report of predatory sales teams and shady practices that are not to the liking of us Brits. But if you can get past this, the customer support is reportedly good.

Freshsales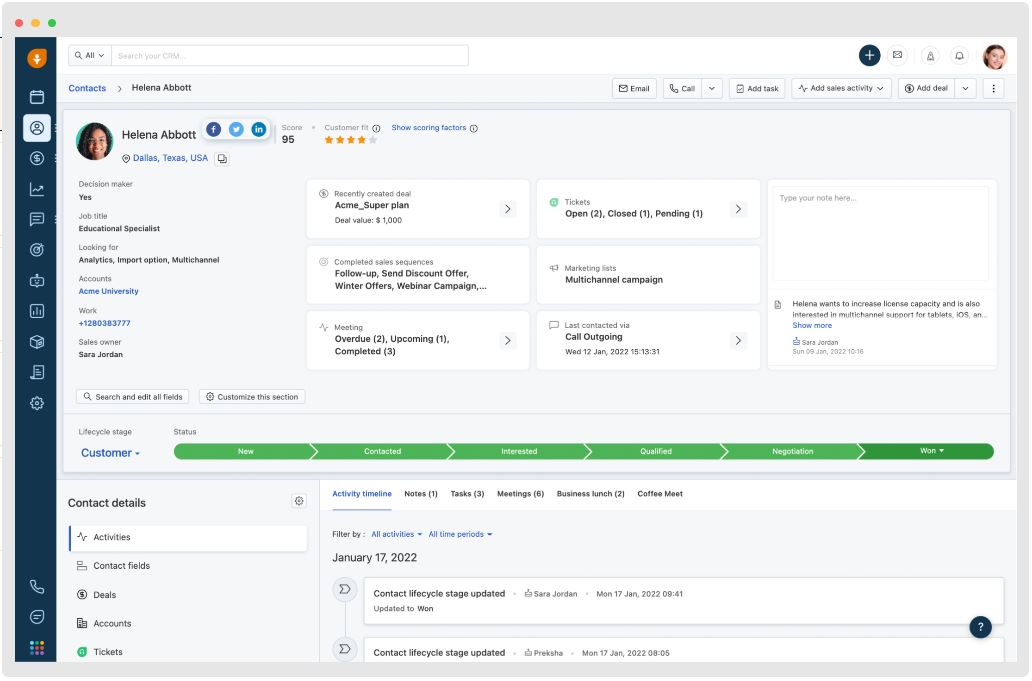 Freshsales is part of the Freshworks suite of business tool. Probably its best known app is Freshdesk, a customer service software tool. Freshsales offers a comprehensive list of features which covers pretty much everything a salesperson is likely to need. It includes AI insights via its AI assistant "Freddy" and a good level of automation and workflows.
What's not so clever about Freshsales is the range of products, which is quite confusing. As well as Freshsales "Sales CRM" there is Freshsales Suite "Sales & Marketing CRM", but they are both the same price. Freshsales Suite has a built-in marketing tool, yet there is also an add-on tool called Freshmarketer for marketing automations.
Customer reviews of Freshsales are generally positive and the CRM it is highly rated, however, the most recent UK based reviews are more than 2 years old. Internationally, many users do criticise the customer support and the length of time it can take to get a response, though others compliment the service. Nevertheless, the self-service support resources are comprehensive, though they are heavy going with no obvious logical order.
The Freshsales pricing is competitive providing you are making good use of the features offered.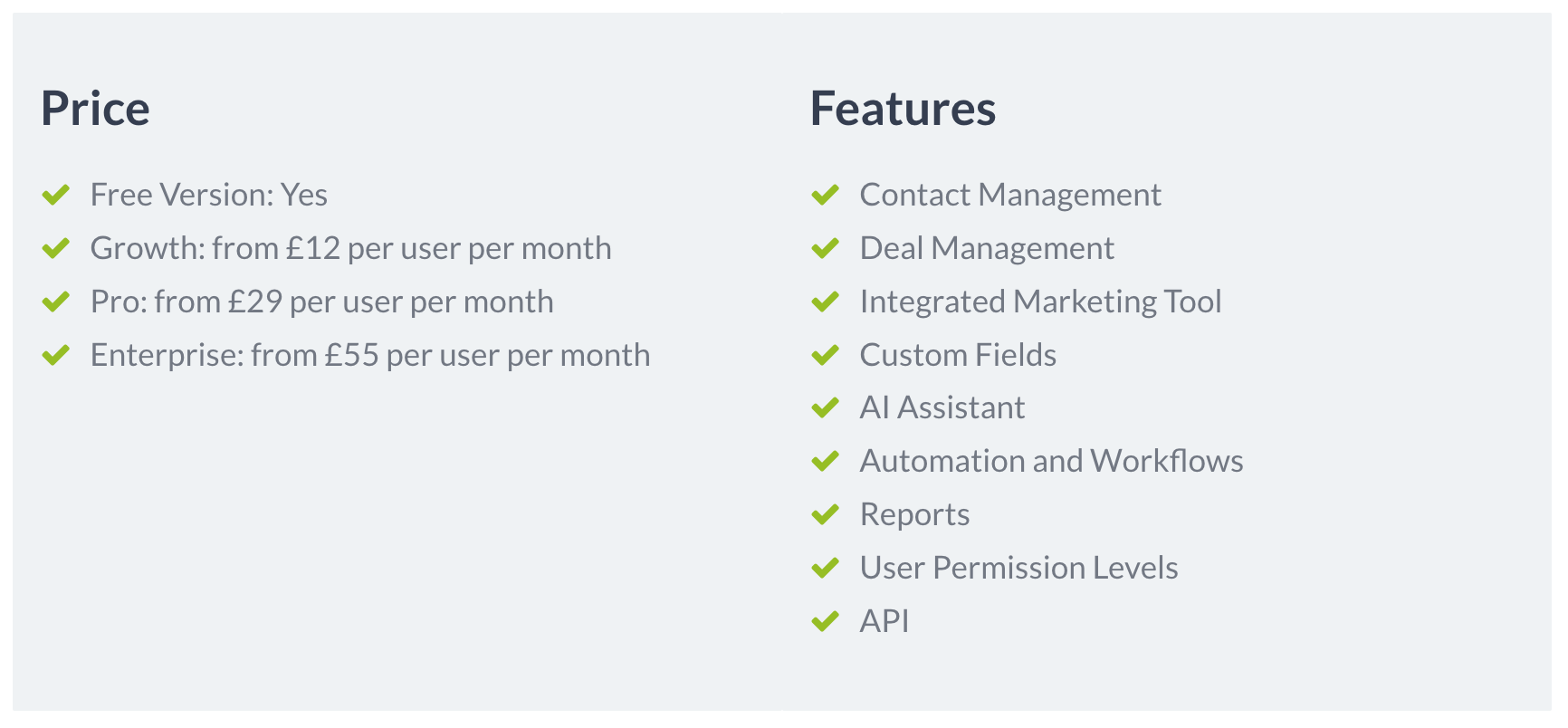 How to Choose a CRM
Each of these CRM systems will be the right fit for someone depending upon what functionality they need, their budget and competence. The main thing is that if you are already considering using to a CRM, your business will undoubtedly benefit from the investment. More and more small and mid-sized businesses in the UK are increasingly realising how CRM software can help boost growth and create the difference between them and their competition.
To find the best fit for you take a free trial of the systems that look to meet your needs and see how they work for you.
Know What Success Looks Like
If you're addressing certain pain-points in your organisation, make sure you know what success looks like so you can measure the value of your CRM. For more help, you might like to download our CRM Buyers Guide.
Really Simple Systems is now Spotler CRM
The same great technology, a CRM platform that is focused on the needs of B2B marketers, provided by the same great team, at a great price!