CRM
• Nov 30th, 2022 • Max Jones
7 Best CRM Integrations with QuickBooks for SMBs 2023
QuickBooks is often the first app small business owners use to manage their contacts. However, integrating it with a CRM is where the real magic happens.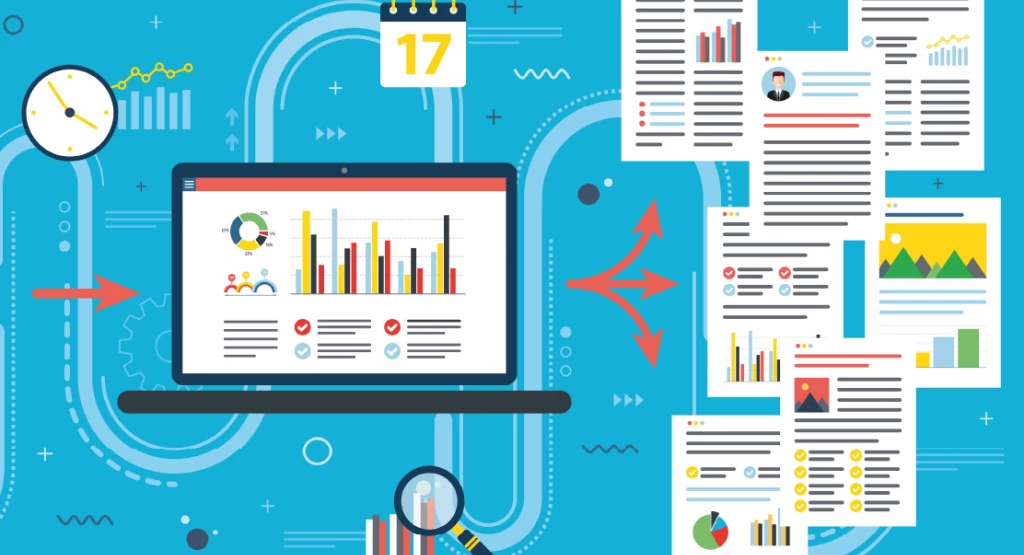 QuickBooks accounting software often functions as a small business owner's first administration system. It has all the vital information, such as contact details, billing history, and interaction details you need.
But while QuickBooks is great for accounting, it doesn't help you make more sales, nor is it optimal for customer or contact management. 
When entrepreneurs realize this, they add Customer Relationship Management (CRM) software into the mix. Using a CRM is the right move, but it is also another platform where you  need to import data into and manage. In this scenario, business owners can end up spending more time on repetitive data entry than high-value tasks. 
So what's the solution? 
Choosing a CRM that integrates with QuickBooks to automate data entry, improve pipeline visibility, and unlock hidden insights.
Get to know QuickBooks and its key features
QuickBooks is the most popular small business accounting tool, with more than 4.8 million users. 
While there are a few versions, QuickBooks Online is their main product — and the one you want for CRM integrations. The accounting software makes recording transactions, preparing reports, and billing customers a breeze. 
Some key features of QuickBooks include: 
Easy invoicing. Easily create professional-looking invoices and automate billing processes.
Organized expenses. No more hunting for payment histories at tax time. QuickBooks will have it ready anytime. 
Banking integrations. Catch accounting discrepancies quickly with automatic banking records.
GST and VAT tracking. QuickBooks lets you organize and track different tax types, making it easy to know how much you owe. 
Inventory management. QuickBooks tracks your inventory in real-time, so you always know your stock levels.
Tax preparation. Tired of hoarding receipts for tax deductions? You can upload photos and store them in QuickBooks instead. 
Multiple access points. All of QuickBooks' main features, such as expense tracking, reporting, and invoicing, are available on desktop and mobile. 
Company reports and insights. QuickBooks helps you plan for the future with reports and insights, like their cash flow planner. 
International customer management. Do you sell products or services overseas? QuickBooks lets you assign different currencies to your customers. Send invoices, record transactions, adjust reports in different currencies, and assign them to foreign customers.
7 Top CRM Integrations with QuickBooks 
QuickBooks is a powerful tool for business owners. However, it's possible to improve its functionality by integrating it with the right CRM.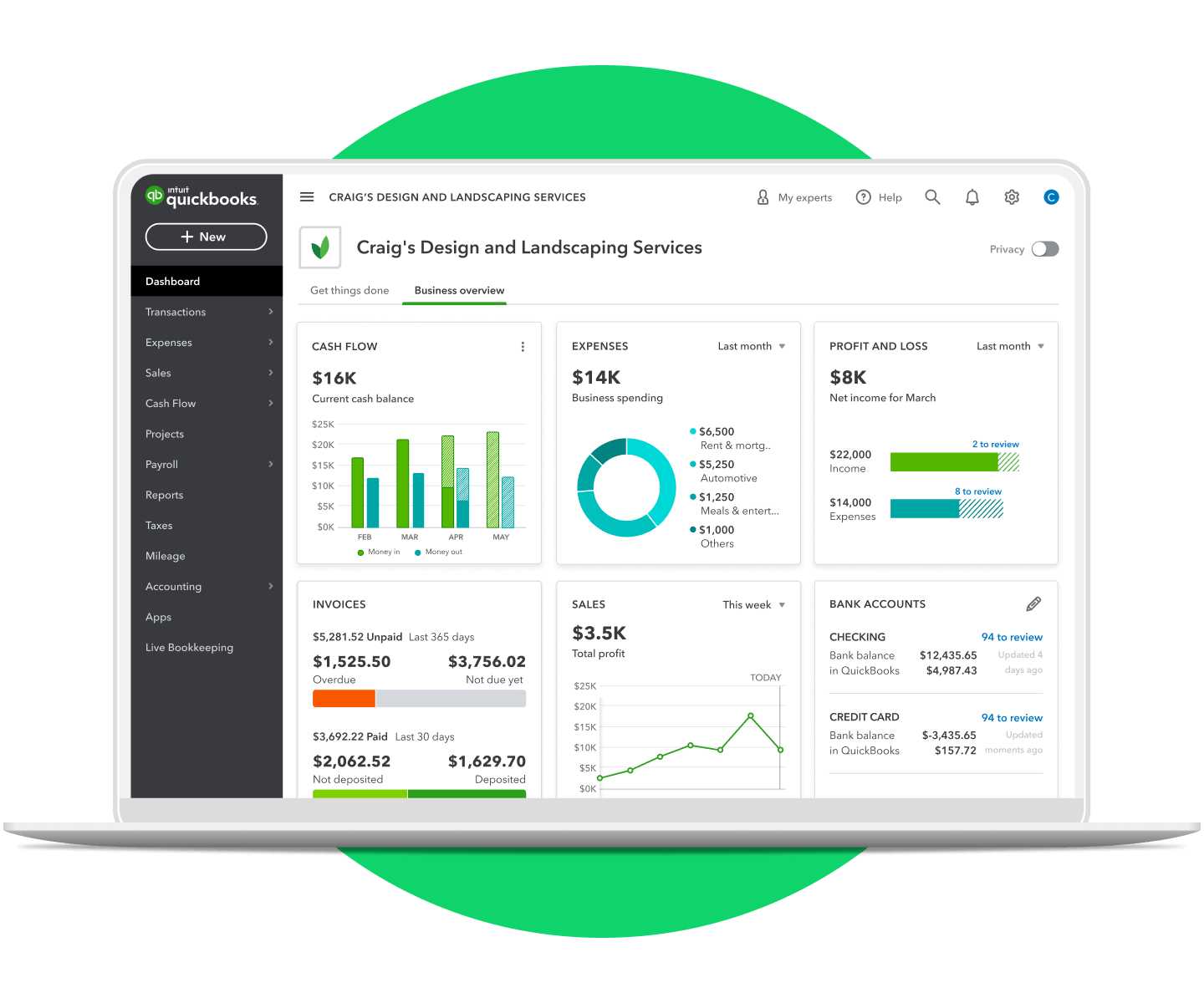 Some of the top benefits of CRM integration include: 
Remove information silos. Business owners typically restrict QuickBooks access to finance or managerial staff, making it difficult and slow for sales staff to find customer data. Instead, an integrated CRM can pull the necessary customer data from QuickBooks without compromising sensitive information. 
Improve productivity. Do you or your team spend hours each week on data entry? Are you using multiple disparate systems? Then integrating your CRM with QuickBooks will reduce admin time and ensure consistent data across any integrated platforms.
Increase sales numbers. QuickBooks is great for recording customer history, but it isn't suitable for analyzing which customers to follow up with. An integrated CRM will highlight important data, such as how often you've interacted with a customer, their current status, and follow-up reminders. 
Make the most of your data. You can use QuickBooks data to improve your customer service, but you need a CRM to unlock these insights. For example, if a customer recently bought a product, you'll see this in your integrated CRM. You can then set up a reminder to follow up a week after delivery to find out about their experience. 
Now let's dive into the top QuickBooks CRM integrations.
#1. Really Simple Systems CRM
Like its name suggests, Really Simple Systems is known for being an easy-to-use CRM with sales, marketing, and customer service capabilities built-in.
It's an award-winning CRM with everything business owners need to manage their customer interactions.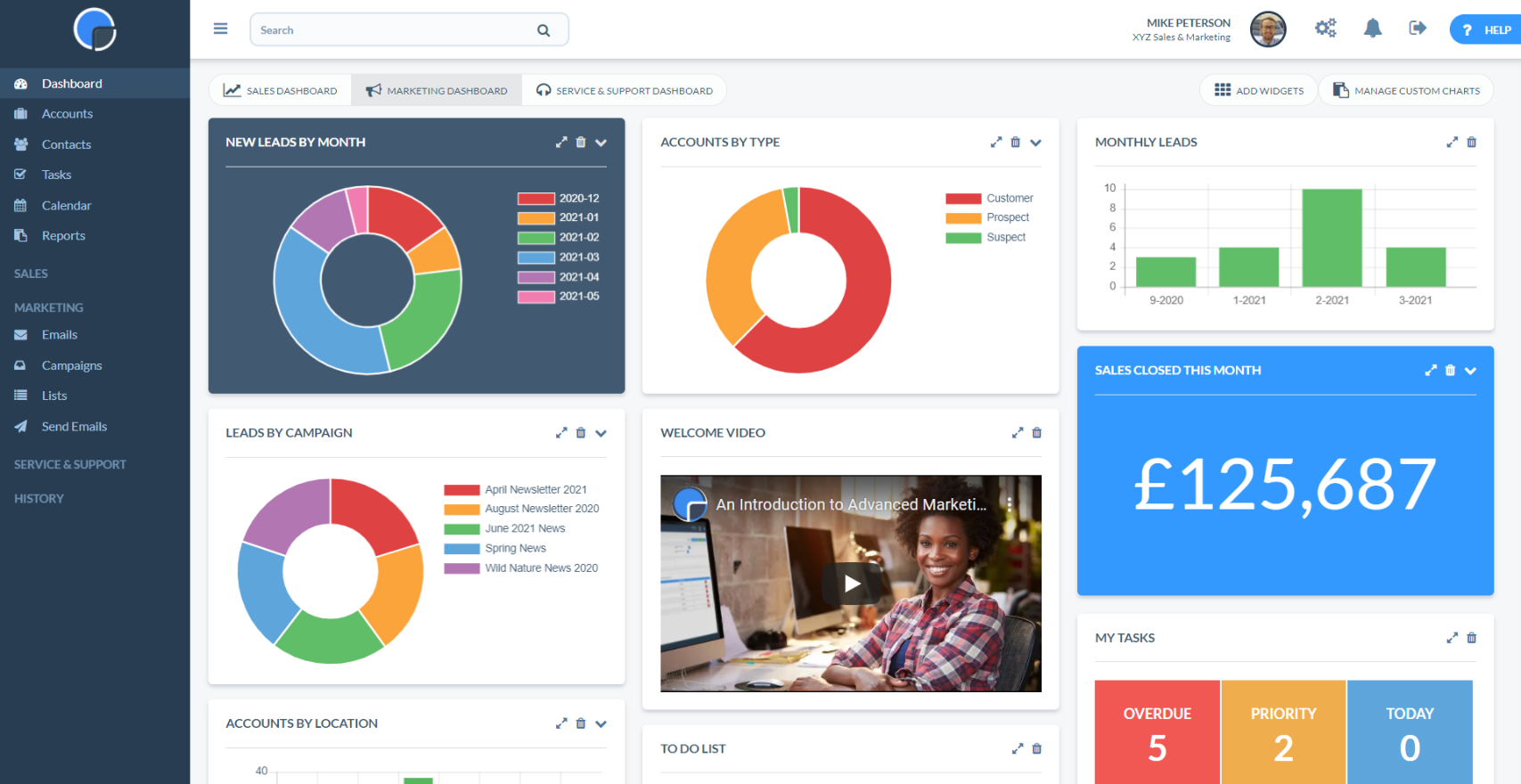 Some of our top features include: 
Top customer support. Really Simple Systems prides itself on offering a high level of customer support, so you get the most out of your CRM and QuickBooks integration. 
Simple invoicing. Constantly switching between platforms wastes time and leads to errors. Instead, use Really Simple Systems to send your invoice straight from the CRM.
Lead management. Using the integrated marketing tool, Really Simple Systems makes light of lead management, helping your nurture your leads as they move through your pipeline.
On top of this, Really Simple Systems lets you leverage your QuickBooks customer data through advanced marketing features. It lets you build marketing campaigns, generate leads from your website, and automatically rank lead quality.  
Highlights
Simple to set up and use.
Full customer support to help you get the most out of your CRM.
Advanced marketing features include email marketing, metric tracking, and more.
Integrate Really Simple Systems with QuickBooks
#2. Method CRM
Method's number one selling point is that it works with every QuickBooks product. So if you use multiple systems, you'll be able to integrate all of them with Method. 
Having this flexibility is also vital if you have plans to upgrade your QuickBooks software in the future.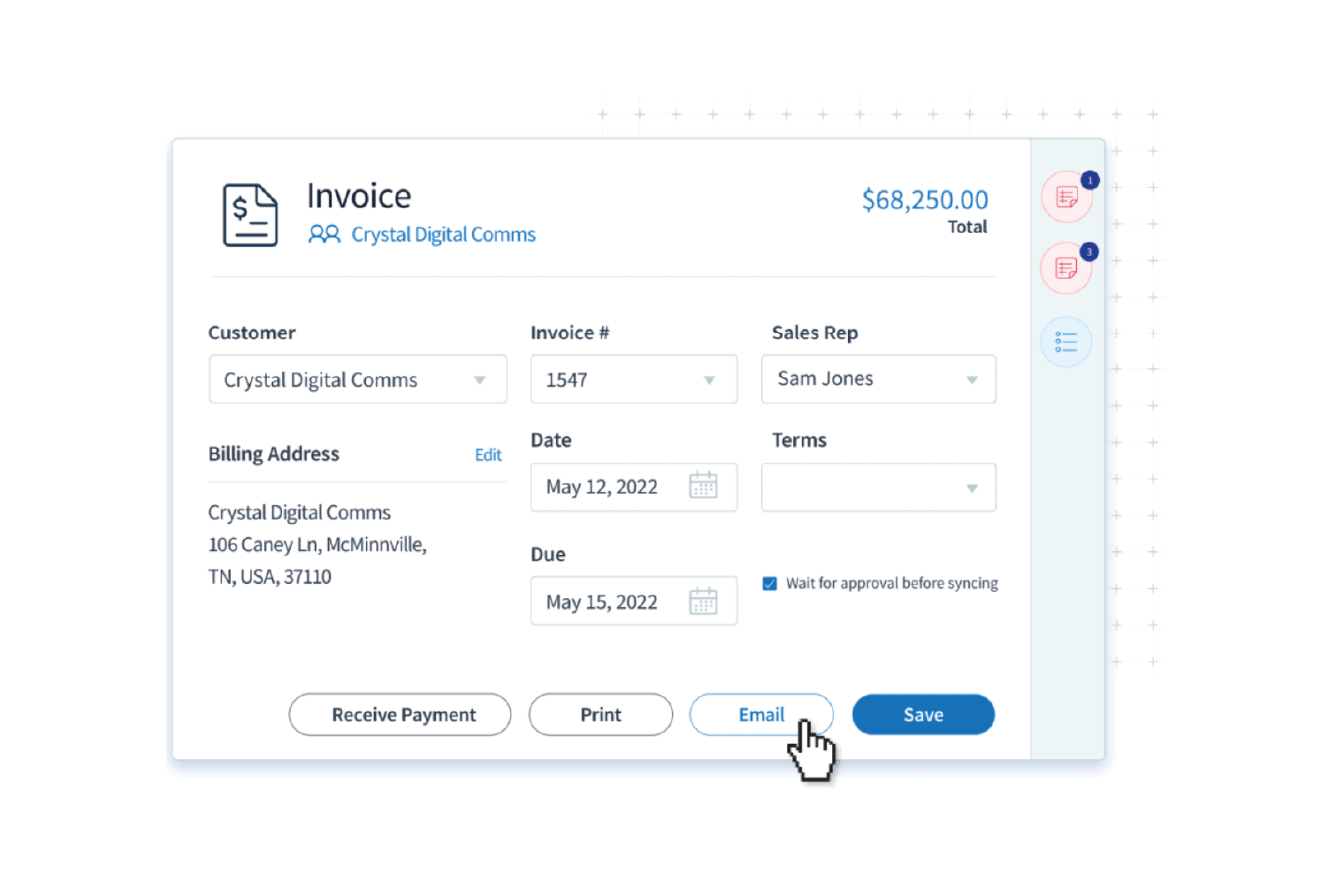 Some of Method's top features include: 
Customer portals. These allow your customers to pay bills and update their information whenever needed. Any edits and payments automatically sync with QuickBooks as well. 
Intuitive contact management. Method displays crucial customer information in one place, so you don't have to put the pieces together yourself. You can find customer purchases, preferences, and previous interactions on their profile. 
Simple workflows. Method simplifies your workflows by letting you complete daily tasks like creating estimates and sending invoices straight from the CRM. 
And thanks to Method's patented two-way integration, each platform will automatically update relevant information changes. This means fewer admin hours for you and your team. 
Highlights
Compatible with many QuickBooks versions.
A unique two-way patented integration for sharing data between Method and QuickBooks.
#3. Insightly CRM
Insightly is a great match if you use QuickBooks Online. Its integration is simple and quick to install without much user input. 
One of the main differences between Insightly and other CRMs is its focus on long-term customer relationships and project management features. So it's a good option for service-based or recurring product businesses.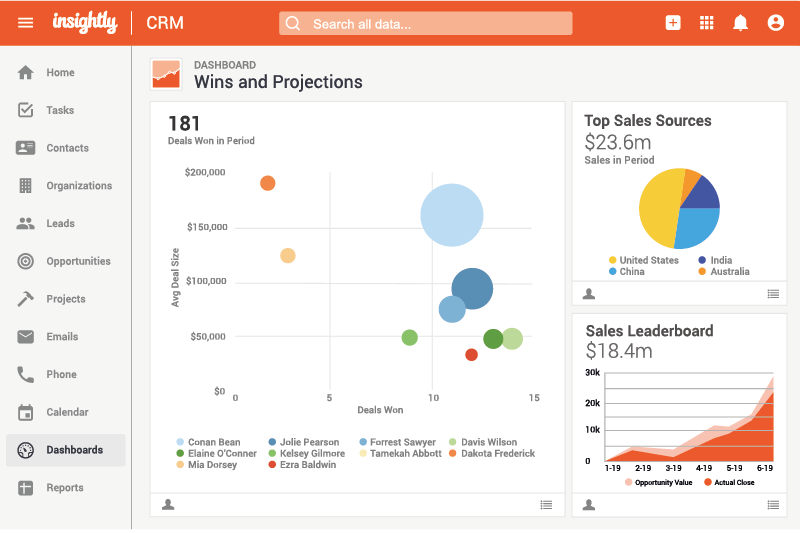 Some of Insightly's top features include: 
Advanced project management. Insightly lets you develop and plan projects straight from the CRM. It can even assign project tasks automatically so you can start sooner. 
Tailored sales processes. Every business is unique, so Insightly lets you customize your sales processes to match your needs. 
Personalized marketing campaigns. Insightly offers content design, analytics, and other powerful marketing features without needing a dedicated platform. 
While Insightly is a powerful CRM, it provides minimal integration features. You won't be able to create invoices or take payments from the CRM. But it'll still eliminate double data entry and let you see essential customer information like account status, invoices, etc. 
Highlights
Free plan for up to two users. 
Integrated project management features.
A wide range of integrations, including marketing, customer support, and of course, QuickBooks.
#4. Nutshell
Nutshell is a CRM with a difference — it also specializes in sales automation to improve our sales team's productivity. The team also offers two CRM options: a simple lead and contact management version and an advanced version to enhance your sales productivity. 
Like Insightly, Nutshell integrates with QuickBooks Online and is straightforward to set up.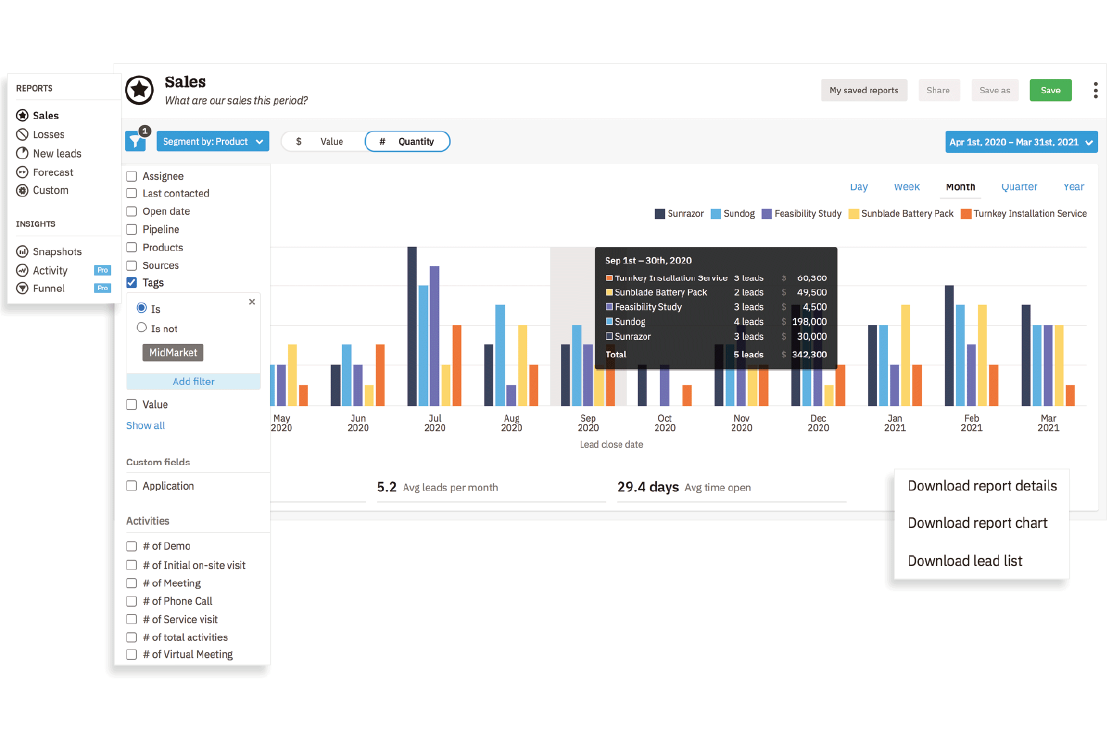 Some of Nutshell's top features include: 
Flexible pipeline management. Nutshell offers several ways to view and manage a pipeline. Your sales reps can use Kanban-style boards, lists, charts, and even map-based dashboards to improve their sales process. 
Sales automation. Automation lets you build the perfect processes for non-selling activities, so your reps can spend more time in front of clients. 
Embeddable forms. Nutshell lets you create web forms that automatically turn submissions into CRM leads.
Besides these, Nutshell offers instant QuickBooks syncing, allows you to import customers to QuickBooks, and provides a Zapier integration to streamline processes further. 
Highlights
Zapier integration allows many automation options.
Helpful for B2B pipeline management.
#5. Copper CRM
Copper is well-known for its Google Workspace integration. So if you can't get enough of Gmail and the rest of the Google Suite, this may be the right option for you. 
Copper's main selling point is that the tool is super simple to use, promising no learning curve. And a unique aspect is that you can access the CRMs capabilities right from Gmail.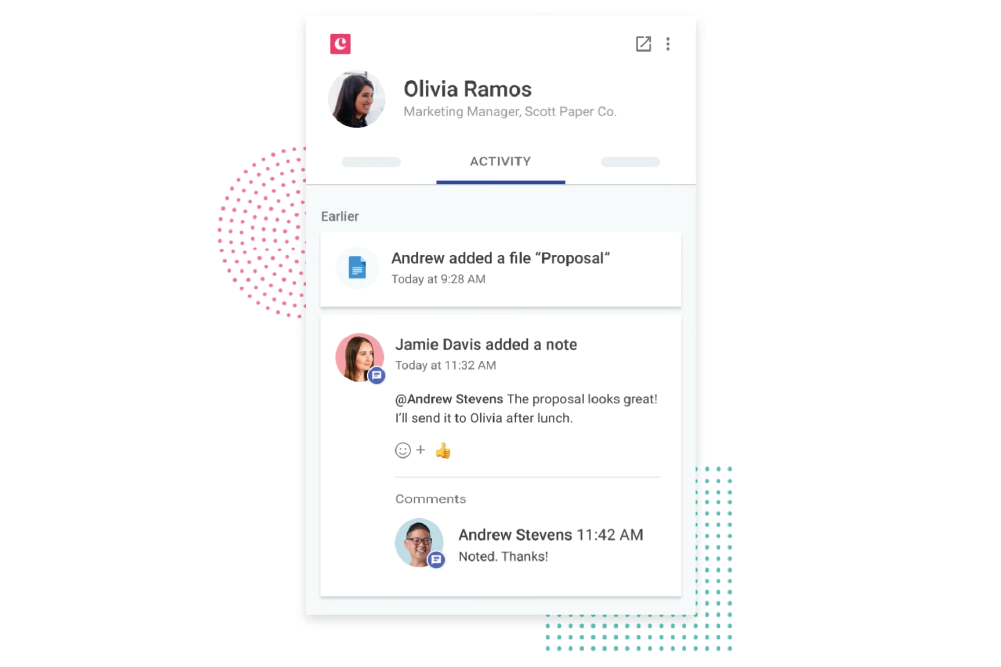 Some of Copper's top features include: 
Google Workspace integration. Copper integrates with Gmail, Calendar, and Drive, so you don't have to switch between screens. 
Automatic data syncing. Files and Google docs automatically sync to the relevant CRM contact, making it easy to find the information you need. 
Customizable tracking. Copper lets you track custom metrics about your leads so you can gain better insights and build better relationships. 
Overall, Copper is a great CRM if you want to access deeper contextual information and simplify workflows within Google Workspace applications. 
Highlights
Seamless integration with Google Workspace to simplify everyday tasks — manage everything from Gmail.
Total transparency for each client relationship.
No-code automation to reduce data entry tasks.
#6. Zoho
Zoho is one of the most powerful CRMs on this list and provides excellent integration features with QuickBooks. However, it requires some technical skills and patience to set up.
You'll need to manually configure your information import and export processes which can be tedious. But you'll be able to customize the data sharing to meet your unique needs.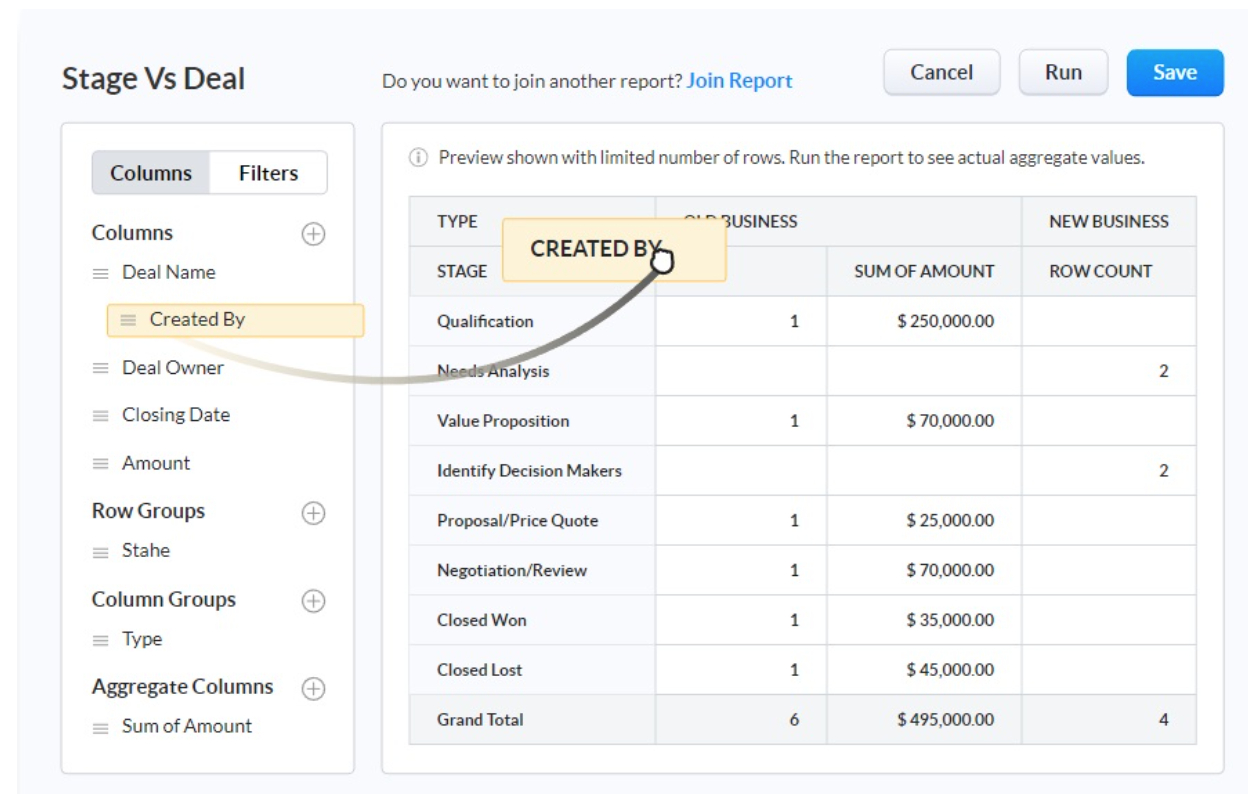 Some of Zoho's top features include: 
Wide range of capabilities. Zoho integrates with over 500 different apps and allows extensive customization with no-code and pro-code editors. 
Predictive sales. Zoho leverages AI to optimize your sales process through intelligent suggestions, like determining the best time to contact a customer.
Automation. Zoho offers automation options for several aspects of the business, including lead, deal, and workflow management. 
On top of this, Zoho allows you to complete many QuickBooks tasks straight from the CRM, including invoicing and inputting expenses. Zoho will also upload these changes to QuickBooks automatically. 
Highlights
Advanced QuickBooks and CRM capabilities. 
A robust CRM that big brands trust. 
Extensive analytics capabilities.
#7. Microsoft Dynamics 365
Microsoft Dynamics 365 is a modular CRM that allows you to choose your desired features. It offers capabilities across any business, from sales and marketing to supply chain management. 
Microsoft Dynamics 365 doesn't offer native integration with QuickBooks, though. So you'll need to connect the two with Zapier.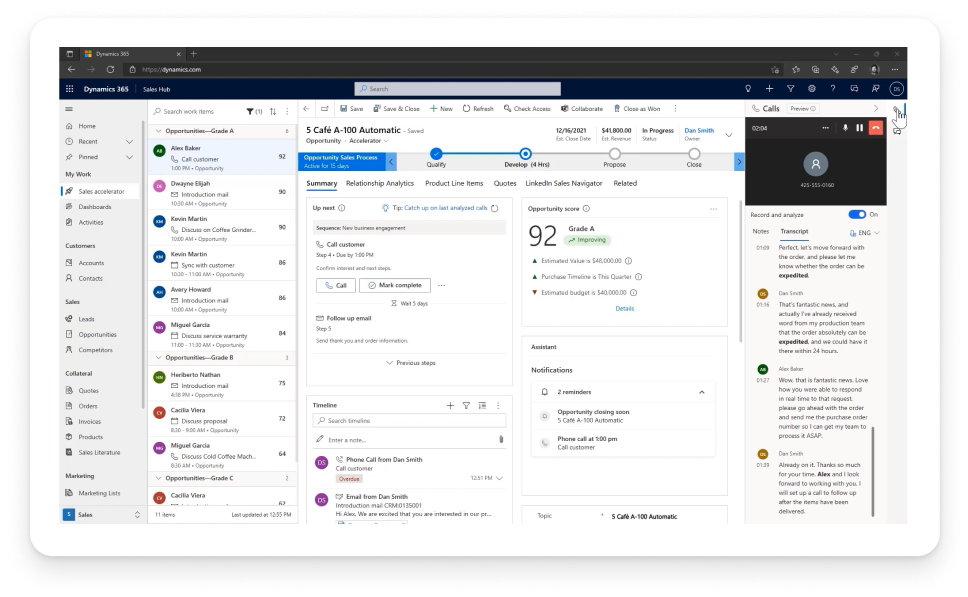 Some of Microsoft Dynamics 365's top features include: 
AI insights. Microsoft's AI technology can help you prioritize your best leads, provide behavioral insights, and personalize the buying experience. 
Automation. This CRM provides powerful automation capabilities to reduce manual tasks, improve financial reporting, and skyrocket productivity. 
Supply chain management. Microsoft provides automated order fulfillment, real-time inventory tracking, and enhanced supply chain visibility. 
If you need a powerful CRM that covers many aspects of business operations, Microsoft Dynamics 365 is a great choice. 
Highlights
Come with modular applications so you can tailor the CRM experience.
Provide AI-powered analytical insights. 
Integrate QuickBooks with your Really Simple Systems
In the early stages of a business, QuickBooks provides most of the capabilities you need. But once your business grows, you need to make the most out of your data by integrating QuickBooks with a powerful CRM. 
Remember, by choosing a CRM that integrates with QuickBooks, you can: 
Improve data visibility across your business. 
Automate data entry to reduce errors and improve productivity. 
Unlock valuable customer insights that stay hidden in QuickBooks. 
The CRM Integrations with QuickBooks we mentioned in this guide are all excellent choices. However, for a small business owner like yourself, Really Simple Systems is the perfect QuickBooks partner. 
Really Simple Systems is super simple to set up and navigate while still providing robust sales, marketing, and customer management tools — plus, you can always add extra capabilities when the time is right. 
Sound good? Then why not see for yourself by signing up for a free trial today!
Really Simple Systems is now Spotler CRM
The same great technology, a CRM platform that is focused on the needs of B2B marketers, provided by the same great team, at a great price!