CRM
• Jan 11th, 2023 • Helen Armour
Most Popular CRM Software in Australia for 2023
The market for CRM software in Australia is growing rapidly. Here's some help in selecting which CRM system is best for you.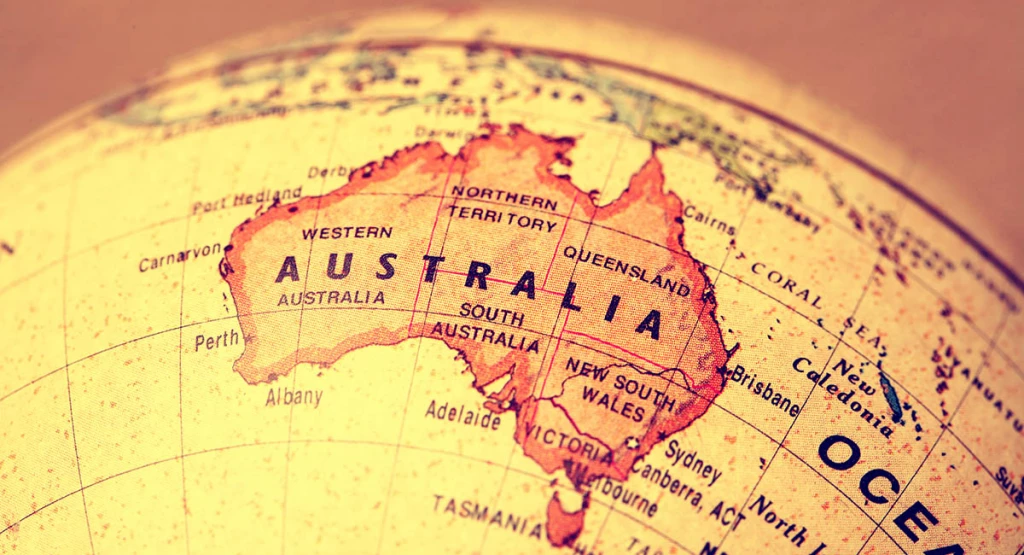 Why Is the CRM Market Growing So Fast?
Importance of Customer Experience
We're living in an age where customer experience is everything. We've already seen companies making fortunes mainly thanks to beautiful design, exceptional UX, and unique customer relationships. These businesses have long ago recognised the significance of investing in their users' and customers' convenience. However, this trend has gone even further. 
According to research conducted by Walker, customer experience has overtaken price and product as a key brand differentiator and is expected to grow in importance in the years to come. In essence, this means that consumers may pick a product or service that is less reliable and more expensive if it's quicker, more straightforward, easier to operate and customised according to their specific customer's needs and demands. 
In other words, a product will have to be truly focused on the customer to stand a chance in the market. Naturally, this is where CRM systems can offer valuable support. They can help automate workflows, make customer service more efficient, as well as improve communication both with clients and within the organisation.
This has been recognised by businesses in Australia and the rest of the world alike. This creates a snowball effect, starting with a relatively small number of companies using CRM software and therefore gaining significant advantage over their competitors in some crucial areas of business. It's no surprise when other businesses start following suit. A good CRM system generates value for your business and this has not gone unnoticed by executives and other decision-makers.
Technological Development
Another important factor for this growth is that with time, CRM software in Australia and elsewhere has become more advanced, reliable, accurate, efficient and accessible. In the past, technological shortcomings had been responsible for the lack of functionality, especially when it came to data collection and processing. 
The development of CRM has had its ups and downs, and it has not always been considered the technology of the future.
The expectations fluctuated, ranging from a genuine enthusiasm to utter disappointment in different periods of time. But with the latest technological advancements that have brought radical changes in the quality of the software, it finally seems that the CRM industry is definitely here to stay.
CRM Accessibility for Small Business
Nevertheless, the substantial rise of this CRM software in Australia is even more obvious than in the rest of the world. As it was already said, CRM software revenue in 2018 grew by 19.4%, compared to 15.6% growth on the global scale. One of the reasons for this could be the increasing accessibility of different CRM software and the evident reduction in prices.
Namely, CRM systems used to be too expensive and robust for small businesses. With the mentioned technological advancements, it has become less expensive to develop them, which naturally caused the prices to drop. New companies producing CRM software emerged, which reinforced the competitive vigour in the industry. All this has made CRM more accessible and reliable, and small and medium businesses started reconsidering implementing CRM systems in day-to-day business activities.   
CRM Affordability for Small Business
This is particularly important in Australia, where over 97% of all businesses are small businesses, employing 19 people or less. Medium-sized businesses make up 2.4% of all companies, while only 0.2% of them are considered large, meaning that they employ at least 200 people.
Given these statistics, it's obvious that the Australian economy is dominated by smaller organisations, which previously couldn't afford a good CRM solution. Small Australian businesses have recognised that with CRM software they get good value for their money and increase their chances of getting the much-needed competitive advantage. 
Still, the abundance of choice that these businesses are offered on the CRM market is huge. It's not easy to choose the right solution for your company, especially as a layman. You might want to check out our CRM Buyers Guide that can help you avoid the most common mistakes that businesses tend to make when choosing and implementing a new CRM system.
Most Popular CRM Software in Australia
Now we're going to do a quick review of some of the most commonly used CRM software in Australia. Hopefully, it can help you make the right decision when picking one that suits your organisation best.
1. Really Simple Systems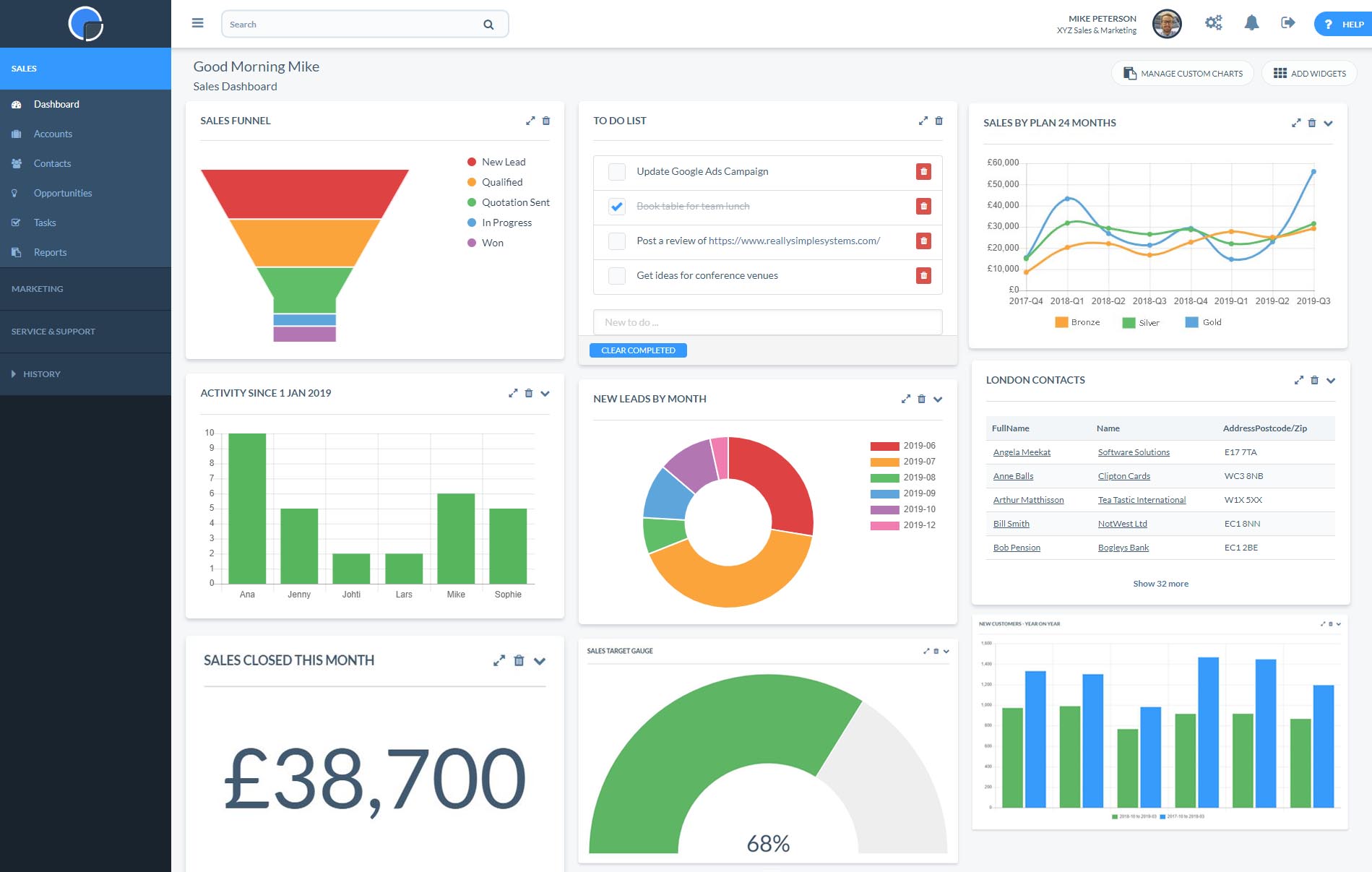 Really Simple Systems is an intuitive and straightforward CRM that ensures you have a great overview and easy control over your sales and marketing. It's particularly suitable for the Australian market as it's aimed at small and medium businesses like DNS, and those who operate B2B. And apart from being easy to use, it's also easy to integrate with thousands of other business apps. 
Another advantage of Really Simple Systems is the fact that it offers a high degree of customisation so you can basically choose and pay for exactly those features that your business needs, based on its size and industry. Really Simple Systems offers three price plans to choose from, but there is also a Free CRM option for two users and 100 company accounts.
The entry level Starter plan is perfect for sales tracking and small team collaboration, and features include unlimited contacts, 1,000 company records, 1GB of document storage and 5,000 API calls per month. With the Professional and Enterprise plans, you'll get more space to store documents, more API calls and some really useful functionalities, such as user permission levels, email integration, lead management, database segmentation, campaign management, service level agreements and much more.
Discover if Really Simple Systems is Right for You
Looking at customer feedback, the real difference with Really Simple Systems is the a high level of customer support. The CRM includes pull out Help Drawers on each page with tutorial videos, tips for using the feature and links through to an extensive library of support resources. There are regular live webinars run to suit the Australian time zones, so there's no fear of issues with time difference. In addition, Australian users will be happy to hear that Really Simple Systems has a sales and support office in Sydney that can be contacted by phone or email.

2. Salesforce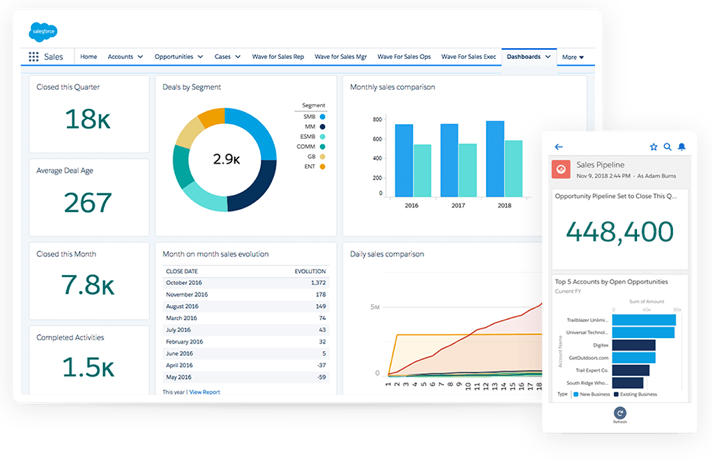 In the world of CRM software, Salesforce is an absolute industry leader with a 19.5% market share in 2018. Its biggest advantages are that it's comprehensive, highly customisable and reliable. This comes with a price though. Salesforce Sales Professional costs A$105 per user, per month, and is generally considered to be the best solution for large businesses that can afford this. 
However, Salesforce does offer a cheaper option, Salesforce Essentials, which is quite popular with small and medium businesses in Australia. It costs A$35 per user per month and there's a 14-day trial period. This plan is particularly handy for smaller companies, as it provides features especially convenient for them, such as territory-based lead assignment and reporting. 
The issue with Salesforce Essentials is that you can add only up to 10 users, which should be enough for smaller companies, but this can create scalability issues once your business starts growing.
Among other features that are available only in the Professional plan, are lead scoring, 24-hour phone support, sales forecasting, campaigns, and some invoicing features. Functionalities like lead capture, mass emails, customer support cases, as well as highly-configurable reports and dashboards are included in both plans.
Aside from all the bells and whistles that Salesforce offers, it's worth noting that the software can be quite complex to get set up and many customer comment of the lack of support available. Smaller organisation also comment that despite the attraction of the numerous features, most are never used so the value proposition is undermined.

3. Zoho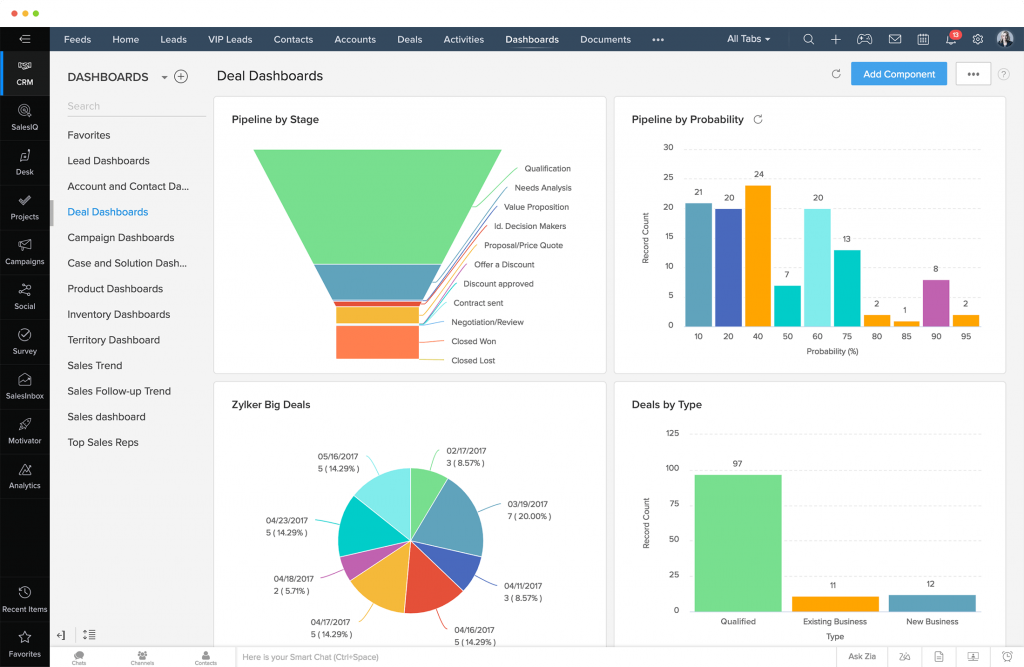 A strong rival to Salesforce, Zoho is a CRM system that is best known for being very useful when it comes to social media management. It improves communication via various social channels, and also makes publishing posts and tracking interactions much easier. 
This CRM also takes pride in extensive and reliable analytics provided by the SalesSignals feature, which will provide you with crucial insights for every customer in real-time. Moreover, it's super-customisable, as its REST API opens room for custom integrations and solutions. You can also add numerous extensions using Zoho Marketplace for marketing, service, project management and finance, to name but a few, yet rarely is is suggested that these are best-of-breed products.
Zoho does offer a Free CRM solution, though what was once a generous offer has been cut back over the years. The features are now quite limited and it is limited to just three users. However, for very small teams that need just the basic functionalities, Zoho's free solution could still do a very good job. Zoho's paid plans start from US$12 per user per month for the Standard plan.
Checking in on customer feedback, Zoho scores less favourably, particularly when it comes to customer service.

4. Streak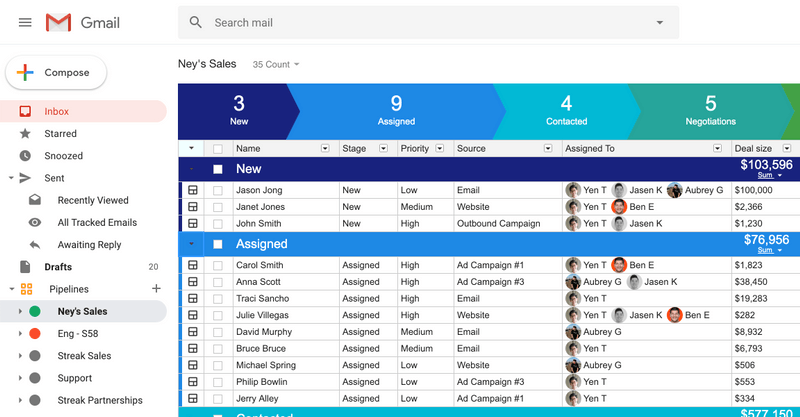 Streak represents another easy-to-use CRM, and its appeal is in its simplicity. It's basically a browser plugin that works as an extension of Gmail and 'lives' in it. 
There are four different plans: Free, Solo, Pro and eEnterprise. The Free and Solo plans are basic CRMs with limited, email tracking, mail merge, snippets, unlimited pipelines and more. If you get a premium plan, you'll also get reporting, email support, and permissions. There's no marketing automation in either plans, but bulk messaging is enabled.
The free plan allows up to 2 users, which makes it perfect for individuals who rely heavily on Gmail in their work. They'll find their way around easily, as they're working on a platform they know very well. Still, if you want more than that you'll need a professional plan that costs $49 per user, per month. Even with the professional plan, you'll still have no call or automation features, with integrations limited to Google's apps.

5. HubSpot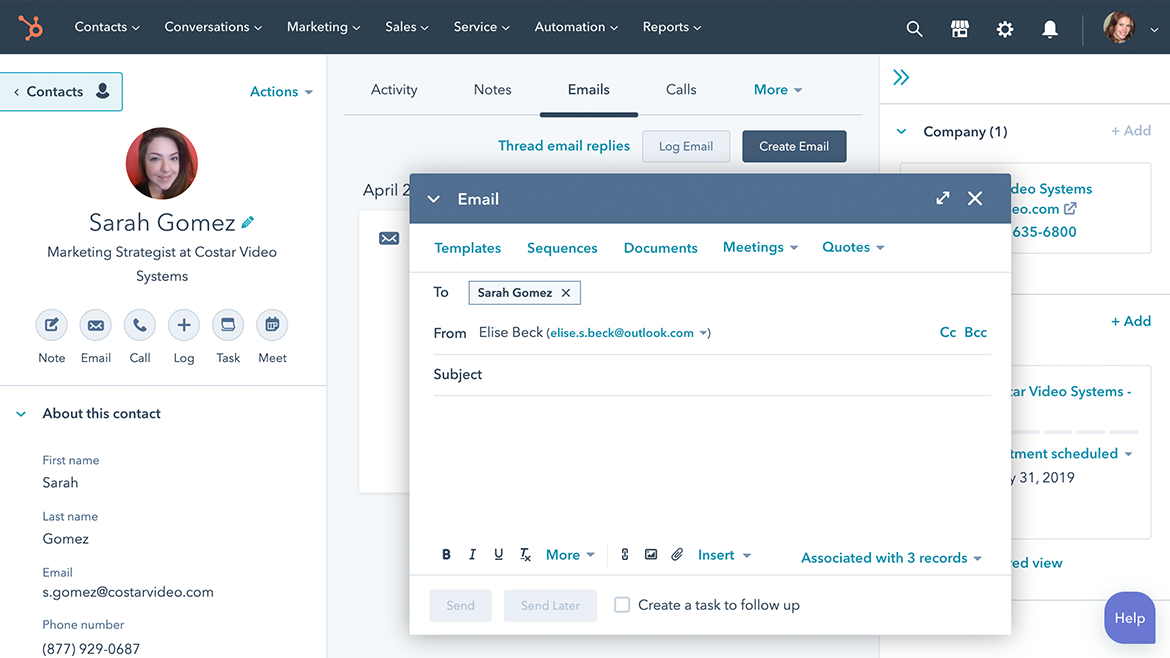 HubSpot is a great tool for those looking to automate their sales and marketing processes. For instance, it can automatically track and sort customer interactions across multiple channels. It will also automatically update customer and lead info with the data pulled from social profiles, which can save you a lot of your precious time. 
Furthermore, one of the big advantages of HubSpot is its user-friendliness. Unlike Salesforce that has a reputation for its steep learning curve, HubSpot is very convenient and easy to use. Clean dashboard and a handy timeline view ensure you have a clear overview of the entire sales funnel and all interactions with particular leads. In general, HubSpot is often recommended to those with little experience with CRM software. 
Because HubSpot's free programme includes an unlimited number of users, it's excellent for fast-growing companies. Moreover, you can start with the free version and then add more advanced features when you need them, making sure that the growth of your business is being smoothly mirrored in a more comprehensive CRM system. 
As for the downsides, it should be mentioned that the free plan doesn't include some of the important functionalities, such as 24-hour customer support and workflow management. This means that you're likely to need to upgrade sooner than you might want and this is where it gets expensive. The CRM Starter plan checks in at A$68 per month. Also, their reporting tools have often been under scrutiny.

6. Nimble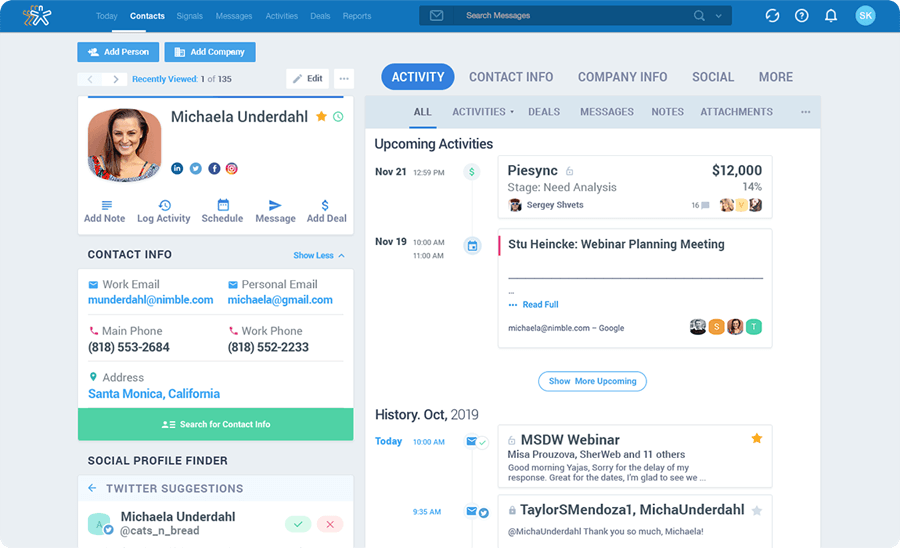 One of the most important benefits of using CRM software is better and easier contact management. And very few CRM systems are better at this than Nimble.
It provides some truly terrific contact management solutions. It can help you not just store and organise your contacts but also find new ones. Thanks to its 'rules engine' it can predict and discover leads and other relevant contacts based on user behaviour. 
It also makes communication with customers easier in numerous ways, with email templates, unified message inbox, personalised group messages, and follow-up reminders, to name just a few. 
Furthermore, Nimble does the other things usually expected of a CRM system, such as deal pipeline management or sales forecasts and reports. The downside is that there is only one plan, so you can't pick just the functionalities that you feel your company needs at a certain stage. The price of Nimble is $19 per user, per month, and is a definite recommendation for businesses that struggle with handling contacts and communication.

7. Agile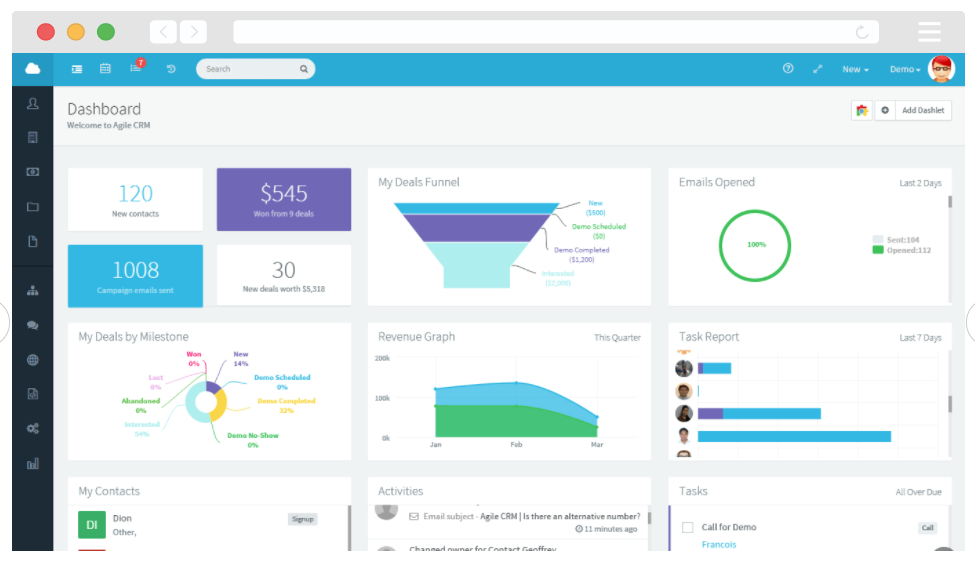 Finally, Agile is one of the most robust CRM systems out there. It's very versatile and offers a wide range of functionalities, from lead scoring to workflow automation to a landing page builder. 
Nevertheless, it's most famous for its marketing automation tools, especially the trigger-based email automation feature. This can help you create and execute successful email marketing campaigns. However, this feature does not come with a free plan, but instead with a standard one that costs $9.99 per user, per month. 
One of the drawbacks of Agile is that it's unnecessarily complex. This makes it too comprehensive and hard to work with, although most businesses don't really need this level of complexity and this number of functionalities to manage their daily activities. Sometimes, less is simply more.
So, Which One Should I Get?
Well, now it's all up to you. Every single one of these CRM systems will be the best fit for someone, depending on their budget, their needs and their previous experience with this type of software. In any event, if you're thinking about using CRM to boost your business, we definitely recommend it. Small and large businesses in Australia and around the world will be using CRM software increasingly in order to create that small difference between themselves and their competition. You surely don't want to fall behind.
Know What Success Looks Like
If you're addressing certain pain-points in your organisation, make sure you know what success looks like so you can measure the value of your CRM. For more help, you might like to download our CRM Buyers Guide.
Really Simple Systems is now Spotler CRM
The same great technology, a CRM platform that is focused on the needs of B2B marketers, provided by the same great team, at a great price!