Business Strategy
• Oct 7th, 2019 • Helen Armour
Time For SMEs To Step Up Their Technology
New research shows that large number of SMEs in the UK don't see the value in investing in CRM software.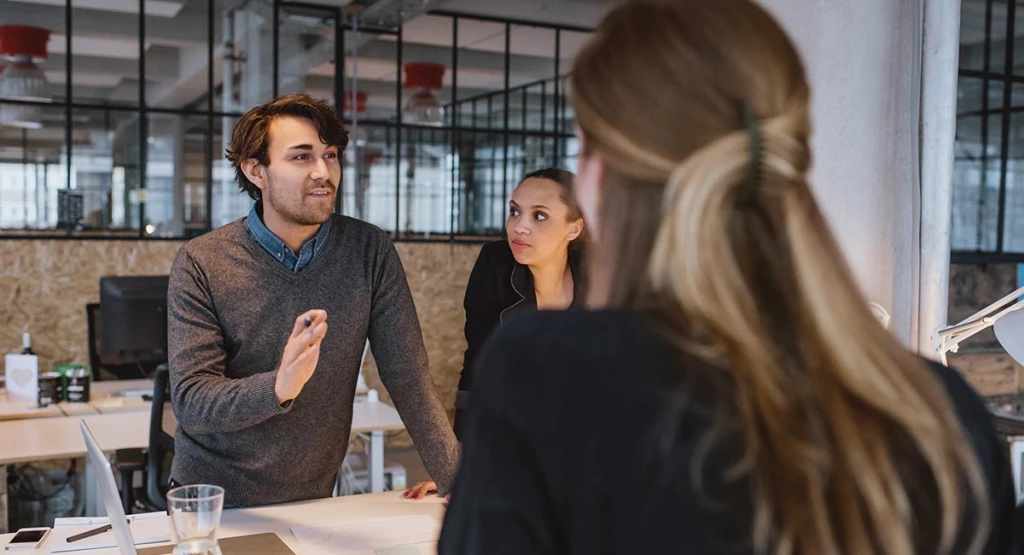 Understanding the Value of CRM for Small Business
Government statistics show that in 2018 the UK had some 5.7 million private sector businesses and of these 99.9% were classified as small and medium-size businesses (SMEs). You don't need to be a mathematician to work out that that leaves just 0.1% for large, or enterprise, businesses with 250 or more employees.
It therefore makes interesting reading to see that the 0.1% of large businesses employ just under 40% of the UK workforce and turnover 48% of annual revenues. However, SMEs still represent over 50% of the UK's economy and employ more than 60% of the workforce, making them a crucial element of our country's prosperity.
Private Sector Business in the UK by Business Size / No. of Employees
In fact, around 660,000 new companies are registered in the UK every year, bringing huge benefits to industry in terms of their diversity, flexibility and service levels. One of the main benefits of staying small is the ability to respond quickly to changing conditions, identifying new opportunities and capitalising on niche markets.
Helpful in taking advantage of these openings is the adoption of cloud technology, like CRM software. Just a few years ago such technology was only affordable for large corporations, but that's no longer the case, allowing small businesses to compete head-on with the big guys. Yet a new report by Capterra states that large numbers of SMEs in the UK still don't see the value in investing in CRM software.
CRM for Small Business Adoption Statistics
The research identifies that less than a third of UK SMEs currently use CRM software, and 34% have no plans to introduce one. Most of these say they keep track of their customers either by using spreadsheets or good old pen and paper. However, they also state that their biggest issues are having incorrect customer data, difficulty in tracking their customer interactions and follow ups, and feeling marketing is too time consuming to bother with, which suggests a lack of appreciation of what the technology can do for them.
Sonia Navarrete, content analyst at Capterra, commented "Our survey revealed that companies that don't have CRM software encounter difficulties such as data accuracy and providing good customer service due to data loss, missing business opportunities in the future. On the other hand, British SMEs that use a CRM software state that it helps them understand their customers better and manage their relationship more effectively."

Why Use CRM Software?
The benefits of CRM are undisputed; ultimately aimed at increasing sales and customer retention, the software not only optimises and automates processes, but also reduces the opportunity for errors. Furthermore, future processes can be improved through reports and data analysis.
A CRM system provides a centralised hub to manage your customer data and track your interactions. Everything is in one place making it quick and easy to find what you need when talking to customers and for collaboration with colleagues. This brings efficiencies that can result in improved productivity, faster service, increased customer satisfaction, better relationships and, of course, more sales.
The survey showed that the 31% of companies that do use CRM software believed that the tool helps them to better understand their customers and gives better visibility of their business. Worryingly, it also indicated that those who would consider investing in CRM software thought the cost was prohibitive.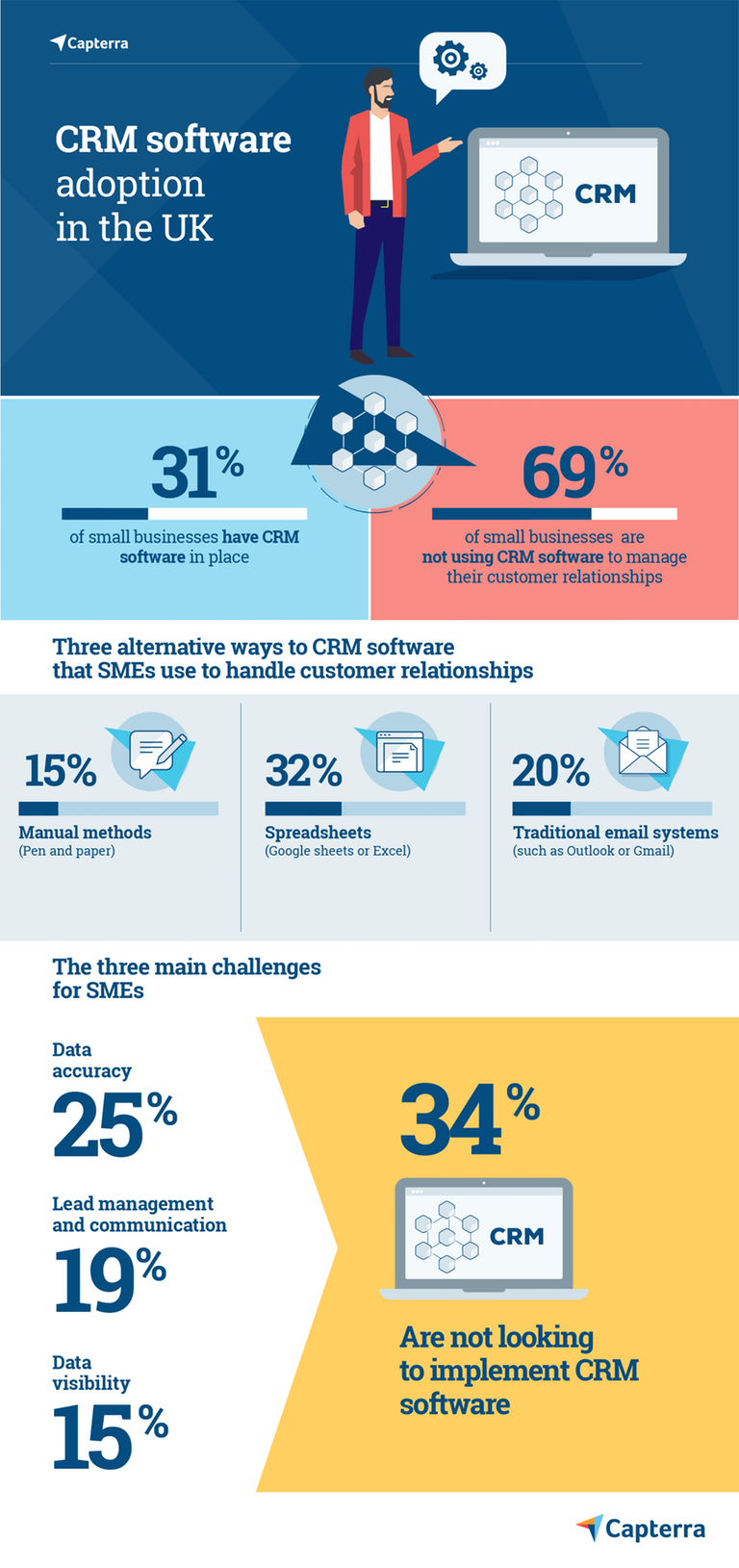 Understanding CRM Costs
CRM software costs a lot less than you think. There are, of course, those systems that carry a hefty price tag and are generally unsuitable for SME, like Salesforce, but there are plenty of other options. For example, Really Simple Systems CRM has been designed with SMEs in mind so it's easy to use and costs a fraction of the price. In fact, you can get started with the Free CRM and you only need to upgrade to a paid plan once you've outgrown the free plan capacity. The next rung up the ladder, the Starter plan, costs from just £9 per user per month, so hardly a fortune.
Whilst I would avow that not everyone needs a CRM, there's a strong case for it with most businesses, especially if you are working B2B. The Capterra survey results indicate that it's no wonder that 60% of new businesses fail within three years, and 20 per cent close within just 12 months.
Why Do Start-ups Go Bust?
One of the main reasons for small business failure is a lack of cash, with businesses struggling during the early years to balance their income against their outgoings, investment in stock, staff and equipment. However, money isn't the only factor and can be a consequence of poor management, inadequate planning, a lack of performance data, and insufficient product differential.
Whilst it can't do anything help differentiate your product, a good CRM system can help steer you away from the other pitfalls. It's worth noting that in an increasingly global market, there are plenty of businesses that have seen the value. Gartner research tells us that the CRM software market grew by 15.6% in to over £39 billion and represents a quarter of worldwide enterprise application software revenue. So, it's important for the UK to keep up with the international competition; even if you are selling entirely to a domestic market, there's little to stop overseas competitors, Brexit or no Brexit, muscling in.
Choosing the Right CRM
If you've started thinking about investing in a CRM system you will have by now discovered that choosing the right one for you is not easy. There's a myriad of options and a lot of variation to get your head around. To help, we've published a CRM Buyers Guide "10 Critical Factors When Choosing a CRM" that you can download here. And if we can help any further, we'd be glad to hear from you.
Really Simple Systems is now Spotler CRM
The same great technology, a CRM platform that is focused on the needs of B2B marketers, provided by the same great team, at a great price!