Marketing
• Apr 28th, 2020 • Guest Writer
How to Write Emails During Times of Adversity
Adapting to the pace of change: read our best practice advice for writing emails during times of adversity.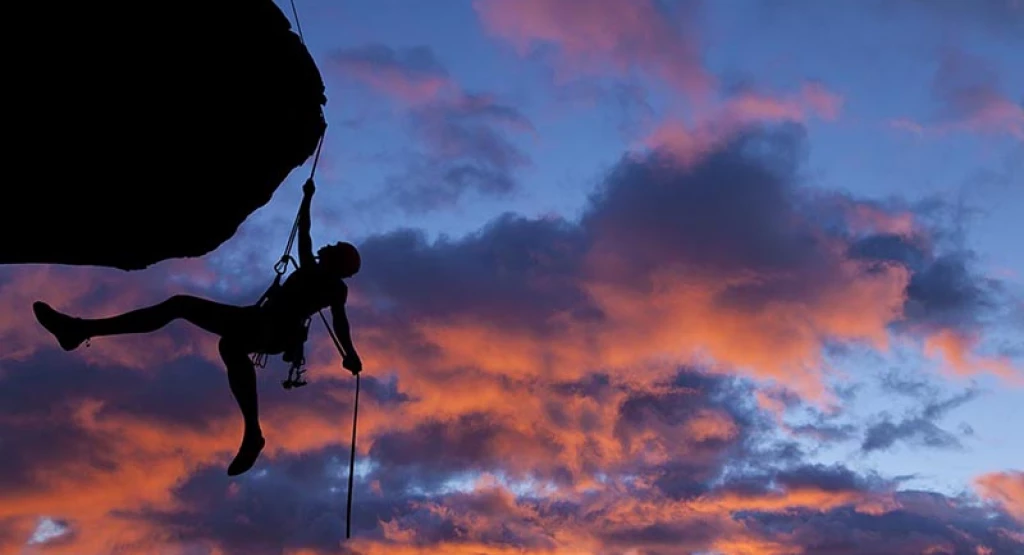 Best Practise for Email Marketing
Recent events have shown us how fast we need to adapt our content strategies to keep pace with change and sentiment, and the dominance of email marketing.
We've all seen many emails about Covid-19, but many of them have been simply deleted or ignored due to the sheer volume and general incompetence of the sender. Some emails were even a strong trigger for customers to immediately unsubscribe from the mailing list.
For us, at Really Simple Systems, we've noticed a staggering increase in our email open rate, taking it to an all time high of 56% and growing! So, we wanted to share our knowledge and experience with our readers.
Here we take a look at some of the best practices that we've seen, and what you should avoid when sending emails during times of adversity. Most of these tips might also be used when the pandemic ends, to avoid high unsubscribe rates.
Why Use Email to Communicate Now?
Email is one of the oldest digital marketing channels, but recently it's been getting a lot of love from marketers. Even though new technologies are developing rapidly, it remains the channel with the greatest importance.
The reason is simple, according to statistics, email still has the highest ROI.
For only 1$ of investment return was 42$ in 2019.
That is far more than TV, radio and social media marketing. Also, email is much cheaper and easier to use. That makes it one of the best marketing tools for small businesses and startups.
During the uncertain moments in the global economy, 65% of advertisers will be more focused on channels that can show the direct outcome. Email remains one of the channels that are not as invasive and nerve breaking as social media channels.
When we want to distance ourselves from the digital world, we might delete social media apps, but we usually keep our email address.
Also, when it comes to email, users are the ones to decide whether they would like to see your content or whether they prefer to unsubscribe.
In the case of social media platforms, algorithms are making the decision before the user, which makes them harder to control. And the control of the content we want to see is essential when we are upset and confused.
Considering all that, entrepreneurs must learn how to use emails properly and avoid backlash and unsubscribes during a crisis.
To retain your customers, we've analysed some good and bad email practices and created the following guide on how to write cold emails in times of crises.
Share Only Genuine and Useful Content
The fact that almost every company you ever saw on the internet sent you a Covid-19 related email should not inspire you to send one as well just to keep up with others.
It is suggested to send an email only if it relates to:
Cancelling or rescheduling a social event
Sharing information about refund
Giving information about something that will affect your customers in any way
Explaining how your customers can use your services remotely
If you don't have any valuable information, rethink sending an email with the same subject line just like everybody else.
At this moment, it's important to put yourself in your customer's shoes and think about how you can help them. Create an email that is easy to read, and easy to skim through, by adding good subtitles if you have a lot to say.
Good example: App for team management, Asana, offered their customers valuable resources such as guides and virtual training for remote workers that can help their users work more efficiently during the crisis. The email is clear and concise, and it has links that can give you more information if needed. They presented their tool as a valuable asset for remote workers, but it doesn't look profiteering.
Thin Line Between Good Intentions and User Acquisition
Some software companies are announcing through email campaigns that they are giving their audience access to their knowledge base and tools for free during this period. Others are giving discounts and promo codes. It is difficult to tell what are the intentions behind these actions. Are they altruistic or are they just looking to get more users?
However, we can say that a helpful approach and relaxing terms of use can be beneficial both for the users and their companies.
Even if your company is not giving any products for free during times of crisis, we are sure that you can find a way to help with your knowledge and expertise.
Creating guides, webinars, or educational blog posts about the things you know best are just a few forms of content you can promote through your email campaign. That way you are building a community that respects you and admires you for your knowledge and helpful approach.
In the long run, that will bring you more customers, and it will add value to your brand.
Good example: Society6 offered their subscribers free colouring patterns to keep their community of creative minds busy at home. It gave parents who are working from home another activity for their kids. But, we are sure that it was most used among adults. This creative approach got a lot of good feedback, and some other companies did the same with different kinds of patterns.
Create Clear Messages Across All Channels
We understand that the situation is new to everyone, and that it can get quite hectic. But you should stop and explore how the recipients will see your marketing activities. Some of the campaigns that were carefully planned months in advance, should be stopped because they are not appropriate anymore.
What will they see when they enter your website, and what will be your message when they open the chat box on Facebook? If you have already sent those emails in which you are inviting your customers to stay at home, be sure to update the other messages they might see. Send clear, consistent messages across all the channels, so you can avoid confusion.
Good example: Spirit Airlines made a mistake when their automated email named "Never better time to fly" was sent during the Covid-19 crisis. They admitted their mistake on Twitter and apologised. That is basically the best advice for businesses which didn't coordinate their messages accordingly. Own your mistakes and apologise. You can do it in another email, or via social media channels.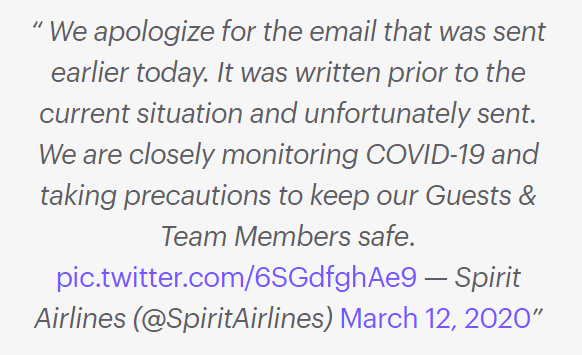 What Messages Should We Avoid?
The most important thing is to avoid creating emails that have clickable and scary subject lines, and a lack of any useful content.
It is definitely not the moment to announce to your customers that your staff is washing hands and sanitising surfaces. That information is not something that you have to mention in an email.
However, if you are in the retail business and you are sending clothes, customers may like to read what processes you are changing to make online shopping safer.
There have also been some very bad ideas when trying to incorporate humour into this situation, and it has backfired for some brands. It is very important to be empathetic right now, and to avoid using promo codes like 'Covid-19', or anything similar. It just looks like you are not taking the situation seriously, and you are being careless when other people are struggling.
Wrap Up
When creating emails during a crisis you have to be able to adapt fast and adjust the tone of your messages, and find the right time to send them. Even though all-natural crises are usually followed by an economic crash, your brand should not be focused on profiteering during hard times.
That just produces a bad brand image, and it is not an efficient strategy in the long run. Your company should be focused on creating helpful and transparent content, and figuring out the ways to help your employees as well as your local or global community.
Really Simple Systems is now Spotler CRM
The same great technology, a CRM platform that is focused on the needs of B2B marketers, provided by the same great team, at a great price!