Business Strategy
• Jul 7th, 2022 • Michael Rarick
Workflow Management: A Comprehensive Guide
Workflow management improves productivity, employee happiness, and trust. Discover how to manage your workflows in this guide.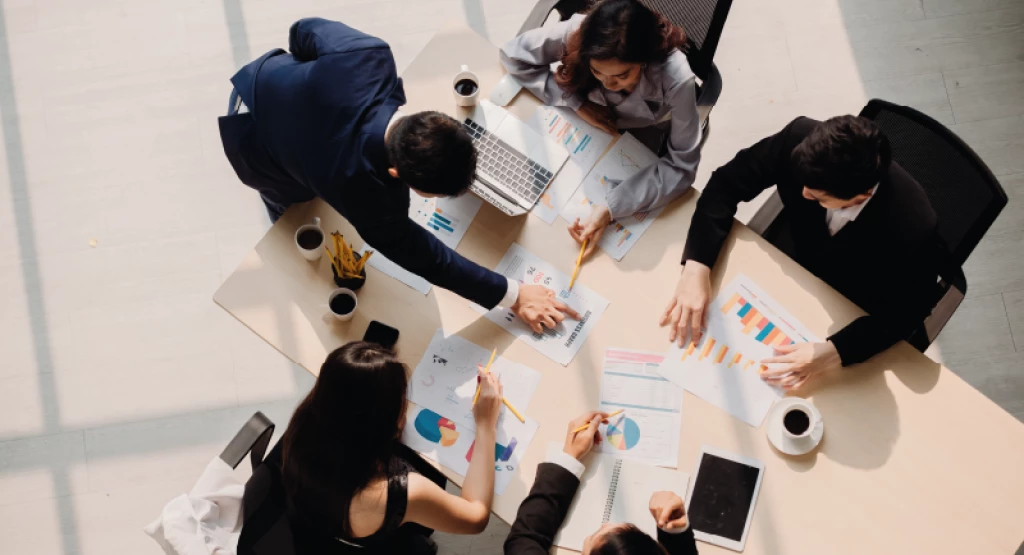 Research shows that people spend about 3 hours checking their emails each workday. 
Some of these emails, like company updates, are worth checking. But emails about task statuses, requests for documents, or sending manual reminders shouldn't be piling up in our (or anyone else's) inboxes. 
These emails are also difficult to track. So even if you receive an update, it's easily lost, leading to more time searching your inbox or sending another email. 
There's a better way.
It's called workflow management.
What Is Workflow Management?
Workflow management — or taskflow management — is about simplifying how employees complete tasks.
This optimization can mean using automation, finding ways to remove bottlenecks, or improving task visibility. When mapping workflows, managers must consider four variables:
Who is responsible for the tasks?
When the tasks should be complete
With this knowledge, they can determine the best workflow process for everyone involved.
Project Management Vs. Workflow Management
Think of project management as the big picture, while workflow management is the details.
A particular project could have hundreds of workflows, for example:
Each project may use different workflow combinations, but the workflows don't often change. These workflow processes help drive productivity and reduce friction during daily operations, leading to smoother projects and better accountability.
Workflow Components
A workflow system has three main components: inputs, transformations, and outputs.
Inputs = Think of inputs as the base ingredients necessary to finish a task. For example, documents, supplies, or information. 
Transformations = Transformations happen when employees (or automation) perform an action with the base ingredients. For example, signing a document, gathering the necessary supplies, or inputting the necessary information. 
Outputs = Outputs come after each transformation and are also the final product of a workflow. For example, if a document needs two signatures, it goes through two transformations (each signature) and has two outputs. There may also be further transformations, like filing the signed document, which leads to another output.
Types of Workflows
There are two main types of workflows: sequential and parallel.
Sequential Workflows
Employees complete sequential workflows in the order they appear since each step relies on the previous one. For example, a marketing idea may need approval from the legal team, then finance, then a manager before work starts. Sequential workflows tend always to move forward, so employees have to start from the beginning if there is a problem with a task.
Parallel Workflows
Employees complete parallel (or state) workflow tasks simultaneously — as long as they're not dependent on each other. For example, employees request documents and signatures from the legal team while requesting financing approval. Parallel workflows don't proceed linearly, so if there is an issue with a task, employees can fix it without affecting other steps in the workflow.
Why Is Workflow Management Important?
Workflow management improves the lives of people doing tedious, repetitive tasks at work.
It's about finding the best workflow paths and removing friction from tasks so employees can:
Spend more time on high-value tasks
Know what they need to do at any one time
Streamlining workflows also leads to high employee happiness and customer satisfaction. No more micromanagement. No more back-and-forth emails. No more questioning what tasks are next.
Workflow Management Best Practices
We've identified four best practices that'll ensure productivity, transparency, and happy employees. Here they are:
1. Prioritize Your Goals
If you start optimizing without a clear goal, you could end up with systems that are a terrible fit. Instead, you want to figure out what your company needs.
Consider:
What daily activities frustrate your employees
Which processes take up the most time
What workflows are most common
Once you know these, you can rank them by their importance so you can optimize the highest value workflows first.
Some common workflows that you may want to consider include:
Responding to customer requests and sales processes
Order and payment processing
Customer and employee onboarding
You'll also need to consider secondary workflows which run inside the primary flow. For example, your primary flow could be employee onboarding. Within employee onboarding, you could have legal, financial, and training workflows that serve the primary flow.
2. Analyze Your Workflows Carefully
Even if you're part of a small business, you likely don't know everyone's daily workflows, nor should you.
Instead, ask different employees and teams to map out their daily workflows for you. You can also get them to highlight which steps:
Are most frustrating for them
Have the potential for optimization
Take the most time to complete
The easiest way to capture this information is with a basic flowchart, like the one below.
You can also look at your CRM and its integrations to determine which workflows are vital to your company. When you identify all your company's workflows, it's time to analyze and create standard operating procedures. 
Your goal here should be to list as much information as possible regarding each step's who, what, where, and when.
It may be challenging to find and document every workflow when you start the process, and that's okay. Optimizing your workflows is an ongoing process that will help your company's flows improve and become more transparent over time. 
Once you've analyzed your workflows, you can begin optimizing them. Automate as much as you can, but don't go overboard. If a workflow process doesn't fit with automation, ensure you document it and improve it however you can. There may be a better solution for that workflow in the future, so leave a note to review it at a later stage.
3. Invest in Automation
Researchers at Harvard estimate that around 30 percent of employee activities could be automated. This number is roughly 12 hours each week or 1.5 work days. 
What could your employees do with an extra 1.5 days of work each week? 
Mundane, routine tasks — especially those that revolve around technology and data — should be the first ones you optimize to manage workflow. 
For example:
Generating pricing estimates
Data wrangling, analysis, and reporting
Task notifications (e.g., pending and completed tasks)
So rather than focus on administrative tasks, employees can turn their attention to workflows that require critical thinking. For example, reading automated reports to find solutions to problems or identify opportunities.
Besides saving time, automation also gives employees the freedom to work without micromanagement. Managers can receive automatic updates and approve any tasks without unnecessary face-to-face meetings.
However, for automation to do its job, you need to use connected systems such as a CRM that integrates with all your major software platforms.
Discover How Really Simple Systems Can Help
4. Use Workflow Management Software
There is a host of workflow management software and tools out there.
Some specialize in automating other platforms, others in project management. You can even find all-in-one solutions that integrate with other platforms — like Really Simple Systems.
Regardless of which software you use to manage your workflow, there are a few features they should have:
Simple interfaces and workflows: You and other stakeholders should be able to easily create dashboards, reports, and edit workflows. 
Cloud-based software: It's simpler and more accessible for everyone to work in the cloud. Data is updated in real-time, and it makes switching devices easy. 
Choose up-to-date solutions: Developers built legacy solutions for old challenges. These days, many companies are better off with flexible, easy-to-deploy software.
Integrations galore: Your workflow management system should integrate with the robust platforms you use in your business. Otherwise, it's difficult for automation to do its job. And it'll be challenging to keep track of workflows in real-time. 
Collaboration-friendly: Managing workflow is about reducing the friction of completing daily tasks. If employees have to exit the software and communicate through another platform, it defeats the purpose of workflow management.
Where Workflow Management Meets CRM
Customer Relationship Management (CRM) software is at the heart of every business. It's where marketing, sales, and customer service workflows happen — all critical drivers of success. 
Really Simple Systems provides everything growing B2B teams need to attract prospects, close sales, and ensure customers are happy. We built our software with workflow management in mind so you can focus on what you do best. 
Really Simple Systems uses integrations to connect various tools in order to help  manage your workflow, including:
Access management platforms: We integrate with Onelogin and Microsoft Azure so that you can easily manage all your web logins. 
Accounting software: We integrate with KashFlow, Sage, and Xero, so the finance department has everything they need in one place.
Automation software: We integrate with Zapier so you can automate those mundane, tedious tasks and make your employees more happy and productive.
Above all, Really Simple Systems allows you to map, automate, and optimize your workflows to your heart's content — all in one place.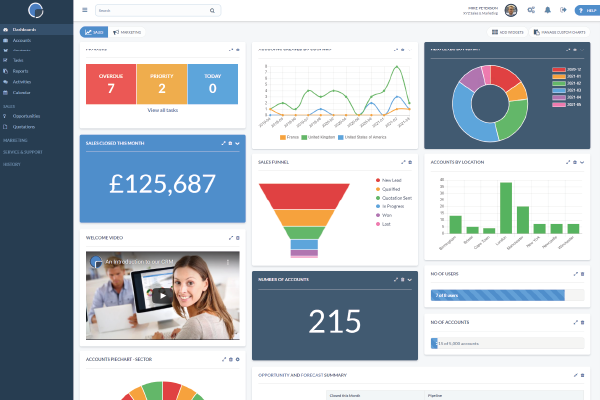 Marry Workflow Management and Your CRM With Really Simple Systems
Now that you understand what workflow management is and why it's essential, you can get started on: 
Prioritizing your goals to ensure you're working on the most important workflows first.

Analyzing all the workflows you and other stakeholders can document.

Automating your workflows where possible.

Integrating your favorite workflow management software with a powerful CRM like Really Simple Systems to streamline your flows.
Don't have a CRM that can help you build more relationships, improve productivity, and make more sales yet? By attending a webinar, you can see how Really Simple Systems will make your life easier.
Really Simple Systems is now Spotler CRM
The same great technology, a CRM platform that is focused on the needs of B2B marketers, provided by the same great team, at a great price!