Sales
• Dec 5th, 2019 • Daniel Bishop
Sales Team Structures That Work Best For Your Business
Could your sales team structure make a difference to your profitability and customer satisfaction?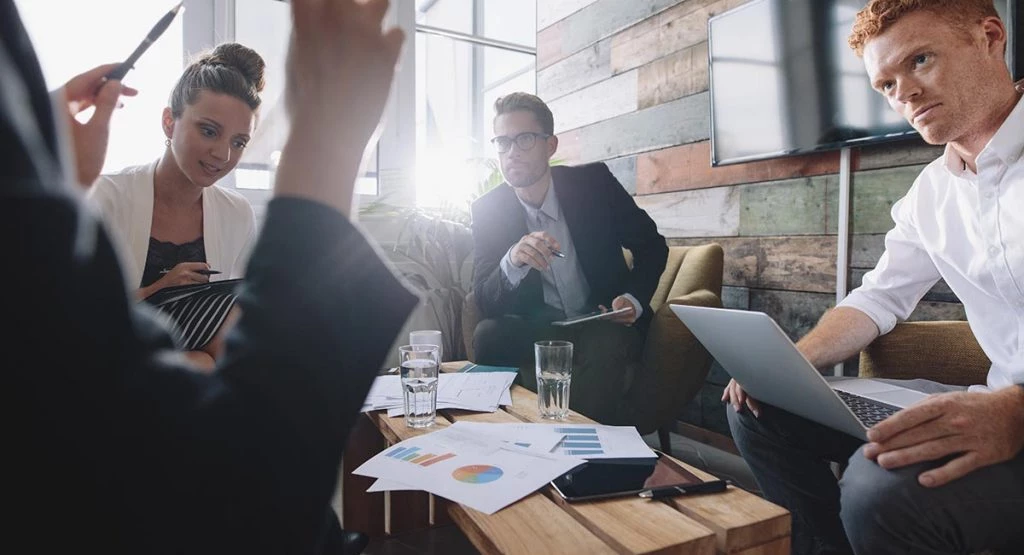 Sales Team Structures
Establishing a powerful sales team that consists of educated and talented individuals sometimes won't be enough to achieve your goals. 
Technology is progressing at a staggering rate, and with it, sales teams are evolving. The key lies in the sales team structure: a well-structured team that can adapt to these changes will help your business stay ahead.
The way your sales team is structured determines how their workflow is organised. By implementing the right model, you'll be able to lower customer acquisition costs, and your team will achieve peak performance. 
Achieving that balance between the number of sales reps and managers is something every company should strive for. Having too many sales reps can hinder the manager's ability to train and guide their sales team.
On the other hand, if the number of sales managers is higher than needed, your costs will go up and the chain of command might get blurry. With more management layers above them, sales reps are likely to become inefficient.
Having said that, there are more links in the sales chain than just reps and managers. To fully understand the sales team structures and models explained in this article, let's first have a look at all the roles in your sales team. 
Hiring Manager
Just like sports scouts, hiring managers are the ones who seek out and contact talented individuals that your company needs. With large organisations, they can be a part of the HR department. In the case of smaller companies, the sales manager will likely take on this role.
Sales Trainer
This is the individual who trains new sales reps and shows them your sales process inside and out.
Sales Representative
Also known as Account Executive, this is the employee who closes the sale.
Account Manager
Their job is to service new accounts and find upsell opportunities. Smaller teams tend to leave this job to the sales rep.
Customer Service
These employees mostly handle customer onboarding. This includes getting the new customer well acquainted with your product and service, providing the necessary tutorials, and celebrating milestones. By implementing a successful user onboarding tactic the customer lifetime value (LTV) will increase. 
Customer service is especially important for companies that don't have account managers.
Three Most Successful Sales Team Structures
Today, there are three sales team models that have shown the best performance so far. These include the Island, the Assembly line, and the Pod. 
Each has their upsides and downsides according to the type of organisation where they are best suited.
The Island
Companies that are just starting their sales teams are likely to go with the Island model. In the early days of the company, the business founder will act as the head salesperson.
When the business grows enough, he or she will delegate tasks to other employees who would report back to them. As different departments develop, a manager can be hired to handle sales representatives.
With this model, each of your sales reps is left to fend for themselves in the sales process. The sales rep is responsible for all the processes and tasks that occur during the sales cycle – from generating leads to closing the sale and identifying upsell opportunities. 
Also, it works well for organisations that don't have the budget to employ more than a few sales reps.
Strengths
Encourages a deep relationship between your customers and sales reps
Good for simple sales and works well in competitive industries
Weaknesses
Creates an aggressive sales environment
You have less control of your brand image
Depending on the industry, this model can prove to be very successful. It works best for companies that sell in established markets that are very competitive, rather than startups. The Island can make scaling and team alignment tough, as each of your employees has their own approach to sales.
The Assembly Line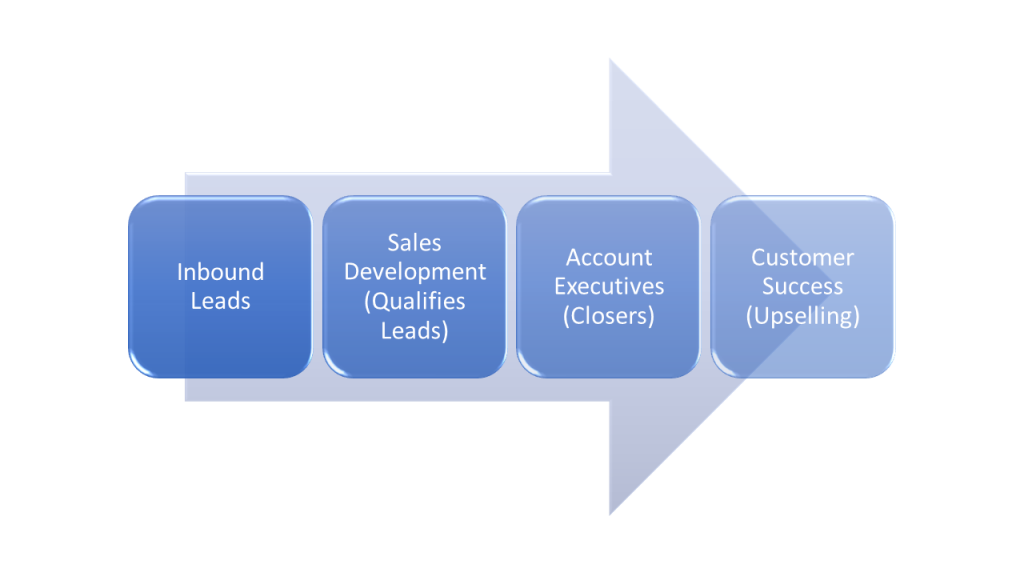 This model presents a linear structure that divides the sales process into steps. Each step is a specific part of the sales cycle and teams are determined by each specific role. In the Pod structure, which we'll cover in a moment, teams are comprised of individuals that cover different roles, but here teams are made of individuals that have the same role.
Usually, the structure looks like this:
Lead Generation Team
This team gathers and researches data on new potential customers. They review their needs and pain-points and organise the data, thus optimising the lead generation process.
Sales Development Representatives
Also called the qualifiers, they reach out to prospects and further group them into qualified and unqualified leads.
Account Management Team
Or account executives, this is the team that closes the deals. They are also responsible for product demonstration and overcoming objections. 
Customer Support Team
This team specialises in helping the customers settle in, anticipating their needs, and addressing any issues they might have. They're there to keep the customers happy and help increase each customer's lifetime value. Sometimes, customer support teams can even upsell customers to higher plans.
Strengths
Having one team dedicated entirely to lead generation research, you'll have cleaner data, which means better predictions for your future sales
Easily identifiable problems in the sales cycle
More focused employees as they clear tasks that they work on as a team
Weaknesses
Possible friction between departments during the customer handover
Might be a problem for companies with only a small number of employees, as you can't split them up
Individuals losing sight of the global company goal, as they are only focused on one task
If your company has more than a handful of employees, you'll find this model to work for you very well. This process will scale your team and increase sales efficiency. The main advantage of the assembly line sales structure is that it's consistent in gathering new and nurturing old leads.
The Pod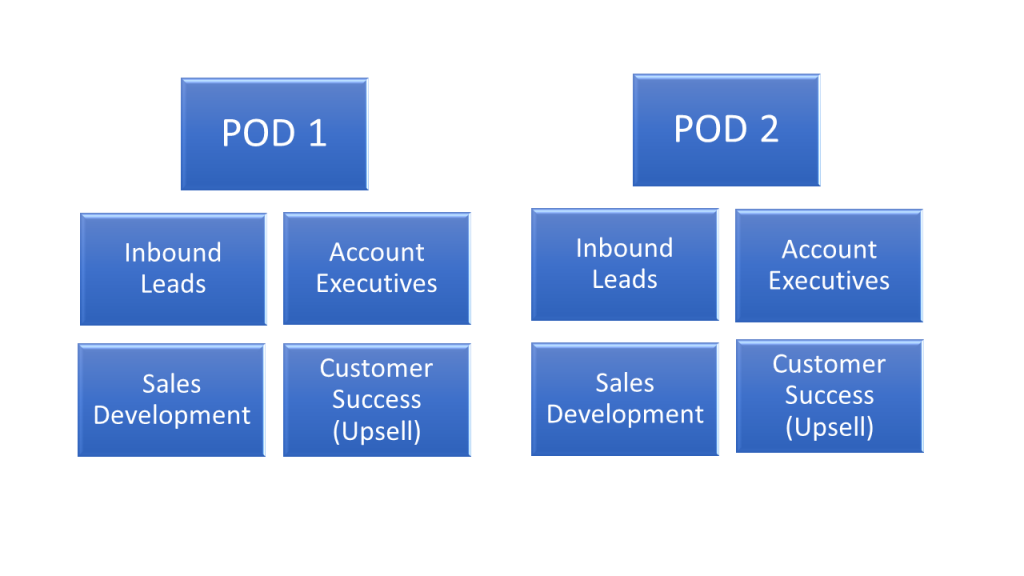 With this structure, the sales team is organised into small groups of people who are assigned different roles we talked about in the introduction. Instead of having your sales reps compete against each other, with the pod model you're able to create an environment of healthy competition between teams (pods). As each pod member works with the customer, this model is very customer-centric. 
Pods build a very flexible structure, in which success is not measured by each individual but by each pod. Pods can also be specialised by the industry, territory and vertical. 
Strengths
Flexible teams with great communication
Each member of the pod will monitor the work of others, which helps minimise the chance of human error
Weaknesses
Creates a less competitive environment for each employee
Group selling can create conflicts if the team members don't see eye to eye
The pod structure is essentially a more refined assembly line model. It's perfect for already established startups that want to optimise their sales resources and find new markets. Your teams will be more agile and ready for change, even being able to take on each other's roles.
Things To Keep In Mind
When you make a choice of a model that suits your organisation best, you'll need to keep in check a few vital things to make sure everything goes as planned.
With sales being the most important department of your company, it's crucial that they take on a customer-centric approach. After all, if your customers are not happy, your business will fail in the end.
Stay data-focused and use the right tools to enable your team to have the best information available.
And finally, take care of your team. Make sure to invest in your employees and educate them. Hiring people isn't that hard, but keeping them by your side is. When sales managers invest half of their time into coaching, your sales people will outperform others by 28%.
Always ask yourself: ''How can I help improve my team?'' ''What do my customers expect?''
If you can answer these questions correctly in the early stages of your business, the path ahead will be much easier. 
Really Simple Systems is now Spotler CRM
The same great technology, a CRM platform that is focused on the needs of B2B marketers, provided by the same great team, at a great price!