Marketing
• May 14th, 2021 • Guest Writer
8 Ways to Ensure Your Website Content Leads to Sales
Top tips for ensuring your website content is of the best possible quality so it will lead to sales for your business.
How to Optimize Web Content for Sales
When visitors land on your website, the quality of your content and its perceived value will have a huge impact on whether they stay or leave. Plus, to attract the right audience, you need to ensure that all of your content is properly optimized for search engines and genuinely helpful. 
Here, I'm going to take you through my top tips for ensuring that your website content is of the best possible quality so it will lead to sales for your business. 
Address the questions your target customers are asking
If you anticipate your customers' questions and answer them with your content, they'll feel like you understand them. This could lead to a lot more sales. 
To figure out the type of questions you should be answering with your content, you'll want to do a few things. The first is keyword research. This will help you find the relevant questions or search terms that your audience is typing into search engines. You can then use this information to create content that answers those questions. In doing this, you can educate your audience, increase trust in your brand, and improve the chances of prospective customers turning into loyal clients. Moz has a beginner's guide to keyword research that will walk you through how to do this. 
You can also discover common questions from the FAQs that your customer service team gets. These are questions being asked in the comment sections on social media or directed at your customer service personnel through calls, emails, or live chats. 
When you are able to create content that addresses the common questions of your target audience, it shows that you understand your audience and are committed to improving their customer experience with your brand.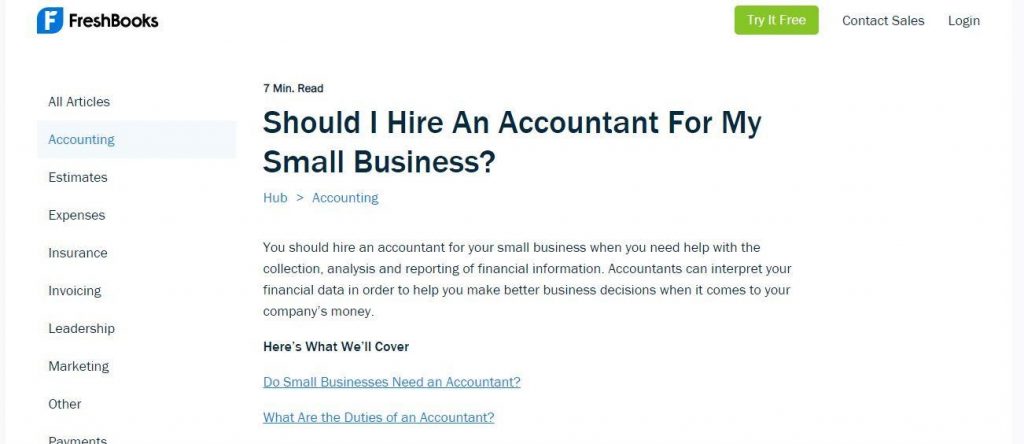 An example of a business that uses content to answer questions from customers is FreshBooks, an accounting software provider for medium-sized and small companies. For instance, they have created a blog post to answer the question "should I hire an accountant for my small business?". This type of content addresses questions that their customers might have surrounding the issue of whether or not to employ the services of an accountant for their business, the costs involved in doing so, and even how to find suitable candidates for hire.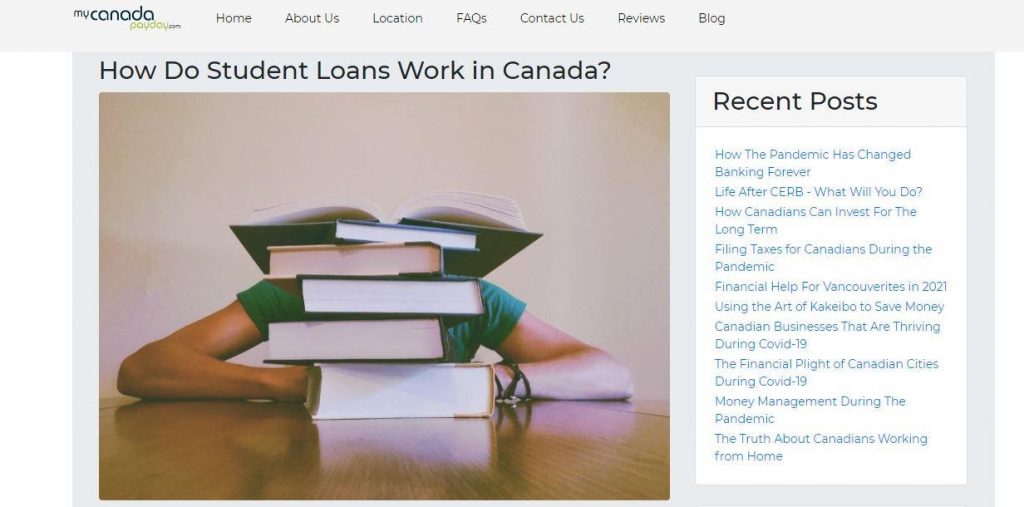 Another example comes from My Canada Payday, a loan provider which has published a guide on how student loans work in Canada. They're targeting people who want financial help and advice, so this guide is likely to be very helpful for their ideal audience. And it answers a lot of the questions someone might have about tuition loans. This will help to attract the right people to their website, build trust with them, and hopefully lead to sales.
This is a tactic you can also replicate for your business's website. 
Focus on showing off your expertise
One of the main benefits of creating high-quality website content is that it allows you to show off your expertise. This will allow you to build trust with both your audience and search engines, who will be willing to boost your rankings if it's clear you're a knowledgeable source of information. 
Business owners can show expertise through content by anticipating customers' questions and providing comprehensive guides to answer these questions through blogs, videos, or other formats, as I've already covered. You can also consider creating informative content on industry news and updates as they relate to your work. 
For example, Utires, a company that sells used tires, demonstrates its expertise in this way. You can see this in their blog post all about how car tires are mounted. Since their area of specialization is car tires, putting out posts like this shows that they are well-informed about their industry and have no problem sharing this information with their audience. Also, customers who want to purchase used tires will be more likely to turn to them as they have shown they have a lot of knowledge in this area.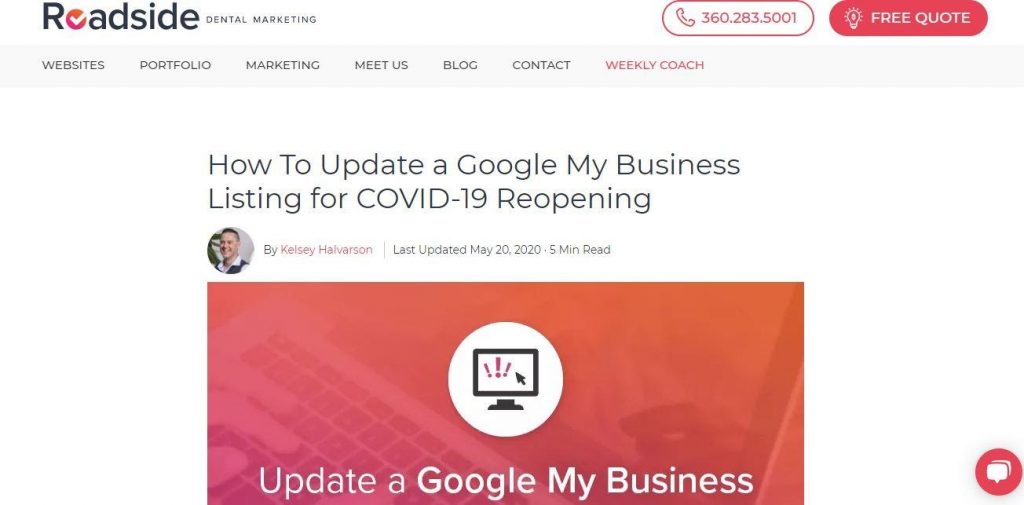 Roadside Dental Marketing is another company that shows they're experts in their field by publishing high-quality and informative content. For example, they recently published a timely guide to updating your Google My Business listing for a Covid-19 reopening. They outline all of the different steps you can take and why it's important for dental surgeries to do this if they want to rank well on search engines and put their patients' minds at ease. As a marketing agency that helps dental companies promote their services, putting out content like this presents them as experts and lets people know that the company can be trusted to get results, even during a pandemic. 
Think about what kinds of information your audience might be looking for, and create informative guides that show you're an authority in your field. This will earn people's trust and boost your sales. 
Make sure you're targeting the most relevant keywords
It's important that you target the right keywords with your content. This will ensure your content ranks for the right queries, so you reach the most suitable people. Identifying the right keywords involves doing proper keyword research so you can choose the search terms that are actually being used by your target audience.
When creating content, you want to target informative keywords, rather than commercial ones, as informative keywords can help you find new audiences who are researching to find information about a topic, product, or service. 
To choose the right keywords, you first want to make use of a keyword research tool, then focus on targeting keywords with low competition and high search volumes, as these will help increase your chances of ranking well on search engines. If you aren't confident that you know how to get the results you need, then you can make use of a keyword research service to make sure you're targeting the best terms to suit your needs. 
Always add a powerful call-to-action
You need to make sure every piece of content you create ends with a strong call-to-action. A call-to-action is a prompt that nudges readers to perform a particular action. CTAs are usually in the form of text or buttons that direct a user towards the next steps they should take on your website.
To create effective CTAs, make sure they are clear and concise. They should also be very hard to miss, because CTAs work best when they stand out from other content on the page. Finally, there should be some form of urgency in your text that builds excitement and encourages users to take immediate action.
Here's an example of a website that has a strong CTA.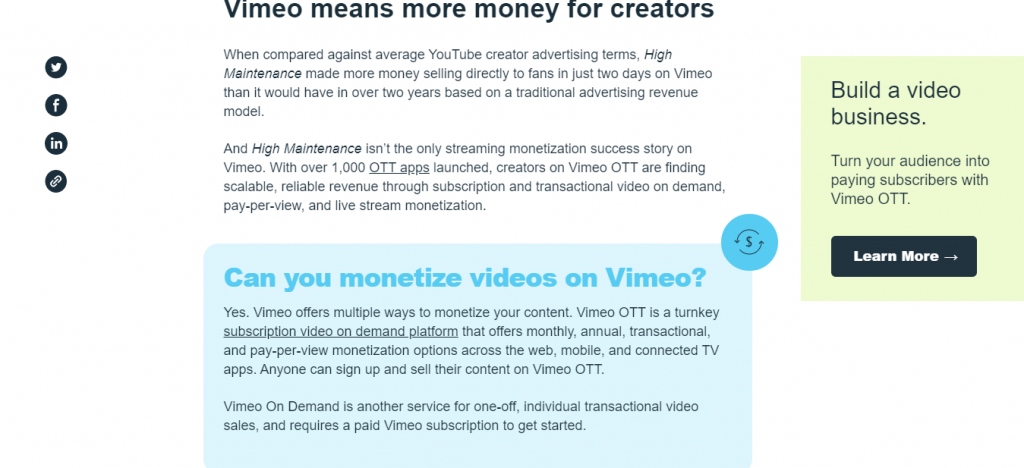 First up is Vimeo, a platform that allows people to create, edit, and share high-quality videos. On their website, they have a blog post about making more money with Vimeo's monetization tools.
This is going to be a very interesting article for anyone who is looking to make a living from their video content. And, alongside the piece, there's a floating CTA that tells the readers to "build a video business", which is accompanied by a button that tells them to "learn more".
Anyone reading this article is in the process of learning about how Vimeo can help them to make money, so they'll be primed and ready to take the next step. Displaying a CTA in this way, and making it very easy to find and engage with, is likely to lead to a lot of conversions. 
Many businesses wait until a reader reaches the end of their content to convince them to pay for their services. But people have short attention spans and won't always make it there. This allows Vimeo's website visitors to convert, regardless of where they are in the article.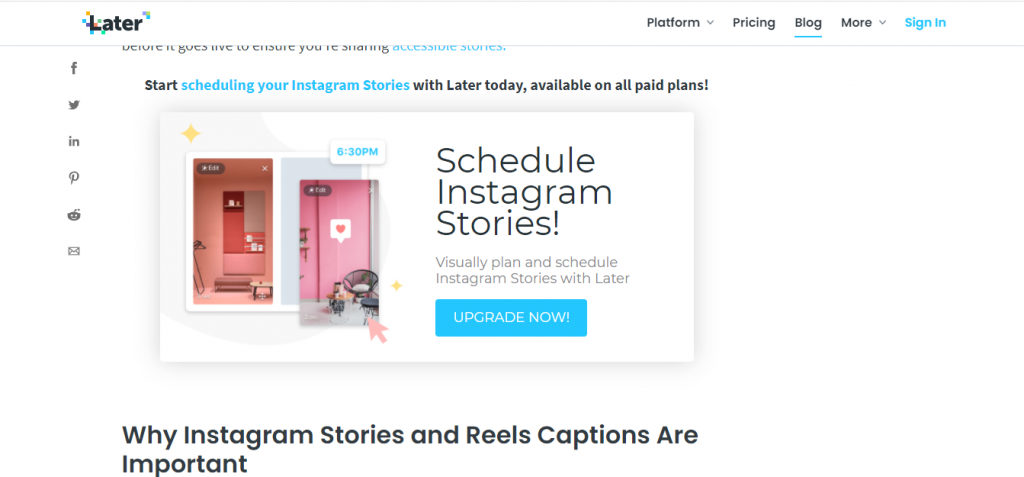 We also have an example from Later, a social media management platform. They have a post that explains how people can automatically add captions to their Instagram stories. In this post, they included a CTA in the middle of the blog post that tells people to start using Later to schedule their Instagram stories.
The CTA is very timely and relevant to the topic being discussed, which means it will be more likely to motivate people to take action there and then. It also sits alongside a well-designed and eye-catching graphic, which makes it stand out, so it's sure to grab people's attention and get results.  
Provide free but valuable tools your target audience will love
Free resources and tools can work well as lead magnets, as they'll attract the right people to your site, provide them with value, and earn their trust. 
There are several kinds of free tools you could create, but you need to identify the ones that will work well for your audience. In doing that, you should look at existing data in your CRM software to understand what it says about your readers. Do they prefer a particular type of content to others? Which one is it? Videos, ultimate guides, listicles, or ebooks? 
Once you can identify this, then you will know what kind of format to use for your free content. You can also decide to create interactive tools like free calculators or templates based on the type of industry you are in. For example, an accounting company could decide to create a free tax calculator on their website because that would be valuable for their audience.
An example of a brand that uses free tools to provide value is VWO, a platform that helps businesses with A/B testing and other elements of conversion optimization. They have loads of free tools for their customers and this is an example of one of them.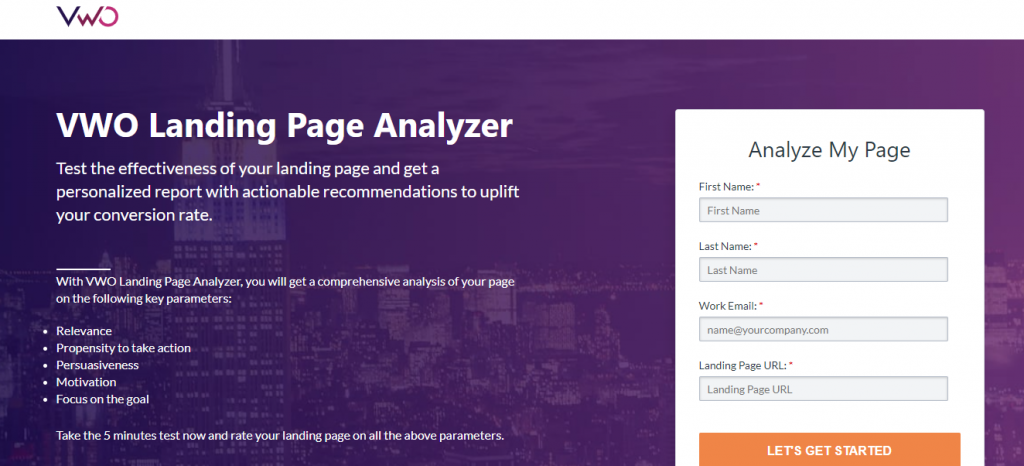 They have created a free landing page analyzer that allows people to see how effective their landing pages are. This is an example of the kind of lead magnet that can attract your audience, give them value, and keep them coming back to your website until a conversion is made.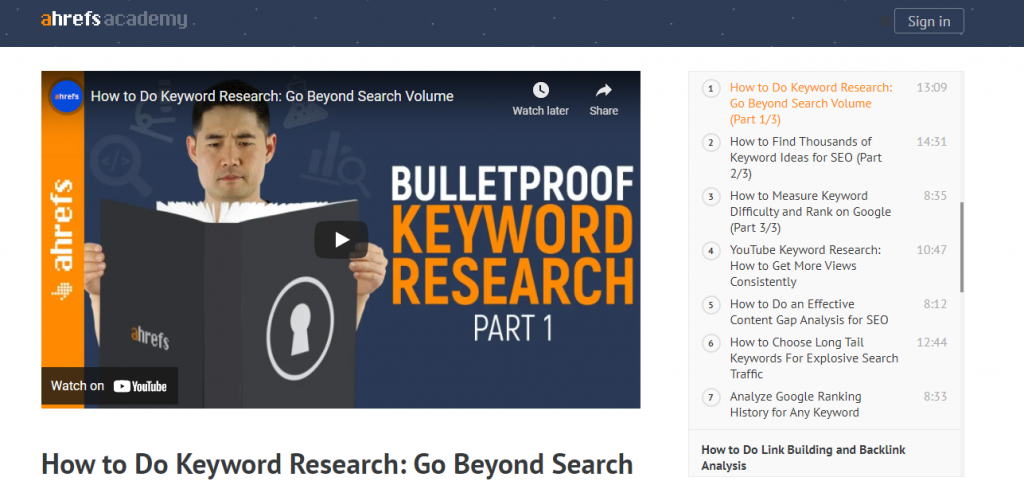 We also have an example from Ahrefs academy. They have comprehensive courses that cover a wide range of topics designed to help their audience become better marketers.
These courses offer immense value for their audience and they can all be accessed for free. For instance, their course on how to do keyword research not only has a video tutorial but there's also a high-quality article for those who would prefer to read the guide. By providing detailed guides on topics that are relevant to their audience, they are building trust and doing what they can to ensure that they are the first ones prospective customers come to when they need to pay for a marketing or SEO tool. 
Create content that helps your customers make the best buying decisions possible
People will be far more likely to buy from you if they're confident they're making an informed purchase. There are a few types of content you can create to help with this. 
One is a buying guide. These tend to outline what someone should be looking for in a specific product or service, so they can purchase the one that's right for them. 
You can also create competitor comparison pieces that compare different products of competing brands and their prices to inform buyers of the several options available. 
For inspiration, let's take a look at some pieces of content that have been designed to help people with their buying decisions. For instance, Best Value Schools has a great guide to the best online homeland security programs.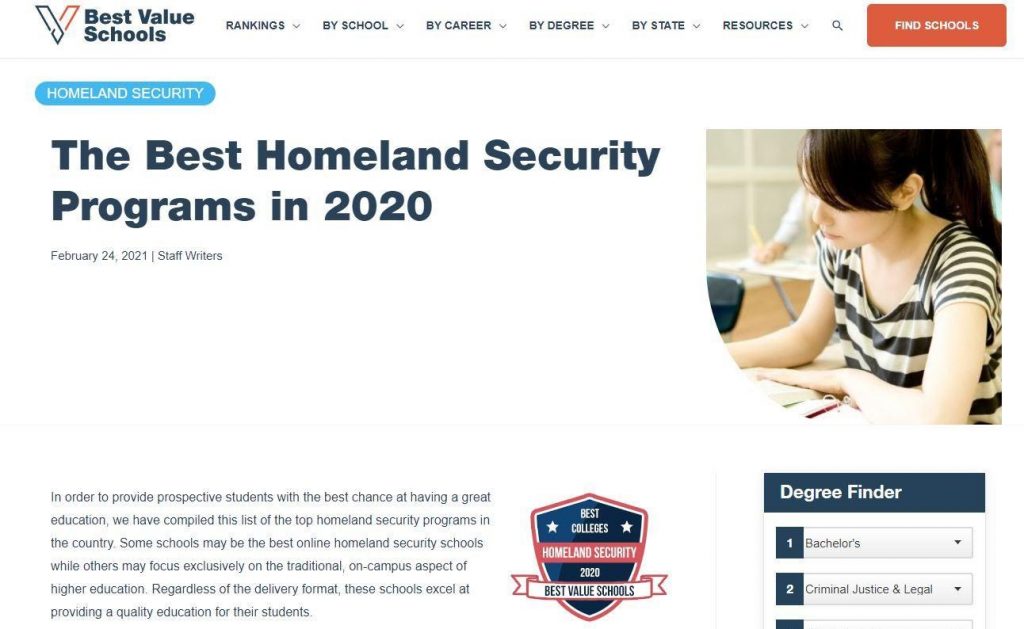 It provides users with a list of schools offering homeland security programs, their locations, and the reasons why they have been chosen as the best. This post is quite comprehensive and can be very useful to prospective students in their audience who want to make a choice on this. 
Case studies are also great for helping people to decide whether a product or service is for them. They show real-life examples of how a product or service has helped customers and this gives people an insight into how a company can help them. For instance, take a look at Buffer's case study on how Business Insider grew its Facebook following using the platform. 
This case study shows how Business Insider used Buffer's scheduling tool to make sure that posts went out consistently. As a result, they were able to save more time, increase their follower count by over 800,000 and increase engagement levels on their Facebook page. This kind of content gets prospective customers curious about what you can do for them or their brand as well.
Buying guides are also great for helping your customers to make informed purchasing decisions, because they set out what they should be looking for in a product or service. For instance, Really Simple Systems has a CRM buyers guide for 2021.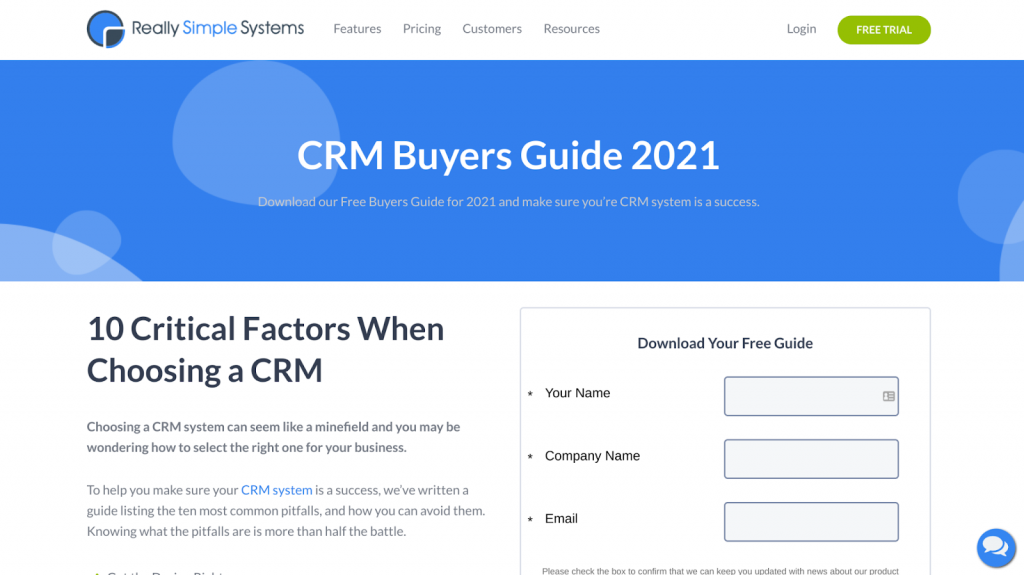 Website visitors must enter their details to download this free guide, which makes it a great lead generation tool, as the company can then contact users with more helpful advice. Plus, the guide itself provides a great deal of value that will build trust with readers and most likely lead to sales down the line. This piece of content covers the most common pitfalls when choosing a CRM and how to avoid them. Plus, it explains how to get the design right, how to choose the right system, and how businesses can prevent their CRM implementation from going wrong. 
It's an incredibly helpful guide that Really Simple Systems' target customers could hugely benefit from, and it might just be enough to convince them to try out the company's software. 
Promote your products without a hard sell
People don't like to feel they're being sold to, but you can still promote your products by incorporating them into your content naturally. Some ways you can do this is by writing a large helpful guide and adding a few mentions where appropriate. Or you could create a comparison piece that lists your products as one of a few options for your customers.
To effectively do this, you have to provide value first. Customers are more likely to be receptive to your products if they feel you are creating content that will make their lives better. You can also promote your products by building a relationship with your customers. You can do this by nurturing your audience through an email marketing list so they trust you and look forward to receiving your updates or buying your products when they feel they will be of use to them.
Discover How Really Simple Systems Can Help With Your Email Campaigns
Share your website content on social media
It's not enough to just create content — you also need to be promoting it. One of the best tools for this is social media. To effectively promote your website content on social media, one thing you should note is the use of graphics. Creating catchy graphics for your content will help to make it more attractive for users to click on. Also, using the right captions, engaging in trends and challenges, and targeting the right audience will help you get the best results. 
To work out which platforms you should be focusing on, define your business goals and the type of content you want to create, then you can use social media analytics tools to track your efforts so you know which content or platforms are best for your brand.
Summary
You need a strong content strategy if you want to generate leads and make plenty of sales. 
With informative guides, free tools, and effective social media marketing, you can attract the right audience to your website and improve your conversion rates.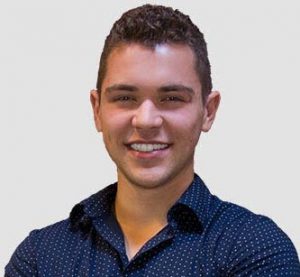 About the Author
Alex Ratynski is a Content Strategist at Loganix, an SEO fulfilment partner that works with agencies and marketers. The company focuses on helping businesses to improve their online visibility, so they can grow and reach their goals.
Really Simple Systems is now Spotler CRM
The same great technology, a CRM platform that is focused on the needs of B2B marketers, provided by the same great team, at a great price!