New Features
• Sep 30th, 2019 • Helen Armour
Launching Custom Charts and Other New Widgets!
Create Custom Charts for your dashboard to visualise your key performance indicators.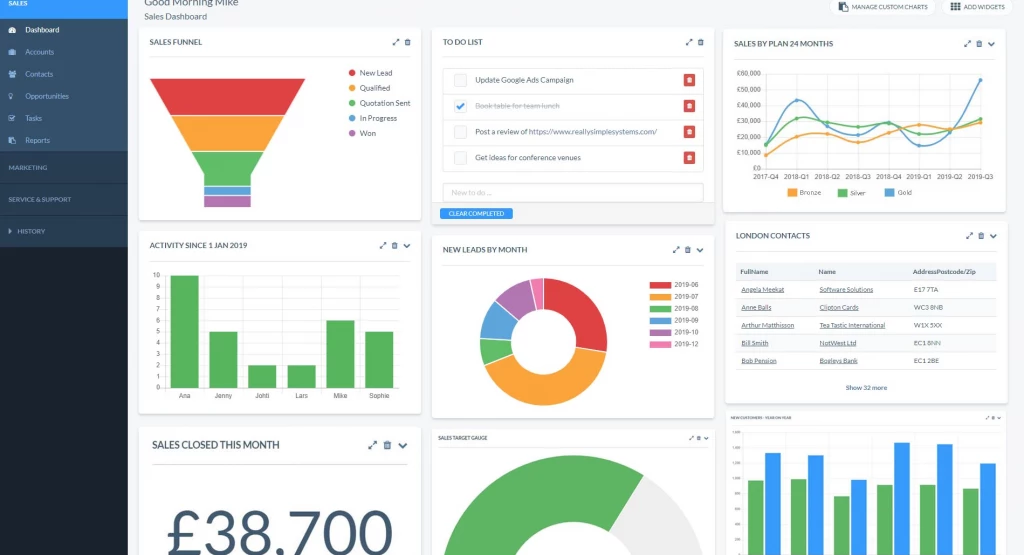 Excuse my exuberance but not all CRM product releases are as entertaining as this one!
We've just launched a new tool that lets you create your own chart widgets for the CRM dashboard. It might not sound like much, but I've already spent more time than I care to mention playing with it. Though luckily, I can claim this was necessary in the name of product testing!
Monitor Your KPIs
Why the excitement? Our new Custom Charts feature lets you create your own dashboard widgets, providing a snapshot of your performance in a visual display. Yes, you can now build Custom Charts for a wide range of CRM data analysis, such as team performance, sales targets, marketing analysis, client records, as well as any of your own custom data fields.
Available in the Enterprise plan, the new Custom Charts development comes as a direct response from our user feedback. Customers told us how much they loved the standard dashboard widgets but wanted to edit the data sets to make them more relevant to their business. This got us thinking and we decided to go a step further, allowing customers create their own chart widgets using a simple chart builder.

Custom Chart Formats
There's a variety of formats available and almost no limit to what data can be used to generate a chart. You can make pie charts, horizontal and vertical bar charts, line charts, total numbers and gauges. These will display real-time values of your CRM activity so they are always up to date.
Maybe you'd like to monitor your CRM activities by user, or new leads by campaign. Or maybe you have custom data fields you want to track. Basically, you can select data from all areas of the CRM and further filter your records to drill-down on what's important to you.
Once set-up, your Custom Charts can be saved to one or more of the CRM dashboards, i.e. Sales, Marketing and Service. You can edit the charts as you wish, set permission levels to keep them private or you can share them with your colleagues.

Take a look at our Customer Support Hub for full details of how to set-up and create Custom Charts.
Multi-Series Charts for Version 2
The development has been a true collaboration between the Really Simple Systems team and our customers. We are now working on the next version of Custom Charts which takes on board feedback from customers who were involved in the beta testing process. This next phase will include multi-series charts giving the option to build charts that compare data across a number of variables. This might be comparing different time periods for your sales activity or maybe your closed sales by account type for the last 2 years. We'll let you know when this is ready to go live.

More Widgets Released
But this isn't all! In the same software release, we have two more fun widgets that we think you'll find really useful.
To Do List
The first one is just a simple To Do List. This lets you create a list of reminders on your dashboard that are not related to any dates, accounts, opportunities or cases. It almost seems too simple, but I've found it's a great place to make a note of ad-hoc things. It's particularly useful to non-sales users like those of us in marketing. You can add notes and URLs to refer back to, re-order the list, strike items through when completed and delete, as required.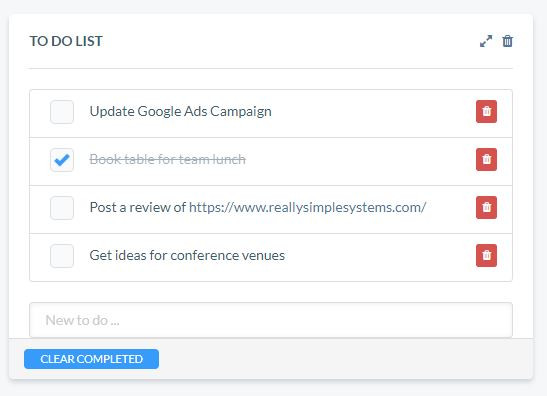 Reports Table
The second new widget we've called Reports Table. This is rather neat! It lets you display a snapshot of any of your CRM reports on your dashboard. Just add the widget to your dashboard and then click on it to configure. This will bring up a list of your reports. Clicking on the report name and saving will display the top five records of the report on your dashboard. And lo! you have an instant view of that report's data. There's also a link on the widget to open the report in full.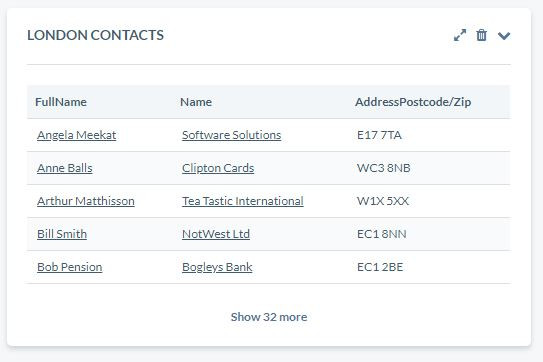 The To Do Lists and Reports Table widgets are available in all price plans. You can find these new widgets on the Add Widgets pop-up, under the Sales tab, though you can add the widgets to whichever dashboard you like by access from that location.
Join Our Webinar
If you'd like some help in getting started with Custom Charts and the Reports Table widget, we run a monthly webinar Advanced Reporting & Custom Charts. Do join us and explore how you might use these new tools.
Really Simple Systems is now Spotler CRM
The same great technology, a CRM platform that is focused on the needs of B2B marketers, provided by the same great team, at a great price!