CRM
• Feb 23rd, 2016 • Helen Armour
Using the CRM Reporting Tools
Really Simple Systems CRM includes two powerful CRM reporting tools. Learn how to use them with our Reporting Webinar notes.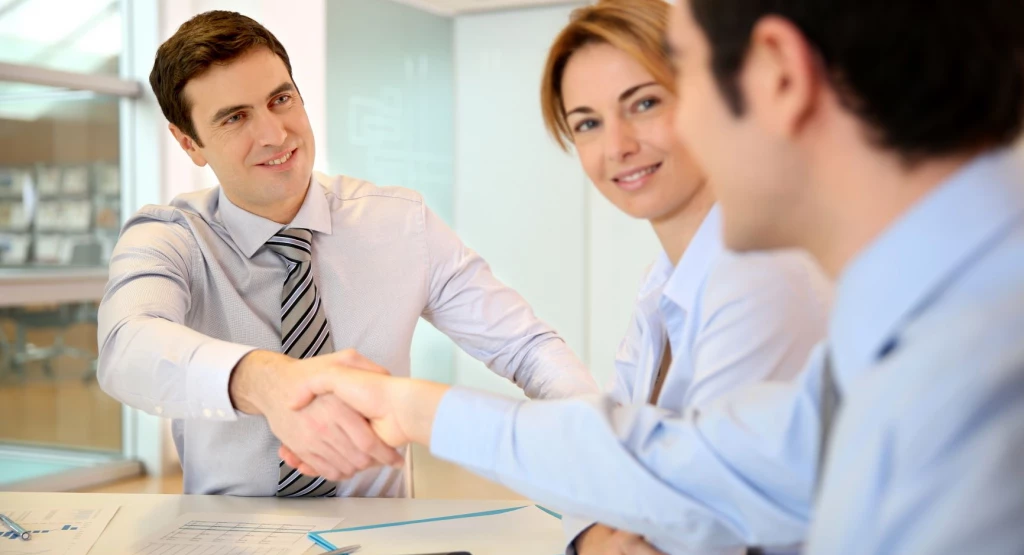 Notes to accompany the Webinar "Managing your CRM Reports"
The Really Simple Systems CRM includes two powerful CRM reporting tools that you can use to generate detailed reports on your data and download them for further analysis.
The Listing Report writer reports on any aspect of past activity data stored in your CRM, for example, your sales, tasks, calls handled, and marketing campaigns. The Forecasting Report writer uses the data from your Opportunity Lines to forecast your sales over the next few weeks or months. Both report writers are available as standard in all our CRM plans, including Free.
Additional functionality is available with the Advanced Reports facility which gives the option for scheduling, subtotalling and summarising on reports, increased number of report fields and sort criteria, and advanced views. Advanced Reports is available as standard in Enterprise.
Reports can be downloaded either as a PDF so it's easy to print or as a data files, e.g. with Excel, for further analysis.
Pre-Defined Reports
When you first sign-on to your CRM system you'll see there are some pre-defined reports loaded. You can use these or modify them to make them work for your business.
Listing Reports
Creating a New Report
In the Sales tool, select the Reports option on the main menu. To create a new Listing Report click on the blue button Add Listing.
As an example, I am going to create a report to list all my contacts based in London. So for the Report Title I'll call this "London Contacts". The Field Options box shows the options for the level of detail available in your CRM, so in this case I'll select "Contacts". I want to run the report for all contacts so in the Scope box select "All Accounts".
Report Fields
Next, in Available Fields on the left, you need to select the fields that you want included in your report and drag them accross to the Report Fields section on  the right. Each field will appear as a separate column in your report. So for my London Contacts I'd like to include the following fields:
Account.Name
Account.AddressPostcode/Zip
Account.WebSite
Contact.FullName
Contact.Email
Criteria Fields
Criteria Fields, allows you to choose the selection criteria or filters for the data you want in your report. In this example I want to only select Contacts in London, so my selection criteria will be:
Account.AddressCity = London
Sort Fields
Here you can choose how you want your report data sorted, in this example, to sort by postcode:
Account.Address.Postcode/Zip with the order as "Ascending"
Once you are ready to run the report, scroll back up tot he top of the page and Save. You can then click the Run Report button. This will return the option to view the report on your screen, as a PDF or as a CSV file. Click Run Report.
On my screen all the data is hyperlinked back to the Account or Contact so I can click on the data to open the detail. The report will be stored in your reports list so you can run it again or edit it as required.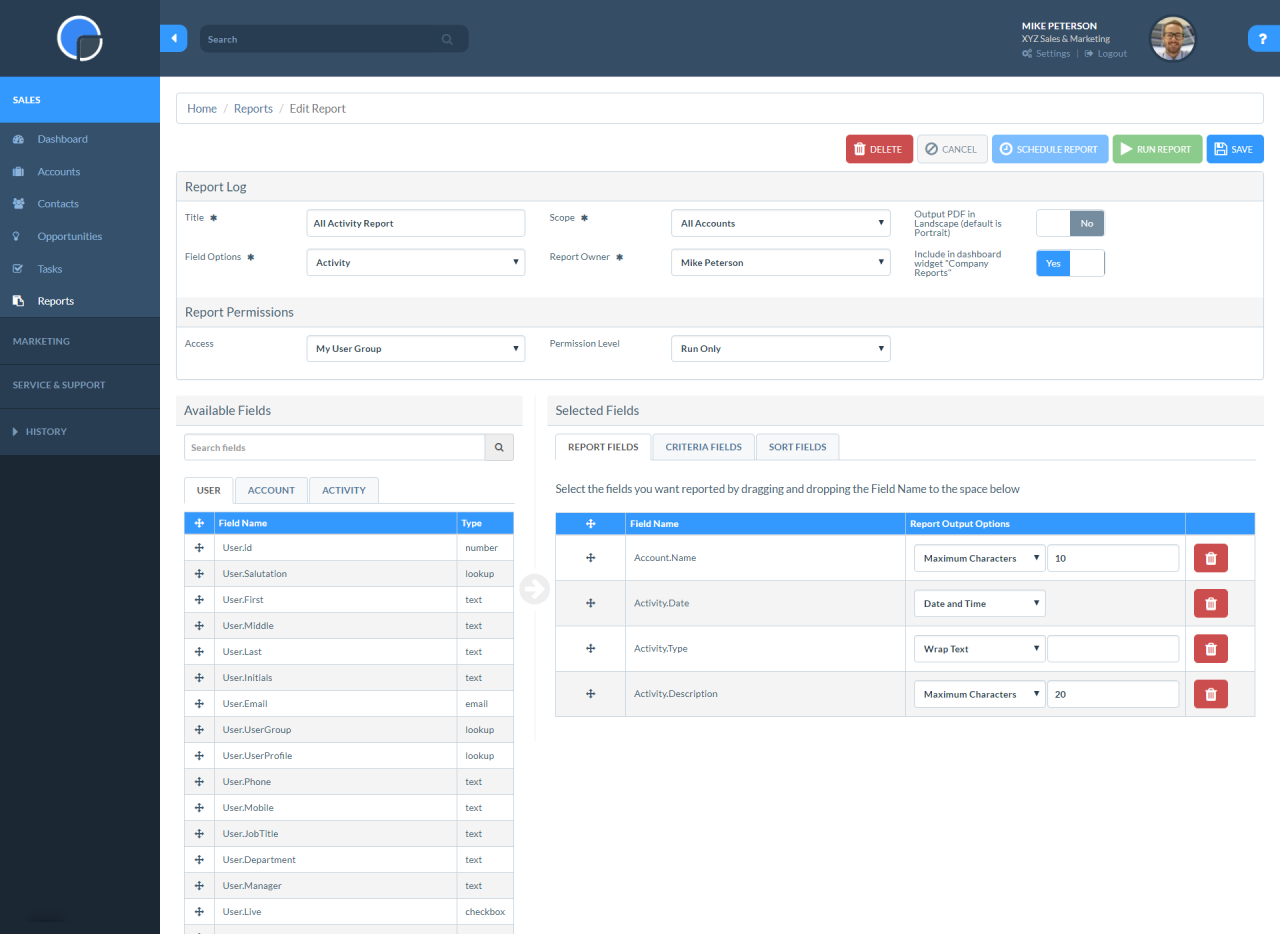 Forecasting Reports
In the Sales tool, select the Reports option on the main menu. To create a new Forecasting Report click on the blue button Add Forecasting. Here the screen is a bit different from the Listing Report writer.
In this example, I am going to create a report on UK sales opportunities for the next 6 months. The entries are:
Report Log
Report title – UK Sales Opportunity for 6 months
Scope – All Accounts
Forecast Value Field – Opportunity Value
Forecast Date Phase Field – Opportunity Close Date
Months & Values
Number of months – 6
Unweighted Value – Yes
Opportunity Count – Yes
Months – Yes
Report Fields
User.Group
User.Initials
Account.Name
Opportunity.Name
Opportunity.Probability
Opportunity.Forecast
Subtotal
Subtotal by User.Group
Save and Run Report to display the "Runtime" date options, specifiying when the report should start from.
Once you get to grips with the report writers you'll be wondering how you ever managed before. If you need any help in setting up specific reports please contact our Support Team on support@realysimplesystems.com.
Report Examples
Here's some examples of the data fields and criteria you might use in other Listing Report examples.
1) For a report to look at all sales calls recorded this week called "Sales Calls this Week"
Report Title – Sales Calls this Week
Field Options – Activity
Scope – All Accounts
Report Fields
User.Initials
Account.Name
Account.Type
Activity.Type
Activity.Count
Criteria Fields
Activity.Type = Call
Sort Order
User.Initials – Ascending – Subtotal
Account.Name – Ascending – Summarise
2) For a report on who contacts who clicked through on a marketing campaign called "Campaign Dragon's Den Clickthroughs"
Report title – Dragon's Den Clickthroughs
Field Options – Campaign Detail
Scope – All Accounts
Report Fields
Account.Name
Contact.FullName
Contact.Email
CampaignDetail.Status
Criteria Fields
Campaign.Name = Dragon's Den
CampaignDetails.Status = Clickthrough
Sort Order
Account.Name
Really Simple Systems is now Spotler CRM
The same great technology, a CRM platform that is focused on the needs of B2B marketers, provided by the same great team, at a great price!