Marketing
• Mar 26th, 2021 • Guest Writer
How To Create A Customer Profile
Understand what is a customer profile and how to create ones for your organisation.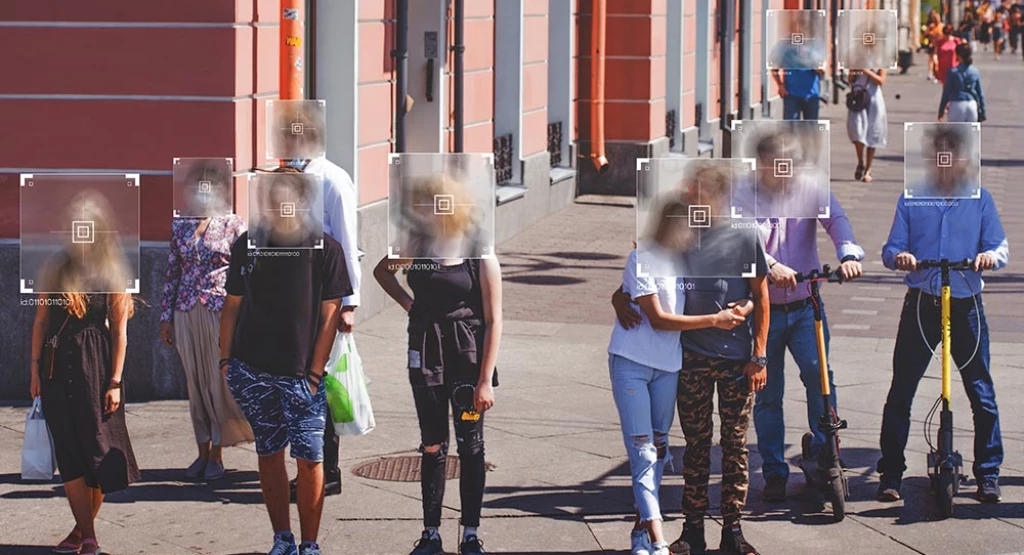 Here's How To Create A Customer Profile
Customer experience has become a top-most priority for businesses and organizations. With 86% of buyers willing to pay more for a better experience, it's important to invest in gaining a thorough understanding of your target audience. 
It allows you to tailor your offering that is better suited to their preferences, while allowing you to gain a better understanding of your target market. But who are they?

That is where customer profiles come into play to make the marketing processes incredibly easy for you. It helps you tailor your campaigns and efforts to the pain points, needs, and behaviors of buyers who have a greater likelihood of purchasing your products and services.

In this article, you'll get to know everything about a customer profile – including what precisely it is, why it is essential and how to create a solid one for your business.
What Is A Customer Profile?
A customer profile, AKA consumer profile, is an exhaustive document that describes the buying patterns/behaviors, demographic characteristics, interests, firmographic, and pain points of a business's customers.

This information is portrayed in a way that displays comprehensive data related to an actual individual, with their proper name and an avatar or image.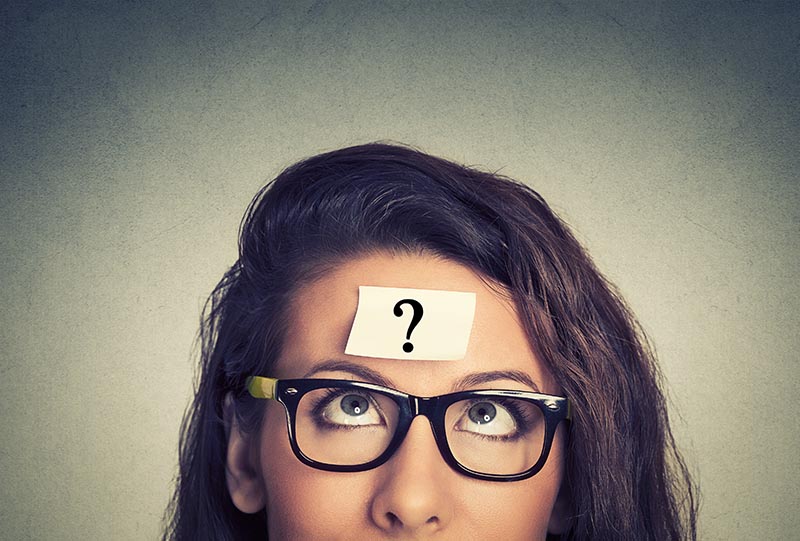 There are countless reasons to build a profile of your ideal customers or target audience. For starters, with all that valuable and actionable data, you can decide on the best strategy to execute and will know which ones to eliminate or avoid from your marketing plan.

For instance, if your customer's profile says that they love to engage and connect with brands mainly on Instagram, you can focus on enhancing and reinforcing your Instagram marketing.
Why Should You Care About Customer Profiles?
Like any other business, customers are at the heart of yours too. Therefore, it is imperative to attract and retain them, one of the most critical tasks for businesses. The failure to act on this can ultimately lead to your company's downfall. Improving your customers' experience is paramount for companies.
Interestingly, over two-thirds of businesses today compete primarily on customer experience.  
A customer profile template allows you to know your customers in more detail, along with their buying patterns, influencing factors, demographics, firmographics, pain points, etc. As a result, it helps you define your audience, engage with them and reach out to the right leads. 
This also enables you to determine a clear set of goals and objectives for your marketing campaigns. The right imagery, tone, and voice further enhance your overall business efforts and boost the efficiency of your marketing collateral. 
"Researching Accounts" and "Identifying Target Contacts" are the top two strategies marketers use as part of account-based marketing. And both are dependent on how robust and accurate their customer profiles are. Furthermore, 62% of the marketers say they see a positive impact of incorporating the ABM model in their approach. 
In a nutshell, customer profiles are an indispensable part of your business' success. Use them to fine-tune your approach to selling and develop a strategy that appeals to the most valuable customers.
Five Steps To Creating Your Customer Profile
When it comes to creating your ideal customer profile, relying on mere guesswork can be risky. It is imperative to take a structured and organized approach to garner accurate data and information about your target market.

Understanding customer-related elements can better help you figure out and implement the best and most effective ways to reach your target audience.

Here are five steps to making a perfect customer profile: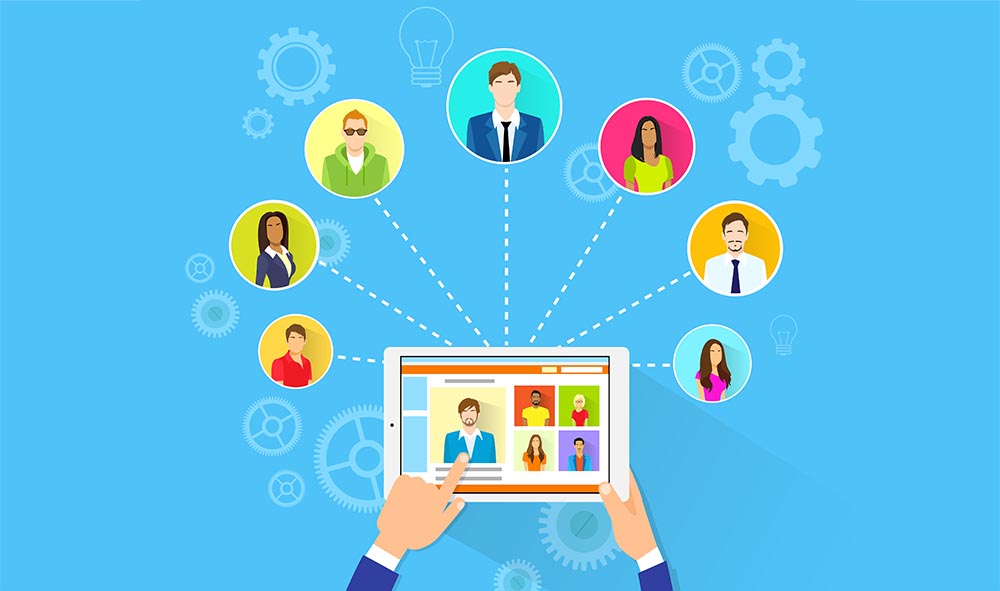 Step 1: Define Your Ideal Customer
To develop your ideal customer profile, you must know who your buyers are. This begins with understanding your target markets and buyer personas based on their personality, demographics, and behavior. 
It is also vital to assess the potential markets and current target audience to expand your business operations. Also, you can leverage the customer data through multiple sources such as websites, chatbots, analytics, etc.
A Streamlined, Centralised Hub
with Really Simple Systems CRM everything is in one place
Step 2: Locate your Customers Online
Today, most businesses exploit digital avenues to drive their business growth. And to do that, it is vital for you to analyze the buyer's journey like which pages and websites your customers visit to search for information about your products, services, or business. 
Furthermore, you also need to focus on phrases and keywords that your customers use when they search for specific information. 
This can help you gauge the type of content and articles that your customers are interested in reading. Use this data to gain in-depth insights into your customers' purchases and why they like some products/services more than others. 
Step 3: Outline your Buyer's Purchasing Journey
The purchasing journey is different for every buyer. It includes complicated and expensive purchases that require extensive research, time, and quotes before you finalize the contract. 
When creating your ideal customer profile, put yourself in a typical buyer's shoes and record the steps they take to make an informed purchasing decision. 
Here is an example buyer purchasing journey:
Visits content on website > Retargeting ad invites customer to get a free estimate > Customer gets free estimate > customer is invited to attend a webinar that demos the product > customer purchases product
This helps you better curate what induces your customers and entices them to do business with you.
Step 4: Prioritize And Segment Your Target Markets
The next phase of developing a customer profile is to select target markets to create buyer personas. The customer personas are underlying all your tactical sales and marketing plans and strategies. These personas allow you to comprehend your customers, their choices, and their pain points. 
Moreover, this also helps you analyze the primary factors that motivate and encourage your customers to make buying decisions. Such assessments facilitate you to develop core messages that target specific markets and help you improve your marketing strategies and, ultimately, the customer experience.
Step 5: Identify Your Customers Concerns And Risks
Identifying the risks that your customers might encounter while you invest in your services is essential as recognizing the benefits. These risks can be both negative and positive. 
This can help you gauge your customer's concerns and address them in an effective way. Doing so enhances the customer's experience as well as enables you to stay ahead of the competition. Also, you can capitalize on the opportunities.
When you determine and categorize risks and concerns, you can augment your CTA strategies and segment your target market to deliver an exceptional customer experience.
4 Great Customer Profile Examples
Now that you know about the importance of a customer profile and how to make one for your business, check out these real-world examples:
The Urban Bakery
Here is an example customer profile of an urban bakery. This buyer profile displays three types of customers:
The profile narrows down each customer type by core values, preferred communication channels, and demographics. It also includes a summary that describes how the sales and marketing team should present to these individuals. 
With this readily available information, your marketing team can efficiently work along with your customer service to develop effective campaigns that connect and resonate with specific segments of your customer base.
Stay-at-Home Mom
This customer profile from UX Mastery portrays a customer's info and explicitly describes her life situation and challenges. Knowing your customer's family, business, or life concerns helps you create a customer profile more accurately and great marketing campaigns in the long run.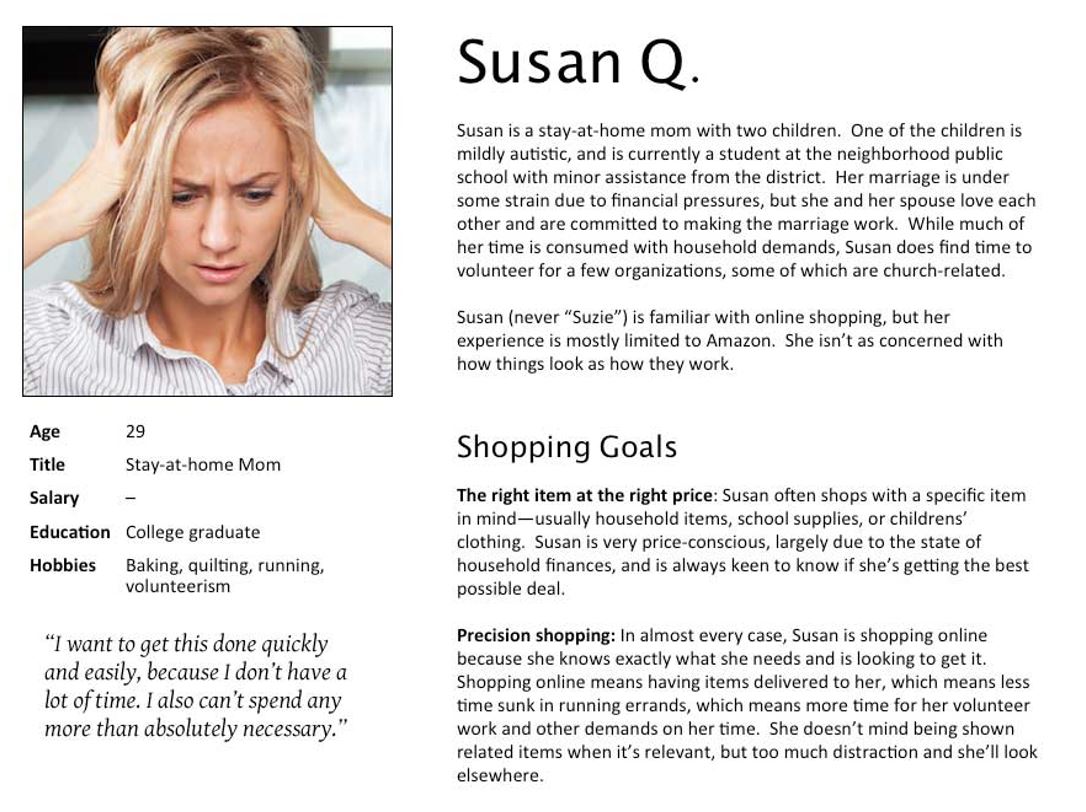 Furthermore, the above customer profile also shows the customer's shopping goals which outline her buying behavior and patterns. This is the most crucial information you can get from your target customers and follow through when planning strategies.
A health service provider includes all the potential medical issues that their customer may have, but they might not consider their financial profile.
Conversely, a financial company will add their client's economic problems in an ideal customer profile instead of focusing on their marital or health issues unless there is any correlation between their services and these intimate challenges.
Trendy Brandi
This Indie Game Girl customer profile defines how Brandi Tyler, a woman with narrow feet, searches low and high for stylish and comfortable shoes. These specific details in a customer profile enable you to gauge customers' process and journey, such as Brandi, when purchasing shoes.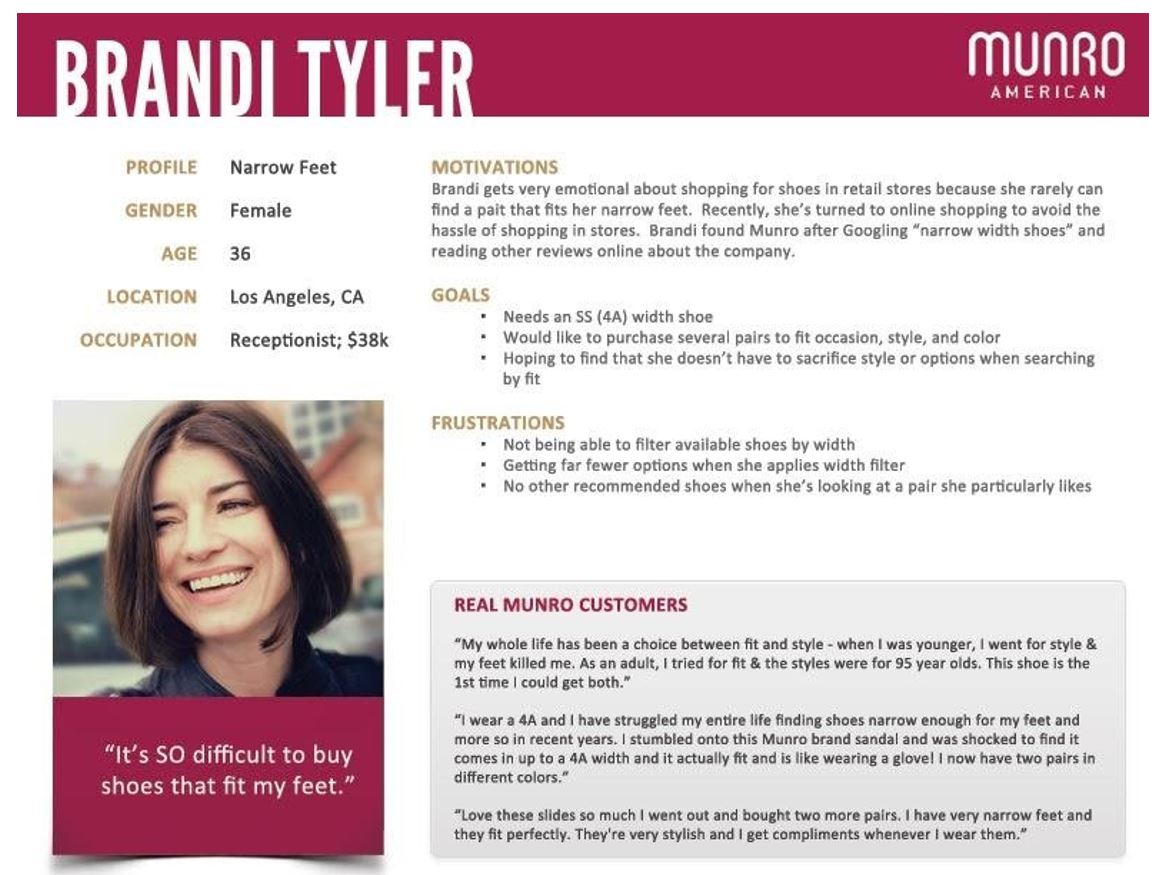 Knowing your customers to a great extent also allows you to make extra efforts to understand and resolve the customer frustrations. Like this, the buyer profile also includes real quotes from interviews and surveys, which lends further insights into an individual's disposition so that you target the right customers with your campaign.
Interviews, surveys, etc., should be arranged to glean precise information and build an ideal buyer profile. 
Diane Director
Buffer's customer profile example is one of the finest templates that you can follow.
Although this one is a bit crowded, customer profiles like this display all the essential features in a manner that all the information is placed around the specific customer's image that it's easy for readers to scan through.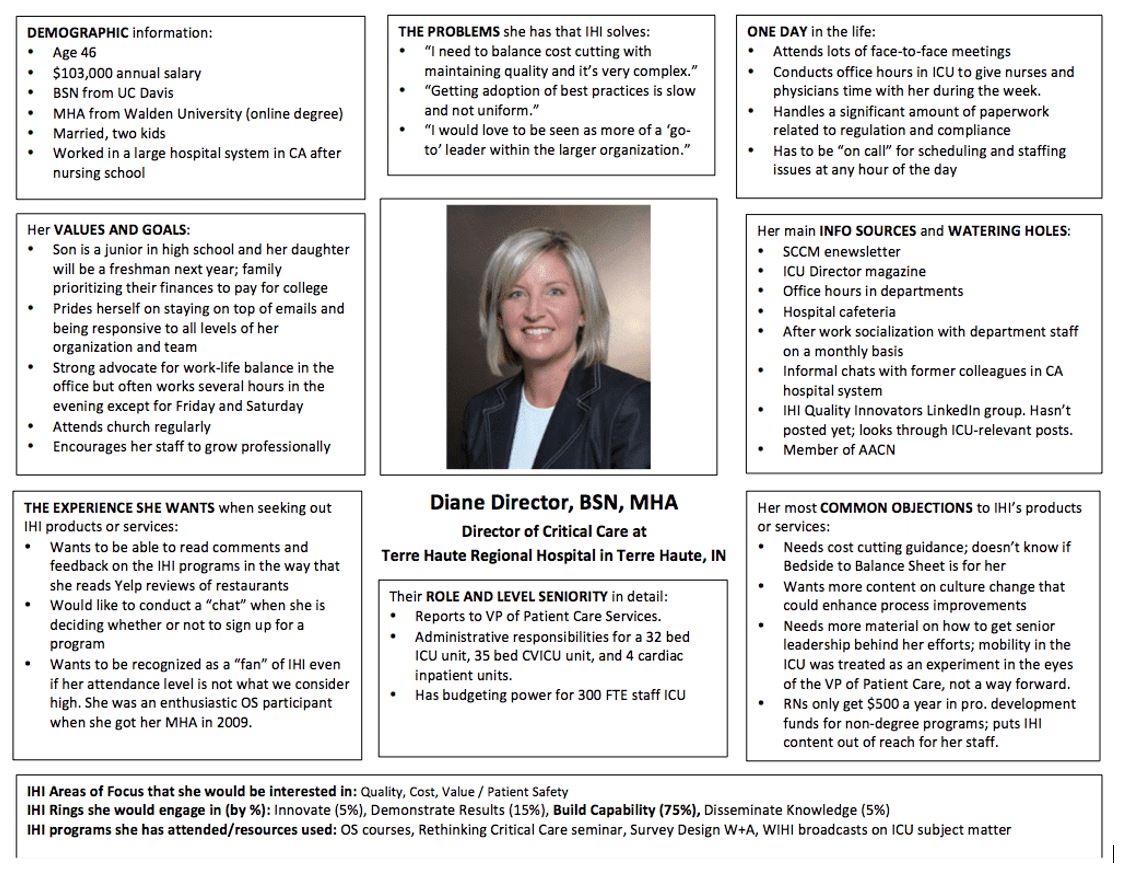 When you see this profile, you can learn almost all the things about Diane quickly. Apart from the demographic information, you can look at her goals, values, problems she encounters, job role and position, and experience when searching for products/services.
Wrapping Up
When you create your ideal customer profile (ICP) for your brand, you can better and clearly define the buyer personas of the individuals involved in the buying process.
With your customer data model well-defined, you can identify the ideal people and company profiles and understand their dynamics as well as how far along with the customer and the buyer journey they are.
You can map the customer journey by using tools like Venngage or Visme that help you visualize your customer profile. It allows you to describe the diverse customer experiences you need to create, monitor, and attribute. This essentially enables you to develop and maintain lasting relationships with your customers.
However, your job doesn't merely end once you develop the customer profile. It is also fundamental to update your ideal customer profile often and keep it relevant with evolving market data and customer behavior. 
About the Author
About the Author
Will Cannon founded Signaturely and  often writes about the importance of customer profiling, lead generation, customer acquisition, retention, and email marketing. These factors are fundamental to the success of any business as they help drive ROI and lead to growth with consistency. 
Really Simple Systems is now Spotler CRM
The same great technology, a CRM platform that is focused on the needs of B2B marketers, provided by the same great team, at a great price!