Marketing
• Aug 25th, 2020 • Daniel Bishop
How to Use Competitor Analysis to Improve Your Digital Marketing
Competitor analysis doesn't mean simply copying what your competitors do. It's vital to your digital marketing strategy.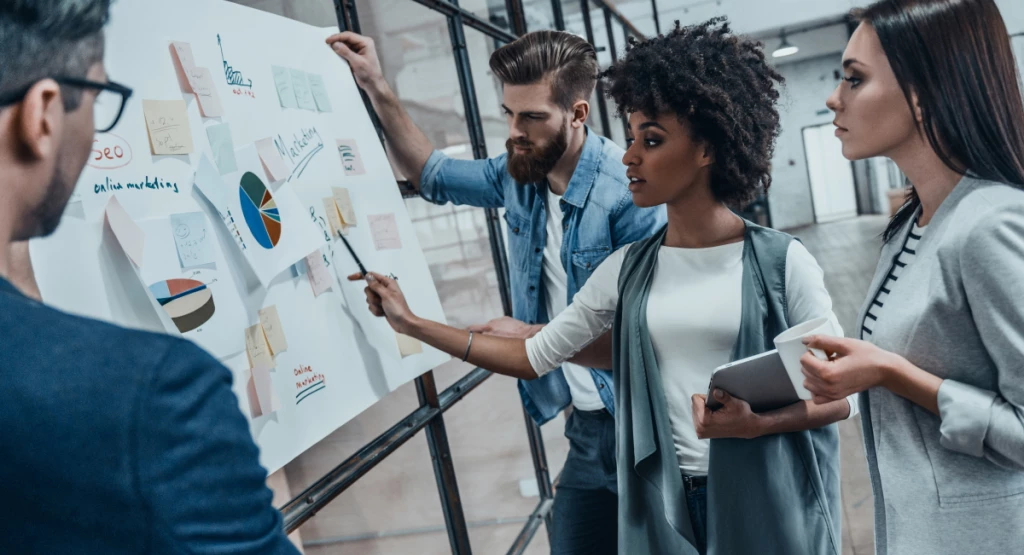 Competitor analysis can be a very important factor in growing your business. It helps you get to know other companies in your sector. Understanding their strengths and weaknesses, you can learn from their mistakes and identify opportunities that can be exploited in the market. It also ensures a better understanding of your customers and prospects, industry trends, the efficiency of different digital marketing approaches and much, much more.
Obviously, all these pieces of information can be very valuable for your digital marketing efforts. Of course, proper competitor analysis doesn't mean simply copying your competitors' marketing tactics that work. It goes much deeper and makes use of this knowledge in a more complex way.
Here's why and how to do competitor analysis the right way.
Who's Your Competition?
Sometimes it's difficult to determine who exactly your competition is, and one simple rule of thumb usually does the trick in identifying this. If you have a similar product and similar audience with another company, they can be called your direct competitor. And if you have just one of these things in common they are probably your indirect competition.
There are a lot of tools that can help you identify the audience overlap. Besides Alexa's tool, Ahrefs, Moz and many others can give you an insight to who is your competition.
Of course, if you have enough knowledge of the market and experience in your sector, you'll already know your rivals. Yet there will be cases when you'll come across some of them in the process of research for the first time.
Product Analysis
If you wish to gain knowledge of competitors that will help you improve your marketing, you shouldn't start with analysing their marketing. The first thing on the list should be an overview of their business to get a feel for the company, and then a product analysis that may tell you how you might promote your product.
It's crucial that you analyse their product's main features and the unique selling proposition (USP). Check what your product lacks compared to the product of your rivals and detect specific areas where your product has the upper hand. Use this intelligence to determine your own USP and emphasise the advantages and exclusive features of your product in your marketing campaigns.
Web Traffic
Next up is to analyse your competitors' website traffic. You need to examine which one of your competitors generates the most visits and page views and how their audiences engage with each of their pages or posts. This can tell you a lot about what works in digital marketing in your industry sector. Since you don't have access to your competitors Google Analytics, the most accurate way to determine website traffic is via the likes of Ahrefs and SEMrush.
Be aware that these tools use their own traffic prediction algorithm so the end result might differ from the reality.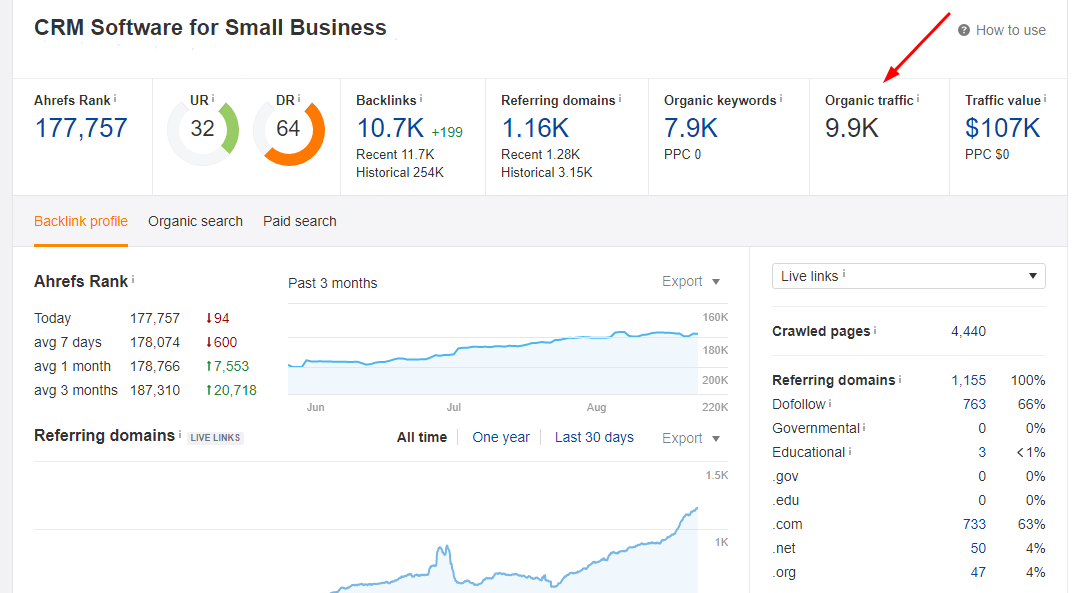 Furthermore, the information where they get most of their clicks can be crucial. Firstly, it will tell you where most of this audience is based geographically, which you can use to encourage market expansion or to customise your advertising efforts and fit the needs and expectations of the specific prospective audience. And secondly, analysing which websites, platforms, or social networks are their biggest sources of traffic can indicate which channels should be the most effective for advertising, as well as which channels may be underused at the moment.
SEO
When it comes to SEO, there are multiple elements you should pay attention to. The basis of your competitors' SEO evaluation is keyword analysis.
You need to study the ranking keywords for each of your competitors and check which keywords bring in the most traffic. You can also discover the cost of particular keywords with GoogleAds and analyse the search volume of each so you can set up your optimisation strategy to target these keywords. Here at Really Simple Systems, we use Moz.com for our keyword analysis.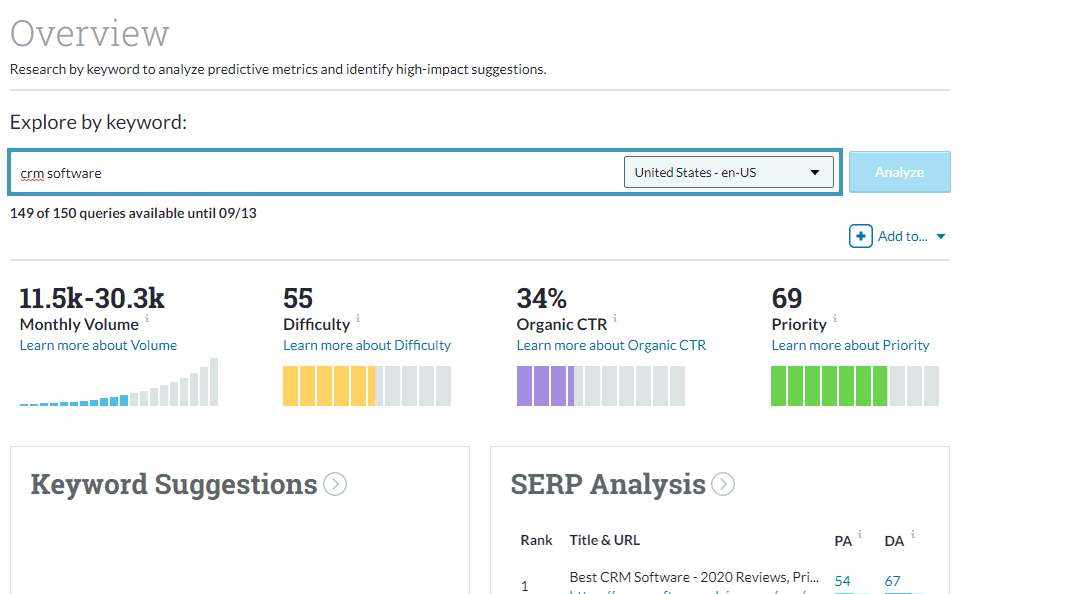 Moreover, the search volume of certain phrases can reveal a great deal about consumer needs and habits. You can find out what concerns them the most in relation to your industry and what causes them the most trouble.
This information can put to good use in future product development, but also to identify your customers' and prospects' pain-points that you can utilise in your marketing efforts.
Content Strategy
Another thing these most popular searches can uncover for you is what sort of content your audience is interested in. Building your content strategy around industry topics is a great way to boost your company blog. 
However, you'll need to go a bit further than this when analysing your competitors' content.  You'll need to look into their content performance in detail and learn which specific types of content draw the most attention. You shouldn't only focus on what they do but also on what they don't do, and try to fill in this gap with your own content. Try coupling what you learned from your competitors with your own customer data in order to get some fresh content ideas and target your intended audience more accurately.  
There's another element of SEO analysis that can help you with your content strategy – backlinks. Analysing backlinks is useful not only for evaluating your competitors' websites' relevance but also when it comes to distributing your content. Check the websites that link to your competitors in order to find more guest posting and backlinking opportunities that will boost your search ranking. Every serious tool has a backlink analysis option. Moz and Ahrefs are the most popular and very easy to use.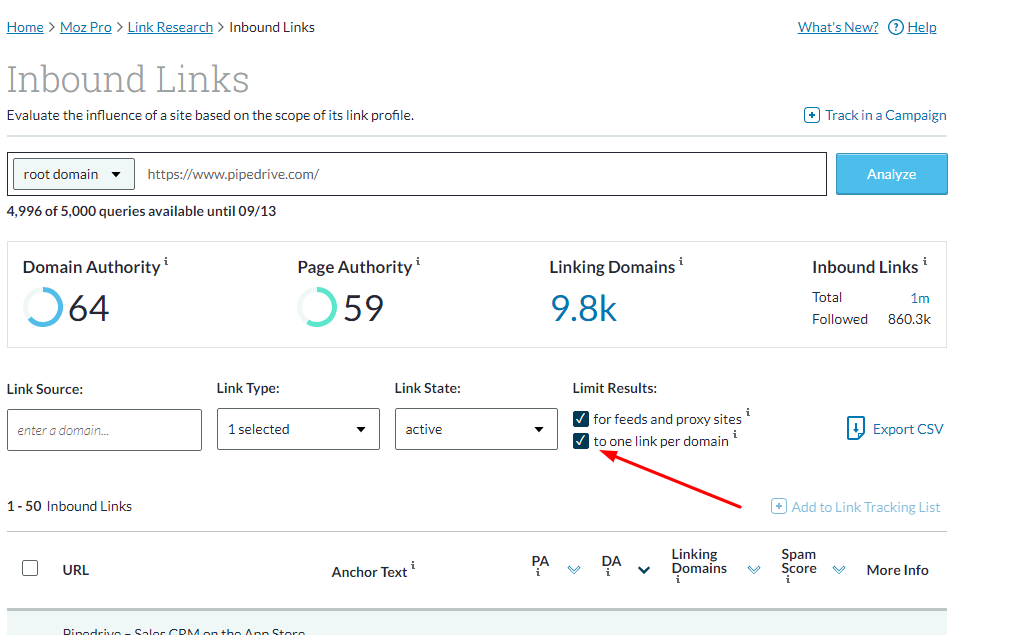 Both Moz and Ahrefs have filters that will help you find the best opportunities. Moz has an option to limit "to one link per domain", which when selected filters any duplicate opportunities.
Social Media
Social media can generate a huge volume of traffic to your website and greatly influence your brand's identity and visibility. Different social media tools can help you track social mentions of your competition to get an idea about their image and reputation on each channel. 
Here it's best to check which posts generate the most engagement and interactions. Just like when it comes to content in general, don't simply copy strategies and ideas that work. It's not only a bit desperate, but it may also be ineffective as you'll never take your competition down by doing the exact same things they do. Try being inventive and even if you choose to take some elements from other companies' social media content tactics, give them at least a little tweak to make them different and more interesting. 
Again, determining what your competitor's social media approach lacks maybe even more valuable. A true competitive edge is created by being the first to offer something new, whether in terms of product or in terms of marketing. 
Finally, in order to understand the success or failure of your rivals on social media, you'll have to understand how each of the individual social networks works and which demographic groups it attracts. Only then you'll be able to take full advantage of the data obtained.
Which Tools Should I Use?
At every stage of competitor analysis, you'll need to use different online tools. The diversity of tools and features offered on the market is huge, and it's impossible to say which ones you should use without any context. This decision will depend on your particular needs and goals, your company size, as well as your industry.
If you're completely new to this world, starting off with some free software may be a good idea. You can try SimilarWeb, which offers a great visual representation of key data, or SureOak that offers numerous free SEO tools that can help you find out more about your competition. Or you can go for super-simple software like Social Mention, a tool that shows you who mentioned your competitors across different channels, as well as some basic info about the sentiment or passion behind these mentions.
Regular Updates
To conclude, it's vital to mention that competitor analysis is not a one-time thing that you do once, get results and forget about it forever after. It needs to be performed continually.
Tracking the evolution of your rivals' online activity is necessary or you may be caught off-guard by their innovations and miss a chance to capitalise on their mistakes. Having the right information on what your competition is up to, and having the right and timely responses to their actions, can make all the difference between success and failure in modern entrepreneurship.
Really Simple Systems is now Spotler CRM
The same great technology, a CRM platform that is focused on the needs of B2B marketers, provided by the same great team, at a great price!